FP Meeting Minutes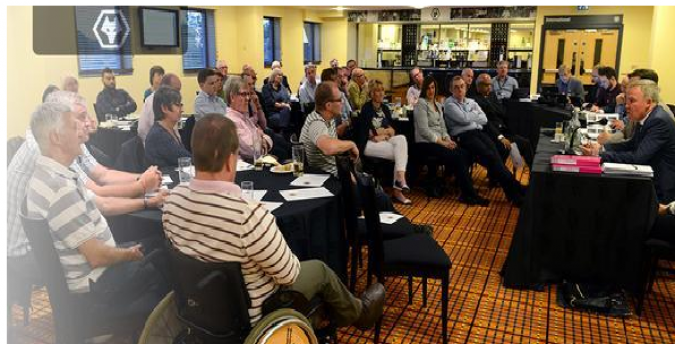 FP Meeting Pic
By Badge32
September 17 2015
The FP meeting was held on the 15th September and below is the minutes from it.
Matt Grayson welcomed new members as well as head coach Kenny Jackett to Molineux's International Suite for the first Wolves Fans Parliament meeting of the season.
The head of marketing and communications continued the introductions by saying the body was now nine years old and a model that had been copied by numerous other clubs but, unlike Wolves, without their respective CEOs and other key decision makers present at every single meeting.
Part one of the meeting was covered by a live blog organised by the club's media department and kicked off with Dave Quarrell asking whether the current wage structure might be broken in future in the same way that fans perceive Wolves paid extra to Bakary Sako. Kenny replied: "Parity is an important part of team sport and harmony is something you look to achieve and we feel we have done. But we recognise there are individuals who can make a big difference and so do the players. It tends to be centre-forwards, the creative players or the scorers. Our forwards lean towards that." Chief executive Jez Moxey said: "There isn't a hard cap that we won't go above."
Richard Perkins enquired whether the club could afford to keep Kevin McDonald. Kenny said: "He's a really popular player and we still hold out hope and we want him to be a Wolves player. That avenue isn't dead. By his own admittance, he has been affected by it this season. We have to keep working away to find a solution. Our preference is to keep him."
Clive Smith remarked that the players' fitness didn't seem as good this season and spoke of a very low tempo in certain games as well as the formation change. In response, Kenny said the aim had been to take 12 points from the first six games. "We're not where we wanted to be but the positive is that we have a long way to go. We've been inconsistent. We have a new group of wide men...Ojo looks very promising but is still young and looks like he will develop and improve. Jed Wallace has come in but only recently been fit. They need to take on these creative roles."
Tracey Edwards said via the blog: "Can I ask the reason behind the timing of the sale of Richard Stearman? Kenny answered: "There was the size of the bid and the consideration of the players below Richard. Ethan Ebanks-Landell, Kortney Hause, Danny Batth and Dominic Iorfa have Premier League potential. I know they have to settle and quickly but they need to be playing first-team football and I have a lot of faith in those players. Richard did very well for the club and for me but we considered the quality of the players, who I felt were ready now. Given the right space and coaching, they can all develop into Premier League players. I want to give opportunities to young players who are untried with a lot to prove. The proof is in the pudding. It's important to stick to what I believe. I haven't got it right yet (this season) but I have every confidence in the group of players.....and I'm talking about this season."
Asked by Kieran Newey about why the club didn't do more when they knew Bakary was going, Kenny said James Henry was doing well and playing consistently. "He's coming into his best years," he added. "I haven't nailed anybody else into that position.....I'm looking to find someone as effective as Bakary. We did very well to keep him as long as we did because we could have sold him a year or 18 months earlier. Have I found that dynamic down the wing? No, definitely not and I need to find it quickly, whether that's inside the club or not. I have a lot of belief in Ojo but he's 18. If there's someone out there as that replacement, bang, I'll ask Jez."
Andy James wondered whether the young players had the mental strength to cope if results remained unfavourable and suggested that confidence might sap from them quicker than it did from, say, Richard Stearman and Sam Ricketts. "We didn't have any clean sheets with Richard in and Danny Batth has been a real loss," Kenny said. "He'll be back shortly. We've had a number of errors from two good goalkeepers as well. The ability level is enough to overcome the lack of experience. Kortney Hause won't go under. He doesn't buckle but he has to eradicate that mistake. They are too good and have too much character." Jez chipped in: "We have had fantastic support for a team who are getting younger (in average age) and we need that to continue."
Mark Griffiths said: "We have all these youngsters, then we take two youngsters on loan. Have we used two loan players when we could have used our kids? And was there a clause that said Emiliano Martinez has to play?" Kenny said there was no clause and added: "I have every confidence and think he (Martinez) is a top player who will have a top season. You can take up to ten loans but can only play five at any one time. Martinez is very bubbly and I felt he showed on Saturday what he can do. He's very big and very vocal and ready to show what he can do."
Steve James wondered whether supporters were expecting too much after 'two really good years.' "Did we overachieve last season?" he asked. Kenny believed the expectation was right and said: "We want to be going for promotion. I don't think that's anything to be frightened of. It's my job to put this whole thing right. Only good results will settle people down. You (supporters) work off what you see on the pitch and want to see quality and endeavour. It has to come from ourselves first."
A question on the blog enquired as to who was responsible for player recruitment and spoke of the loss of Nouha Dicko leaving the squad short. Kenny answered: "I'm the one on the front line as head coach." He named Steve Morgan, Jez and Kevin Thelwell as the others involved in decision-making on potential new players.
The blog then threw up a question about what the thinking was behind the switching between the keepers. Kenny replied: "To be changing keepers as much I have is not ideal. I am pleased I have the choice of two very good keepers. Carl has the ability to fight back and, if he gets the shirt, to hold on to it. Consistency of selection is something you need but mistakes and poor performances force your hand."
Dave Benton said the club seemed to have made 12 unforced changes in the games so far. "If you want consistency, dropping players is not the way to get it." He asked why Dominic Iorfa had been dropped and was told by Kenny that the player, in fact, had an ankle injury. "There have been a lot of changes in personnel and you are open to criticism, I know that," the head coach admitted. "You're looking for the winning mix. It has been my choice to try to find a winning mix." Dave pointed out that the keeper generally organises the defence, so the same voice would be useful. Kenny continued: "We've had a lot of errors in that department. It's a balance between wanting to be consistent and finding the right team to go forward. I wasn't expecting the amount of errors I've had from either keeper."
Terry King said it had been great business to keep Benik Afobe and asked what chance there was of retaining him at least until the end of the season? Kenny said there was no side deal. "He only signed in January, so he's early into a long contract. At no time was a price mentioned for him to be sold. What's the figure that's going to trigger it? There isn't one. No number has been quoted. No side deal has been done that says he can go at a certain time if we don't get into the Premier League. He's working very hard."
Ian Smith enquired whether there was any movement on a striker and was told by Kenny: "You're as good as you're centre-forwards and it's a real shame for Dicko. We were hoping for big things going into his third year with us. As one door closes, another opens and I have a lot of confidence in Adam Le Fondre. I'm looking forward to the link-up between him and Benik. Young Bright is a fantastic talent. There are options and we signed Le Fondre for this very reason."
Jas Bahra mentioned Connor Ronan and asked whether he was ready for senior football. Kenny responded: "He's excellent technically and will develop into a really good attacking midfielder. He has fantastic potential for after Christmas or next season. He is still young enough to play in our youth team but he won't. At the right time, there may be a loan for him. He's a very talented player."
There were questions from the blog on the level of spending on players and Jez said: "Yes, we have spent money. We always spend money and will continue to spend it. The perception of others as to whether we spend enough is something I respect." To a question about whether there was frustration at the level of spending, the chief exec added: "The money quoted for Jed Wallace is way out, too low. Every club regards this (disclosing transfer fees) as commercially sensitive. If it had all been about money, we would have sold Bakary much earlier. We have tried to get some players for quite a lot of money who for one reason or another haven't come."
Simon Wade said Sammy Ameobi was apparently coming to Wolves and was then 'hijacked' by Cardiff. "That can only be about money....," he said....."there's your winger situation solved in the second week of August." Kenny said: "Are there some (Championship) clubs that spend more than us? Yes. You would not believe the marketplace. We don't spend as much as some – but only a few. We spend more than the majority. Our League position is below what it should be and I'm accountable for that." On Ameobi, he added: "In our deliberations, Jez wanted me to sign him and I didn't."
Steve Galloway asked about the coaching set-up beyond Kenny and Joe Gallen, particularly with regards to Rob Edwards, and was told: "I have a lot of time for Rob and part of my job is developing coaches and looking after the future....dare I say it, mentoring him. I see Rob as a very natural coach, who had a good year with the under-18s and under-16s, and I felt he could bring something to the professionals. Sam Ricketts had done quite a lot of coaching with the defence and Rob has a really good coaching and management career ahead. I want to build a legacy."
Tony Grocott asked what the club's relationship was like with the local press. Kenny said: "I try to be honest and positive. In my time here, the press have been fair. They print opinions and print fliers, which are sometimes right and sometimes not. But that's their job." Regarding on-field matters, Tony felt the ball was too often kicked long from the back and was told by Kenny: "My ideal is to build and pass from the back. I felt Martinez got it right on Saturday."
Kenny was asked about Jordan Graham and said: "He's a promising young player and under consideration. He's right-footed and has played mainly down the left and can beat a man. He will either come into consideration very quickly or go out on loan for experience. He played very well again on Saturday against West Brom in the under-21s."
Another question from the live blog raised the subject of Nathan Byrne, in particular as to whether he is someone who could play imminently. "Nathan is more suited to being played wide either side or slightly deeper where he can run at defenders," Kenny said. "Le Fondre and Afobe have the shirts. I have used Rajiv van La Parra in that position to use his pace. Although his move broke down, he's saying he wants to work hard in training and earn his shirt. And we have young Bright."
Clive Smith mentioned Lee Evans and Kenny replied: "That has been a tough call. I've fought hard to keep his confidence up and keep him in the team. There were too many mistakes, sometimes in good performances. We went with Jack Price and Kevin McDonald, with David Edwards supplementing, and stuck with it. Lee was hugely frustrated and needs a good solid season. He has just turned 21 this summer. I decided to put him out on loan at Bradford but (intend to) keep him fully involved in the future." Clive said he looked like he had a goal in him. "Tactically, I went with a more offensive player in the no 10 role," Kenny said.
Ben Smallman enquired as to the urgency to get up and was told by Kenny that no-one was in a greater rush than him. "Am I envious of those clubs who have done it?" he asked. "Without a doubt. It is feasible this year." He expanded on the possibility of playing with a bigger target-man and said: "I like a footballing style and when you just bring in a big lump, it's okay in the last 20 minutes but it's not the way I want to play otherwise. I like movement and flair. We went for Chris Wood because he has a lot of the qualities we want."
Owen Hughes asked about Dave Edwards and was told by Kenny: "We asked Dave to come inside, so we could get Scott Golbourne outside. I think he brings a lot of very good qualities.....his workrate, passion. He got eight goals last season. I think he's a very good player."
James Wilson's name cropped up on the blog when Danny O'Neil asked whether he was a potential target. Danny was told by Kenny: "He has been and we have enquired but he's not available to us. If that changes, we will be competing."
To a point from Anita Midha about the strength in depth in the squad, the head coach said there were some positions in which the battle for shirts was quite close. "It's up to me to back the right ones," he said. "There aren't a lot of big-name players here but that can be a strength and that's the type of player I like working with. My job is keeping players fit, making sure they develop and keeping an eye on the market."
Another new member, Michelle Turner, was given an encouraging update when she asked how long it would be until Danny Batth returned to the first team. Kenny said he had been very good in Tuesday morning training, having on Saturday played his first 60 minutes for four months. "He will play 90 minutes in the under-21s at Swansea on Monday. He's totally over his foot problem and looks in good shape," the head coach added.
Dan on the blog wondered whether the club had focused too much on Michael Zyro – a point Kenny addressed by saying: "He has played virtually all his football on the right and we were looking at the time to playing him on the other side."
There were also questions about Tommy Rowe and Bjorn Sigurdarson. "Tommy has had a tough time with injury and will be working really hard to push on the left-hand side or in a central position and will be as keen as anyone to show he can earn that first-team shirt," Kenny said. "Bjorn is interesting as he has just had a back operation. It had troubled him intermittently. If it unlocks his potential, I will be front of the queue but it will be four to six weeks until he's really back. Potentially, there's a centre-forward there."
Steve Page asked about the stats data used in recruitment and Kenny said: "The use of analysis and stats is a big thing. Kevin Thelwell has a very up-to-date system. The technology is there, so you may as well use it."
Kenny continued to be open in his answers when Owen Hughes ventured the opinion that Dominic Iorfa, who he really rates, might make a better centre-half. He was told: "I see him as a right-back. I have a love of pace. If he develops later into a top-class centre-back, that's great."
Chris Bate asked what had happened at half-time in the QPR match. "Do you feel the tinkering has cost us?" he enquired. Kenny replied: "We played well for 30-35 minutes. At half-time, I went for Le Fondre for Dicko, energy-wise, and QPR continued where they left off at the end of the first half. We went in a different direction at Cardiff with two natural wingers but we didn't get a shot on target, so it was a poor performance. It has been a transitional period and I feel I have needed to change it because I haven't seen it consistently."
Lisa Owen pondered why Jack Price hadn't featured more. Kenny said he had had an ankle injury recently but Conor Coady and Kevin McDonald had been his choice. "It's tough to play Price and Coady," he said. "They could be very solid but one of those with someone who can create a goal or score (is better).
On the rumours that big clubs were reported to be chasing youngster Niall Ennis, Kenny added: "We take it as a terrific compliment. He's not 17 until next May and played very well v West Brom. We have high hopes for him but we have to ensure he stays grounded. We have close links with the family and wouldn't be encouraging any clubs to be taking him away from us."
Steve Galloway asked about Aaron McCarey and was told that the plan was for him to go out on loan after a tough summer. "He has spent too much time sat on our bench," Kenny admitted. "He's young and we have been trying to get a loan for him. He has been back-up and needs front-line football."
Steve Page asked about cover in midfield being greater than elsewhere and was told by Kenny: "We are thin on the ground in other areas and centre-forward is sensitive because it's so crucial."
Richard Green spoke of Zeli Ismail being the shining light two years ago and asked whether we were ever likely to see him in a Wolves shirt, showing his full potential. Kenny responded: "He's just recovering from injury and is on loan at Burton. He's frustrated at the lack of game time."
Steve Parkes said the club showed real intent last season and had built hopes up, only for 2015-16 to have a 'real poor start.' He didn't feel the club had showed enough desire and commitment in squad strengthening. Jez answered: "The consistent message is that if we are in the Championship, we feel we should be challenging the top six as a minimum. Everyone thinks we should spend more money....ok, I hear it." Steve added: "We were excited and expected to build on that and now there's a lull. Where are the players who are going to perform and get us promoted now? Are we building for two to three years' time?" Kenny said the aim was to compete now, not to say we would be okay in 18 months, and Jez pointed out that the club had signed seven players since the start of the close season. Kenny admitted that Wolves needed to start performing and then there wouldn't be a lull.
With regard to Financial Fair Play, Dave Quarrell commented on Stuart Downing going to Middlesbrough and them bidding for Jordan Rhodes. Jez said: "We said it wouldn't work and it hasn't. You know the clubs coming down can't meet those rules. Now we have new rules."
Mark Griffiths asked whether the club would consider a short-term loan only to cover injuries or whether they would implement one to gain some impetus in the short run. Kenny said they would consider a short-term fix. "We need to win on Saturday – that's the way it always is. But there has to be a consideration for building." Steve James named Danny Graham as one in that bracket who didn't come off. Steve Page said that, although the club didn't disclose transfer fees, there was a visibility because total fees showed in the accounts.
To an enquiry regarding whether the club were worried about falling attendances and might down-size when their parachute payments end, Jez said: "We are not worried but we are monitoring. We will address the end of the parachute payments when we come to that point."
Tom Bate said fans had come into the season with high expectation but felt the club had not done what they should have. "I don't agree over Stearman," he said. "I think that is a big, big mistake. There has been a dip and it's vital we get on track very quickly." Kenny said: "The word used earlier was 'lull' and I can feel it. Win consistently, lift morale, play with tempo and make sure we are a goal-scoring force."
Tony Grocott said it would be remiss of the members not to thank Kenny for his time and staying considerably longer than planned – for over one and a half hours. A comment greeted by a round of applause.
Parliament chairman Matt Grayson and supporter liaison officer Paul Richards ensured that copies of the open letter from the Molineux Mix forum were handed out at the end of the meeting. The second half of the minutes will be posted on this site over the next few days.

As soon as part two comes out I will try to post it.
View a Printer Friendly version of this Story.
FP Meeting Minutes
Discussion started by Wolves , 17/09/2015 14:49
What do you think? You can have your say by posting below.
If you do not already have an account
Click here to Register
.
Edited 1 time(s). Last edit at 2015:09:22:10:16:17 by Badge32.
Sorry, only registered users may post in this forum.