Wolves 2-1 Crawley Town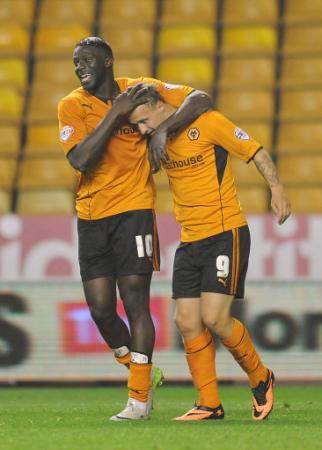 By Tom Bason
August 23 2013
Wolves today continued its unbeaten start to the season, albeit with an unconvincing win at Molineux over Crawley Towns. Björn Sigurðarson gave Wolves the lead, but a late equaliser from Billy Clarke appeared to have given the West Sussex side a share of the spoils. But, Leigh Griffiths stepped up to drill home a late penalty in front of the South Bank to send Wolves top for 19 hours or so.
- Kenny Jackett obviously buys into the maxim of keeping a winning team. Björn Sigurðarson for Leigh Griffiths was the only change from the team that beat Gillingham and Bristol City. I had wondered earlier in the week whether Griffiths would have trained during his court case, and apparently he hasn't. Still, as impressive as Griffiths has been this season, Kevin Doyle and Sigurðarson are both players with top flight experience and I can't think of many better striker partnerships in League 1. We lined up in a 4-4-1-1/4-4-2 with Sigurðarson playing ahead of Doyle. Doyle had used the space in between the midfield and defence well against Gillingham in the previous home game.

- We started the game really well, taking an early lead through Sigurðarson. It was really nice to see him play and not be thinking that I need to criticise his selection on the wing. Indeed, he justified being playing ahead of Griffiths with a fine headed goal. Just a few minutes earlier, he'd also gone close following a fine delivery into the penalty area from Lee Evans. Alongside him, Doyle worked hard, and moved well into the channels. He put in two dangerous crosses in the opening 15 minutes; the first converted by Sigurðarson, the second headed wide by Bakary Sako. I'm a big fan of strikers drifting wide and wingers moving into the space created (last season, it looked like Doyle and Słavomir Peszko were starting to develop this type of relationship before the Pole picked up an injury).

- Crawley started with a very defensive outlook, playing 4-1-4-1 and being happy to give us possession until we were 40 yards from their goal. When we were in the Premier League, we often struggled to change our mentality from concentrating on not conceding to focusing on scoring. I thought Crawley did it quite well tonight - whether they initially intended to play more on the front foot, but didn't get into their stride until going behind. After this though, they started to press a lot higher. We seem happy to pass the ball out from very deep, with Richard Stearman and Danny Batth often passing the ball around our own penalty area. Once Crawley upped the tempo, it made it a lot more difficult for us to move the ball up field; Batth in particular doesn't necessarily have the ability to pass the ball to a man in space when being pressurised.

- Lee Evans and David Davis seem to be Kenny Jackett's preferred central midfield partnership, and on paper should complement each other well. Evans is the passer of the ball (some of his one touch passing is excellent), while Davis is the more energetic player, concentrating on winning the ball back. A problem they do have is age - neither is overly experienced, and it is a big ask for Davis to become the senior partner in the middle. Neither played overly well defensively, not offering the defence enough protection. Too often Crawley midfielders were able to run past them, and pick the ball up behind the midfield, free to turn and run at the defence. The most annoying aspect of this is that it was clearly an issue in the first half, yet continued into the second as Nicky Adams continually found space. The legendary Milan manager Arrigo Sacchi used to insist on no more than 25 meters between the defence and the furthest striker forward; I'd say that for much of tonight Davis and Evans left that much space in front of the defence. Watch the equaliser again, and see where Davis initially loses the ball, and then where he and Evans are as the ball is passed into the forwards. Either these two learn how to defend as part of a team, or we bring in new players who can (incidentally, does anyone know where Kevin Foley was tonight?)

- It would be wrong to fully blame Davis and Evans for this problem - part of the issue was the lack of defensive working from Sako and Zeli Ismail. Both were exciting going forward, with Zeli in particular realising that the Sky cameras were here and bringing out his box of tricks. But, both were very lax defensively. At times, in the second half when we were hanging on, it felt like we were playing more of a 4-2-4 formation, with Ismail and Sako both waiting upfront for the defence to clear the ball to them. This left Davis and Evans, already overrun against a three man Crawley midfield trying to deal with the players that the wingers were letting run past them. It was interesting that in the final five minutes of the first half, Jackett changed it slightly, moving Ismail inside and playing Doyle on the flank. Doyle is a more natural defender than Ismail, who even then effectively stood up front with Sigurðarson, rather than providing the midfield with any support.

- Apart from the first twenty minutes, Crawley were the better side. It was easily the worst performance I've seen under Jackett (I missed last week's Bristol City game as I was at the T20 Finals Day at Edgbaston, which by all accounts was a good professional performance and a deserved win), but I was quite surprised disturbed by how quickly the crowd turned on the players, especially David Davis when he went through a period of gifting Crawley possession. We didn't play well, but we will play a minimum of 49 games this season. There are going to be a few duff performances, especially as we start missing games due to internationals. That said, I thought the reaction to Leigh Griffiths' penalty was superb, and it was the first time in a hell of a long time that I've walked out of Molineux the sound of people chanting. The attendance was very good tonight considering it was a Friday night and live on TV, and when it was going well the atmosphere was excellent. This is a very young team, and at times will need encouragement rather than fans getting on the players' back.
- It was nice to see Danny Bulman playing in Crawley's midfield. He was an integral part of my East Stirling side that went from Scottish Third Division to winning the SPL and reaching the Champions League quarter-final. Incidentally, Mark Connolly who was introduced as a second half substitute is the very same player who controversially moved to Bolton Wanderers for a reported £1 million, following former academy boss Chris Evans (not that one) to the Reebok. Seeing as he's now a substitute for Crawley, that has to rank as one of Jez Moxey's better deals.
View a Printer Friendly version of this Story.
Wolves 2-1 Crawley Town
Discussion started by Wolves , 23/08/2013 23:43
What do you think? You can have your say by posting below.
If you do not already have an account
Click here to Register
.
Edited 1 time(s). Last edit at 2013:09:01:12:06:32 by toomb.
Risca TM
24/08/2013 10:10
Thanks for the report Tom - couldn't see the game myself.

Nice to see a little bit of momentum building by results if not great performances. A bit of experience to come in with MacDonald and the disappearing Foley for the next game maybe?
Bradmore Wolf
24/08/2013 10:46
Turning on the players? I don't think the crowd turned at all.

When they are gifting the ball to the opposition they have to expect a bit of disapproval.
an angry wolf
24/08/2013 14:24
You say you were surprised by the crowd turning on the players and said we may have "the odd duff performance" but bar Gillingham we have been watching garbage every single week for 2 years Tom.

Siggy has no top flight experience as we signed him as a championship club where he managed 5 league goals in 30 appearances.
Quote:

an angry wolf
You say you were surprised by the crowd turning on the players and said we may have "the odd duff performance" but bar Gillingham we have been watching garbage every single week for 2 years Tom.
Siggy has no top flight experience as we signed him as a championship club where he managed 5 league goals in 30 appearances.
We signed Siggy from Lillestrom, a Norwegian top flight team
---
toomb's twitter
an angry wolf
24/08/2013 21:25
Come on Tom, a Scandinavian "top flight" team has about as much pedigree as sticking a tail on a hotdog and entering it at crufts.
Arthur Tannen
26/08/2013 16:41
Agree with Bradmore. Moans and groans is not turning on the players, it's human nature and anyone who says they don't is lying. Those moans and groans are perfectly understandable when we constantly give the ball away and get out played by Crawley. I'd say some fans are the ones who are quick to turn any moans into something it's not, I'd say I'm surprised it's come as early as two games but I'm really not.

The team isn't very young, Evans and Ismail are 19 but the rest are early 20s with decent experience, so there's no need for the fans to clap and cheer players giving the ball away as if they are 17 year old kids. The average age of the team that started was 24.
Sorry, only registered users may post in this forum.