Fans' Parliament 27/02/2013 - My Thoughts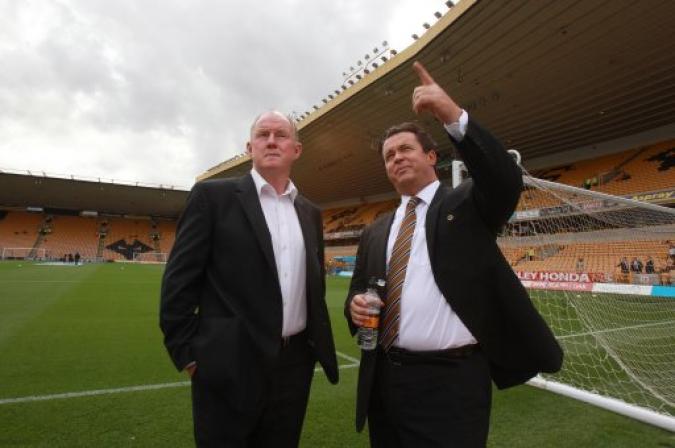 By Tom Bason
February 28 2013
Last night, as you all know, I attended the Fans' Parliament meeting at Molineux. This was possibly the most high profile Fans' Parliament I've ever been aware of, with the possible exception of the very first when it was still a new shiny thing for us to play with. A few years down the line, and most non-members are at best blasé about the meetings; at worst, incredibly rude and insulting about both the meetings themselves, and the representatives who are all in Jez's pocket...
Some of who looked at the thread on here may have seen the list of questions I sent in a couple of weeks ago. Obviously, most representatives sent in agenda items before it was announced that Steve Morgan would be in attendance. For this reason, many representatives said they wanted to retract the items that they had already sent in, and concentrate on other matters that could be answered by Morgan, that perhaps the likes of Jez Moxey, Matt Grayson (Head of Marketing and Communications) or Lyn O'Reardon (Head of Ticketing & Membership) could not answer. Hence, the very loose agenda that was posted on the official website a few days ago, that basically consisted of one thing: Q&A with Steve Morgan. Obviously, you can all follow what was discussed on the blog and read David Instone's minutes, so I won't go into that sort of minute detail here, but instead try and give you my impressions of the evening that perhaps doesn't come across in a factual report of what happened (incidentally, at no point was anything said 'off the record'. They had big screens up so we could see the live blog as it happened and I didn't notice anything that what was missing. There was no sugar coating what went on.
I'd like to start by telling you of my impressions of the relationship between Steve Morgan and Jez Moxey. As the evening started, Morgan was noticeably nervous, and I thought he looked a lot older than when I've seen him in the flesh before (the last time was outside the ground before the defeat Watford). He didn't seem overly comfortable early on, and it felt like at times Moxey was taking his hand and guiding him through. On a couple of occasions, I felt he was trying to deflect questions away from Morgan, towards himself. Part of me wondered whether he was trying to hide, or spin his way out of questions, but I don't think this was the case. As the evening went on, Morgan grew and grew in confidence, to the extent that I felt he'd have been happy had no other Wolves' employees been in attendance. He was confident in what he was saying and in discussing matters with the fans.
Before the evening started, I kind of wished Moxey hadn't been in attendance, thinking that it would have been more interesting to see Morgan's views on things without having Moxey sat next to him. But, it was apparent that Morgan heavily values Moxey. He was enthusiastic about the way Moxey works and what he has done for the club. Whether this faith is misplaced or misguided is up for you to judge, but I had no doubts about the way Morgan values Moxey.
Obviously, one of the major questions about Morgan and Moxey is how much they care about the club. Firstly, I never thought that Morgan didn't want the best for the club. Unless he was seriously planning on running the club into the ground for the land that it owns (see what has happened at Rotherham in the last 15 years for an example of how this can happen), then owning a Premier League club puts him in a far better position financially that owning a Championship club. The revenues are far higher, the profile of the club's owner is far higher. I genuinely think that the position that the club is in hurts him. And with Financial Fair Play being introduced, now would be the perfect time for him to own a Premier League club - he would have a perfectly valid reason for not ploughing money into the transfer budget.
And, talking about the transfer budget, one of the criticisms of last night appears to have been the figures that Morgan produced on net transfer spend. He claimed since he bought the club, £72.9m has been spent on players; with £37m coming in leaving a net spend of £36m. A quick look at transfermarkt.de this morning backs these figures up. They have transfer spend at £72.9m; transfer income £39m and a net spend of £33.9m. Now, don't get me wrong, I'm not passing judgment on these amounts, whether they should be higher or lower, just that Morgan's figures appear to be accurate.
No doubt there were people who posted questions on the blog that weren't published – I have absolutely no idea whether these were vetted or not, but seeing as the questions from us weren't vetted in the slightest, I doubt it. What I will say is that Paul Berry didn't shy away in asking the more searching questions from the blog. He was the one who brought up Moxey's pay packet, and he was the one who asked about the future of Dean Saunders.
Now, this brings up the one question during the evening that they refused to answer, and that isn't really surprising. Morgan had gone on record an hour or so before saying that Saunders was his first and only choice; there was no way he was going to hang his manager out to dry at this point. Yes, it's a question that all Wolves fans want asking, but it was also one that was never going to be answered.
While that was the one question that wasn't answered, I wasn't 100% happy with the answer to the question I asked, regarding the strategy that the club are adopting at the moment. Morgan said that his goal was to develop the youth system, which if it works is brilliant, but I always feel that this shouldn't be the only goal. There are too many variables to rely on youth – they should be used to supplement the team, not make up the core. Secondly, Moxey then basically said that there was no strategy, that the aim was to win games. This left me thinking that if Saunders was sacked, the new manager would come in and start again. And then, if he's sacked, a new manager comes in and starts again again. We've seen the success that Swansea and West Brom have had over the last few seasons, due in part to the club having an overriding strategy that goes beyond the manager's office. I did manage to ask a follow up question, and both Morgan and Moxey stated that relegation to League One wouldn't impinge on youth development. We are committed to it no matter what division we are in.
This does lead to one criticism of the night – given the nature of the meeting, it can be difficult to bring up a head of steam about one topic. If you want to ask a question or make a comment, you put your hand up and Matt Grayson will invite you to talk, or he will ask for a question from the blog. The problem with this is that generally people have their hands up to ask questions for 10-15 minutes, by which point the discussion may have moved on slightly. This means that there tends to be a bit of seesawing between topics, and it is difficult to concentrate on one specific topic for a period of time. Perhaps it would be better to have a more rigid agenda – start off with the appointment of Saunders, finish that topic and move on to something else. But, I suspect the club were wary of doing this for fear of being accused to staging or controlling the entire night.
And that is something else that bothers me slightly – it feels like the club, and Moxey and Morgan are perhaps slightly too sensitive to fans' reactions. This is obviously something that sounds strange, but I got the impression that the club are too worried about what our reactions will be – most notably with the admission that they took into consideration the reaction to the Terry Connor appointment when making the Saunders' decision so quickly. While I agree that the fans should have an influence on the club, I also feel that fans can be idiots and I would rather that important structural decisions were made because they are what's right for the club, rather than because they are what the fans want.
Anyway, that's my thoughts on last night. Watching the live blog out of the corner of my eye, it appeared that some of the anger dissipated over the course of the night. Is this right? How did those of you who followed the live blog feel that the evening went? I think that the majority of those in attendance were unanimous that it was a productive evening, for us if not for Moxey and Morgan, but what did everyone else think?
View a Printer Friendly version of this Story.
Fans' Parliament 27/02/2013 - My Thoughts
Discussion started by Wolves , 28/02/2013 19:08
What do you think? You can have your say by posting below.
If you do not already have an account
Click here to Register
.
Edited 1 time(s). Last edit at 2013:04:13:19:29:43 by toomb.
Ivybridge Wolf
28/02/2013 20:06
Thanks Tom. Good to get your thoughts.
I would agree about some of the anger dissipating on the blog - though personally I think there were several possible reasons all of which may have imputed:
1. I do believe Morgan came across pretty passionately. Ok, I don't like his apparent Moxey love in but I felt his comments came from the heart.
2. The blog was very tough going. It is only natural that interest / anger waned. 3 hours in front of an iPad is not my idea of fun
3. I personally put up to a dozen comments in the blog. Only 2 were published. I know it was busy but is very disheartening.
4. The blog has a lag time so by the time I made a comment the text was updated indicating a new topic, so not easy to follow the thread. Better than nothing though.
5. I agree with you that the night and questions were scattered, repetitive and not structured. Under the circumstances I agree Moxey setting the agenda would have been a disaster, however it genuinely made the blog more difficult.
I don't necessarily agree that Wolves listen and are too sensitive to the fans at all. The recent history, pr and some of their commercial enterprises have confirmed that. I have said openly that I am sceptical of the parliament, so I will retain that view until I see actions not words (from Moxey and Morgan that is!) on a range of issues, football and commercial.
Overall whilst Morgan confirmed passion (which has to be good but harnessed correctly - he's badly advised by Moxey in my view) the picture was one of a lack of direction on the core function of Wolves - football. What is the strategy, why is it that they continue to believe those players are good, why didnt they see this disaster coming when so many fans did, why have they made managerial appointment a complete farce and Wolves a by-word in football for ridicule? Sadly I don't feel they addressed any of these issues. Passion yes, ideas, no. Moreover, there didn't seem to be an understanding of why we are where we are.
Anyway, enough, we are playing Watford tomorrow! UTW and Moxey out!
---
Meditate today
28/02/2013 22:14
Thanks Tom - whilst nothing that was said will change anything on the pitch I would hope Morgan feels he should return at least once a year.He is the leader of the club as well as the owner and fans need to hear his commitment.Otherwise it just fuels suspicion and the where's the money gone type question.

But nothing that was said changed my view that Morgan has reached the limit of his financial investment .Thats fair enough its his money.The trouble is all the clubs strategies then become devised to meet this lack of resources.

To an extent its a question of expectations- what is wolves natural level .Morgans problem is that we seemed to have finally cracked it after trying for so long and yet when it came to it he didn't have the financial muscle to complete the journey.And now its just gone into reverse.

Yes the academy is very important to wolves , the production of young players always has been .But we all know its become so important becos we are outgunned in the prem transfer market.Wages policy and the choice of manager have also suffered .
So the level of his financial commitment is the key issue to be addressed - Morgan must know this .Sjh got out for the same reason .To turn this ship around does require a clear out and then investment in the team.If Morgan thought like a fan he would acknowledge that he has to allow other investors , serious ones I think he said , to come on board.As it is he will either need to fund the loss this season or we will need to borrow from the bank.Another relegation will just increase the problem so he has some thinking to do.



Edited 2 time(s). Last edit at 2013:02:28:23:03:09 by Fat bloke behind you.
Sorry, only registered users may post in this forum.