Invincibles to Invisibles Wenger's 20 Years Part 1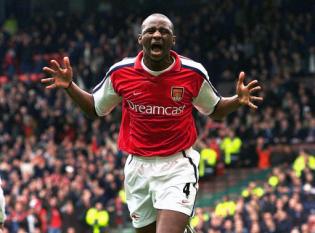 By Merlion
March 29 2017
The Rise and Fall, and Fall of Arsene Wenger: this article covers the first 20 years of Arsene's Arsenal career, a man who as Lothar Matthaus opined of Guardiola "can't coach a defence". Nonetheless Guardiola has proven at Barcelona you can win trophies despite defensive instability. However, he has yet to prove he can do it with Man City. Critics also said Guardiola was lucky to inherit FC Barcelona and Bayern Munich, teams that were already leagues above their opponents in domestic play.
Both Pep Guardiola and Arsene Wenger are outstanding coaches, but so far they have only coached outstanding teams and are yet to prove they can coach an average team to success. Unlike Sir Alex Ferguson or Klopp, Arsene Wenger has yet to build a successful team from scratch and promote players from youth ranks to win titles. Unlike Arsene Wenger, good coaches like Puel, Koeman and Ponchettino are superb tactician and great man-manager who can extract the best from players of lesser quality.
Inheritance
In 1996, Arsene Wenger was lucky to inherit an outstanding Arsenal team with a solid defensive foundation laid by George Graham, plus the immaculate Dennis Bergkamp. Without these two key elements, looking at Arsene Wenger struggling for 12 seasons to build a decent defensive foundation and a reliable and resilient No. 10, there could be doubt that Arsene Wenger would have won any title at all, let alone challenging 1990s Manchester United.
The French Factor
The third element of his first decade successes was his intimate knowledge of French Football. He was way ahead of the rest of the clubs in grabbing the best of the young French footballers during the 1990s French Football Golden Era. Petit, Vieira, Anelka, Pires, Henry and then Wiltord. He took a gamble on Overmars who just recovered from a career-ending knee injury, and later astute buys like Freddy Ljungberg, Edu, Kolo Toure and Lauren, Mad Jens, etc.
A Real CEO
The fourth element was David Dein, a passionate Arsenal fan and a wheeler-dealer that got things done and persuaded Sol Campbell to cross over, and to chase Gilberto Silva all the way to Brazil to sign him.
Diet
The fifth element was his introduction of modern diets and modern sport science to the training centre. This helps to prolong the playing life of the ageing Fab-4, where the last remnant of George Graham's team was still playing in 2003/04.
It was an era of one-touch, one-pass, breath-taking football where an Arsenal team, in all its arrogance, stepped out on the pitch with opponents not thinking of winning but how to prevent Arsenal from scoring a cricket-score against them.
In early 2000s, there was strife with a disgruntled Vieira voicing dissatisfaction over the lack of purchase of world-class players to strengthen the team, to help him to fulfil his wish to win a CL Cup to complete his medal collection. To which Arsene Wenger retorted: "You were not world-class when you joined Arsenal FC!".
What was worse is that for years after, Arsene Wenger kept on repeating this mantra that "we don't buy world-class players. We make 'em!". A justification for his lack of spending to buy marquee and experienced players to strengthen his squad every season.
The decline into mediocrity of today started in 2005/06 season when Vieira was release by Arsene Wenger to joined Juventus. In 2004/05, Vieira had already said his goodbye and cleared his locker in readiness to join Real Madrid. But Perez declared that Vieira will not be classified as a Galactico. A snubbed Vieira decided to stay, which in turn made Arsenal "lost" a key player. West Ham United was demoted and Michael Carrick was all ready to join Redknapp's Portsmouth. He received a phone call and rushed to Arsenal FC for a medical but to no avail. Arsene Wenger explained that Vieira had decided to stay and "it is not fair for Michael Carrick to sit on the bench". Carrick joined Spurs, and later Manchester United. In summer 2005. Wenger made no effort to retain Vieira and informed him that it is his decision to stay or to leave, feeling slighted, Vieira left.
Fab Days
Come Charity Shield in August 2005, a 17-year-old mullet-haired Spaniard was making the Football World sat up with scintillating performance. He was the First-Generation Wenger Wunderkind, a La Masia product, playing with his head up, always scanning the pitch, spotting a passing channel a split-second before opponents closed it down, always thinking 2 or 3 steps ahead, pass and move, making himself available and in anticipation of the return pass.
It ushered Arsenal FC into a new "Age of Midget-Midfielder". Arsene Wenger was obsessed with data analytics then, predicting a rapid decline when footballers are 30-year-old and above and cannot physically playing the entire season with his high-tempo Attacking Football. He needed young footballers peaking between 24 to 27-year-old.
He believed that Arsenal Mark 1.0 had run its course with the French Spine, and it is time to build Arsenal Mark 2.0 around the nucleus of Cesc Fabregas, Flamini, Rosicky, Van Persie and Walcott, playing fluent passing and possession football.
In 2007/08 season, Arsene Wenger almost got it right with his Attacking 4-4-2 with Rosicky-Fabregas-Flamini-Hleb dominating the midfield. There were many 1-0 wins, most of them scoring after 80th minute when our incessant possession and passing worn down opponents till they physically and mentally exhausted and we picked them off after the 80th minute. But his squad was thin and opponents started to kick the "southern softies" out of the game to disrupt the passing rhythm with key players in Fabregas and Hleb injured in October/November period. The fatal error committed was the failure to strengthen the squad in January transfer Window, a mistake Arsene Wenger repeatedly committed every season thereafter.
Arsene Wenger is a football purist, determined even today to build a squad from academy graduates and not be held to ransom by agents to pay above the odds for players he desires. He walks away from any deal that he deems was not economically justified. Plus, his socialist salary policy made many deals for marquee players hit the buffers, deals hijacked by rivals which were, and still are, paid above the odds and accepted the salary demand of the players. We lost many players like Edu, Wiltord, Adebayor, Nasri, Sagna, Van Persie as Arsene Wenger refused to match their salary demands (or were excluded by his over 30 policy). Arsenal will most likely lose Ozil and Alexis this summer as Arsene Wenger will not match their salary demands.
Arsenal Mark 2.0 ended after Fabregas left in 2010.
Arsene Wenger then built Arsenal Mark 3.0 with the Brit Pack as the nucleus of his team. Without Fabregas, it degenerated into Crab Football with 30+ short passes around the box, sideway and backward without penetration. The fault lies in the blind belief of Arsene Wenger that he can coach British players to gain the technical ability and close control of European players. But it was their lack of close control and ability to hold the ball that led to the failure of his possession football with close passing game, ending in an accurate and properly weighted final pass with a player running clear and scored.
Arsene Wenger knew he lacked a creative playmaker that can execute a visionary through ball to carve open defences. In 2013, he bought Mesut Ozil and in 2014, he bought Alexis Sanchez.The problem is that Arsenal now became a one-dimensional team, obsessed with retaining possession, preferring to take control of possession first rather than mixing it up with opportunistic plays by launching Route 101 balls for speedsters like Walcott and Alexis to chase them down. It was predictable short passes all the time, possession first, rather than quick counter-attacking plays like Arsenal Mark 2.0 with Fabregas launching those long and accurate passes.
Arsenal Mark 2.0 has Fabregas' mixing it up with long balls and one-two pass-and-move playmaking plus, the unpredictability of Hleb's dribbling skills and ball holding ability in the box. Arsenal Mark 3.0 has Ozil and Alexis performing the same function as Fabregas and Hleb. The vital difference is Ozil is known for his accurate and precise short passes, never those bombs launched by Fabregas, which he is still executing today at Chelski.
And I believe that is why Xhaka was brought for his long-ball playmaking ability to complement Ozil precise short-pass creative plays. Without Ozil, this can be clearly seen during WBA match with virtually all playmaking was done by Xhaka with his accurate long balls.
2016/17 gave birth to Arsenal Mark 4.0 by converting Alexis as the lone striker in 4-2-3-1, Alex Iwobi promoted, a re-invented aggressive and fit Walcott that ran box-to-box, buying Mustafi and Xhaka. It started brightly but crashed in flames and burnt out by February/March 2017. Many managers quickly found out that Arsenal Mark 4.0 was there for the taking; vulnerable to quick counter-attacks with a hoof-ball bypassing Arsenal entire midfield and a generous defence that will gift a minimum three clear goal attempts per game to opponents. The next section will consider the options for 2017-18
END of Part 1 Part 2 Here