Time for Wenger To Call It a Day ? PART 2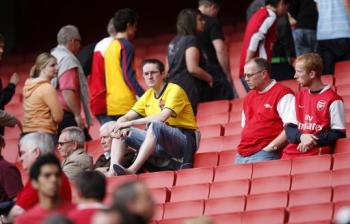 But I enjoyed the chances
By Celine Dion
November 10 2010
And for those of you that can't stomach a dig at the board of directors, because some of you seem to think of them as your dad, or at the very least a dear, trusted relative, they aren't some plucky small time co-operative somehow rallying against the forces of multinational capitalism. They are DIAMOND traders, among other things. And if they gave a f*Ck about you, then they wouldn't have built a great big football ground with more expensive seats than cheap ones.
They have tamed the crowd
Clever f**kers too. And let me tell you why. Directly or indirectly these people have manoeuvred the club and the fans exactly where they want them. Firstly they have practically re-engineered the entire demographic of Arsenal fans inside the ground. As I mention, the polite mild mannered persona of Arsenal fans on the radio phone-ins is not an accident, it is a design.
Under the fortuitous umbrella of the Taylor report, the Premiership's boom in popularity, the PC drive for 'family football' and London's status as a boom city, that's what your average Emirates going fan is nowadays. A middle manager, at the very least. Someone who can take the rough with the smooth, can see the 'bigger financial picture'. Or a well off mother with children. Or someone slightly poorer who has gone there for a special treat, and is prepared to swallow whatever sh*te is put in front of them, because they don't know any better, and have livened up their day with a £150 bag of polyester merchandise.
The old North Bank wouldn't have stood for defeats against West Brom and Newcastle. The old North Bank spent six months absolutely LAYING INTO Lee Dixon when we had just won the championship having only conceded 18 goals in a season. It's no co-incidence that the only song the modern fans will ever sing is the one that goes 'There's' one Arsene Wenger'.
I often ask myself how bad things would have to get before a group of supporters dared speak out against Wenger. With a song, or something. And what would happen if they did. I think they would get lynched, personally. But I tell you what, if you see a fat bald man getting lynched in the Clock End lower any time soon, you will know I tried it.
I'm sorry to say, but large pockets of the Emirates are full of Wenger-drones. Because the Emirates, is of course, the holy temple of Arsene Wenger. He built it practically with his bare hands, like he built a CHURCH in the BIBLE or something. It's all rather a clever plan isn't it, if you are the board of directors of a large football club who doesn't particularly want to spend a lot of money on players.
Establish a 'Wenger brand', and sustain it for as long as you possibly can spin it out, knowing the man will provide the illusion of building some messiah-like master plan just long enough to keep people coming into the ground. Like some mad Granddad inventor who has been building something in the garage for the past five years, with lots of hammering and banging. Only one day, when you stick your head through the door, there's absolutely f*ck all in there.
And anyway against the backdrop of crazy Russians and mad Arabs, which you should make sure you mention at every turn, what's the point of a board spending much anyway? Arsenal are the club that does things the DECENT way. Like charging fans 50 pound to watch a night game in the lower tier against Manchester City. Paper over the cracks by BOMBARDING the fans with imagery of Thierry Henry and Bergkamp every time they so much as go for a p*ss in one of the luxury toilets. Subconsciously, the drones will remain content in the certainty that Bendnter is only a year or two away from becoming the next Bergkamp, and Vela the next Henry.
Finally, establish a surreptitious code whereby to criticise Wenger is to criticise the very fabric of Arsenal itself. And hey presto sit back and continue to light cigars with rolled up fifty pound notes. I don't know how they've done it, but f*ck me, they've done it. This isn't football any more, its bl**dy ''Nineteen Eighty Four".
I don't even know if I can be bothered to go through Arsenals' deficiencies nowadays, because we all know them. Again, the Wenger brand is still powerful enough to persuade plenty of people that Koscielny is the next Franz Beckenbauer. We are desperate to excuse the shortcomings of Wengers' purchases – Chamakh is a great 'hold up player'.
Never mind that he appears unlikely to score more than about 10 goals all season. Who needs goals, when you've got fast, incisive football! Wenger still continues to give interviews on the potential of Robin Van Shergar with an entirely straight face. Suddenly Jack Wilshere is indispensable to the team and there's people saying 'if only we had six Wilsheres'. Now don't get me wrong Wilshere is a good player, or he will be, but he is also eighteen years old, and likely to get dominated by a great many premier league midfielders of lesser skill. As is to be expected, when he's only just out of the boy scouts.
And the keepers, oh Jesus, the keepers. Fabianski has three half decent games and suddenly Wenger was right all along, he never needed another keeper after all. Never mind the fact he actually tried to buy one two months ago. Honestly, the bloke can just come out with any old sh*te nowadays, however contradictory it may be. People still lap it up for some reason. He must go to bed at night laughing his head off.
Look, if it walks like a duck, and quacks like a duck, then it's probably a duck. Therefore if Carlos Vela appears incapable of troubling any premier league defence in any game he plays, it is because he isn't very good, not because he's playing football on some higher aesthetic level. If Koscielny keeps getting caught out of position, then it's because he's not that good a defender.
I still maintain that there is no essential difference between Bendnter and Lee Chapman, except that the club would tell us there was. Signing Campbell and Silvestre wasn't some masterstroke. It's because Wenger is a CHEAPSKATE. If your defence and your goalkeeper can't organise themselves to clear a ball out of the penalty box, year upon year, then you will LOSE GAMES.
All Wenger's magnificent eccentricities wouldn't matter at all, if we won something. But we don't. EVER. How many more years will this be allowed to go on for, dining out on the legacy of the 'invincibles', Ten, Twenty?
Fifty pound a game to hear the same b*llocks trotted out year after year. This, my friends, is, lazy, sh*te management, in anyone's language. It's not 'transition'. It's not 'managing on a shoestring', it's sh*t management. If you lose to West Brom and Newcastle at home in the space of a month you are a BAD FOOTBALL TEAM.
I tell you what blows Wenger's cover. He's trying to win the league cup. Despite all his bluster over the years about using it as a competition to develop the youth. Despite us all feeling wonderfully smug at the Spurs fans a couple of years back when they beat us 5-1. 'It's not a real competition' we all said. Well it is now, to Wenger, apparently, and that tells you the game is up.
And the game is up, and it's time for the man to go. The mighty can fall. Eras pass and Empires crumble. Brian Clough took Forest down stubbornly adhering to very similar principles.
Who wants to sing a song with me at the next home game?
**Disclaimer. No Arsenal fans were harmed in the writing of this article. I fully recognise Wenger is a genius who is responsible for the emergence of Arsenal as a proper football club. I admire and I am eternally grateful for the free flowing football I am lucky to see every Saturday. I realise that Wenger is the last vestige of civilisation in an increasingly barbaric footballing world and that to replace him with David Moyes or similar would cast us into an abyss from which we may never return. Carlos Vela is the next Pele and Fabregas has just got a touch of indigestion.