Earliest St Totteringham's Day Ever?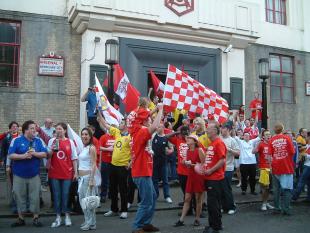 Celebrating WLAWHL
By Boris Mellor
March 9 2008
Of course Arsenal fans have more important things to do than worry about the victorious Lager Cup holders, which might explain why most have not noticed that today is St Totteringham day. The team that was going to deny us a top four spot can no longer overtake the Arsenal.
Arsenal have 66 points to Tottenhams 35. If Spurs were to win every game and Arsenal lose very game (not very likely is it?) they would still be a point behind at the end of the season.
I cant get my hands on the stats, at the moment, but I believe this is the earliest St Totteringham day ever, at least in the Premiership. The previous best was 13 March 2004, and we all know what happened that year.

Happy St Totteringham Day All You Gooners

For a large selection of Arsenal Books, DVDs, PC games AND MORE at Bargain Prices visit the Arsenal Times Store CLICK HERE