Defining a Season : Part 1 : 2000/1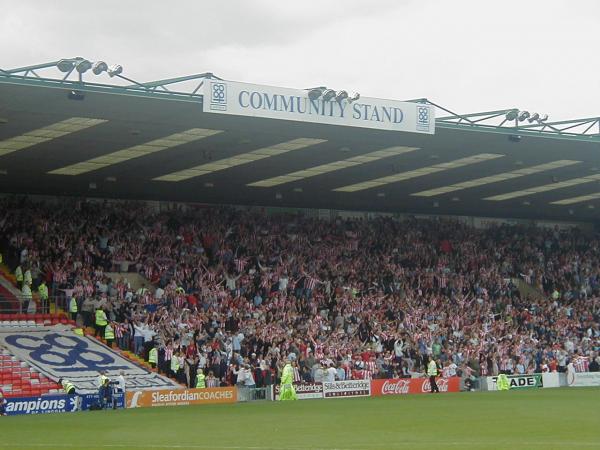 By Nathan Jackson
June 1 2006
What did 2000/1 bring the Imps? Well it didn't bring a lot of good memories as Phil Stant almost got the club relegated. However, he was rightfully sacked and Alan Buckley came to save the Imps, however, what other events defined a year that not many Imps fans will want to remember?
Gavin Gordon was the Imps top scorer in 2000/1 up until the December. His goals were keeping City relatively safe above the drop zone and he had a lot of influence on the team. Then, one Wednesday morning, the official website reports that Gavin has received a bid from
Cardiff
City
. The deal looked completed but then came a major decision for Gavin, if he signed for
Cardiff
, they would automatically make him give up his ability to play for
Jamaica
. Gordon saw the move as worth while and moved to south
Wales
. He hasnít played against
Lincoln
since.
Saturday 24th February 2001 came around and City were starting to stare relegation in the face. A home defeat by Leyton Orient was the 5th defeat in a row. After the defeat, fans protested outside the club offices and demanded the removal of manager Phil Stant and his assistant, George Foster. Neither were particully popular with the fans and Stantís tactics were quite laughable for a start and a run to the Northern Final of the LDV Vans Trophy wasnít enough to please Imps fans as after the defeat to Orient, City laid just one point and one place above the relegation zone. Stant and Foster were sacked just a few days later.
Soon afterwards, the new City manager was announced and was a very popular choice with most fans. Alan Buckley had managed Grimsby Town to promotion a few years before hand and although it was obvious he wasnít going to achieve it with Lincoln that season, most fans saw Buckley as the ideal man to get the Imps out of the mess they were in. 4 games later and City had amassed 9 points from 3 games, with victories over Mansfield, Kidderminster and Gavin Gordonís Cardiff. Although results slowed down a bit, only 1 defeat in the final few games saw City finish clear of the relegation zone.
The game at Mansfield came 336 days after Cityís last away win but the Imps raced into a 3-0 lead before the hour, Mansfield did pull 2 goals back but it was a great performance and a significant improvement in terms of performance (and I donít care what the footy mad network says, we beat them 3-2, not 2-0). 4 days later, the Imps traveled to Kidderminster and beat them convincingly 3-1, including a classic goal from loanee, James Dudgeon, who despite doing a Terry Butcher impression, smashed the ball into the net with his head.
In the middle of all that, came the LDV Vans Northern Section Final games against Port Vale. City had gotten through some very tough games to get to the final, all the games were at home and City recorded a very hard fought win over Morecambe, a comfortable win over Blackpool, a 1-0 win over Hartlepool that was over after 45 seconds and a trashing of then league leaders, Chesterfield. However, all those victories had come under Phil Stant. The difference was obvious as Port Vale, who werenít even impressive, recorded a 2-0 win at Sincil Bank before a 0-0 draw at Vale Park.
Now, we get to Ian Atkins, manager of Carlisle. He brought his side to Sincil Bank late on in the season. The game had to be re-arranged twice due to weather conditions, both times, Carisle fans and officials had arrived at Sincil Bank. After the second time, Ian Atkins amusingly came out with an excuse for the games being called off, apparantly, Lincoln were scared of playing Carlisle. That's right, Lincoln were so scared of playing Carlisle that we did a rain dance and caused there to be waterlogged pitches, twice. Darn, he figured us out.