Leigh RMI 1 Vauxhall Motors 1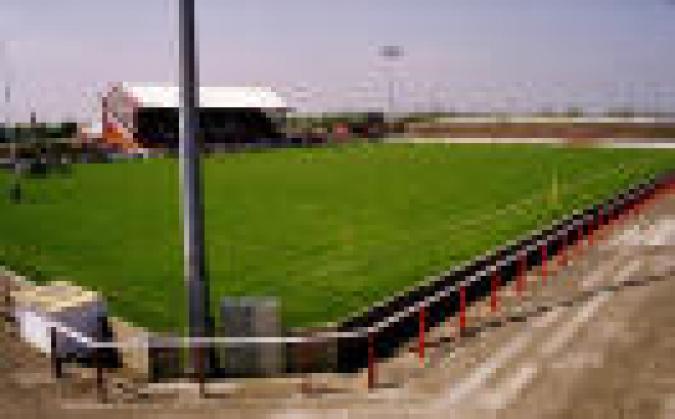 By Tom Owen
February 26 2006
Following RMI's point in midweek against fellow relegation battlers Alfreton they were looking to build on it with a win against bottom of the table Vauxhall at Hilton Park on Friday night. The entertaining 4-4 draw earlier in the season some may have predicted
a lower scoring game with RMI failing to score in the last five games but
on the upside of that they haven't conceded in their past two games. In front
of just 100 or so fans it was Vauxhall who started the brighter putting the
Leigh defence under pressure. Leigh had managed to keep them at bay for a
number of attacks, finally a well worked moved down the left and a low ball
into the box which the Leigh defence failed to clear and Vauxhall took the
lead.

The game settled down a little with Leigh trying to get around the Vauxhall
full backs with Roscoe and Wilkinson combining well but weren't able to provide
for the hard working Simm. The game turned scrappy towards the end of the
half, RMI's had a few chances near the end of the half with a free kick which
Willis and Roscoe did well to create but Roscoe's final effort going wide
of the goal not forcing the keeper into action. Willis was getting more and
more involved and after Alex Hay won a free kick on the edge of the box,
Willis stepped up a hit a rocket of a shot against the bar which in the end
was cleared.

Into the second half and it was RMI who started brighter, winning a number
of corners but again Roscoe's quality of delivery was poor. RMI continued to put pressure on Vauxhall and it finally paid off, good play from Willis opened it up for
Simm he seemed to lose control but Alex Hay was on hand to score with a well
taken effort. Hay was later taken off and replaced by the pacey Gary Williams,
RMI were attacking down that right wing but could never find the cutting
edge.

As both teams tired towards the end of the game, Leigh kept at the task
and had a good penalty appeal turned down when it seemed Wes Wilkinson was
wrestled down inside the area. With full time approaching it was Vauxhall
who had the chance to win the game, with RMI pushing forward, they launched
a counter only for John Lamb to be on hand to save at his near post and claim
the cross which came next to save Leigh's blushes.

RMI next travel to now bottom of the table Hednesford who suffered a huge
8-0 loss at Northwich on Saturday.

More Leigh Genesis Official Supporters headlines