Leigh RMI 1 Chorley 0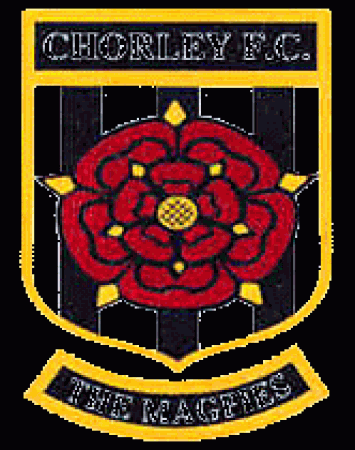 The Magpies
By Matt Lawton
February 20 2003
Ged Courtney's first half goal was enough to defeat a valiant Chorley side and book Leigh a place in the final of the Lancashire FA Marsden Trophy. Courtney gave RMI the lead after twenty five minutes against the run of play with virtually Leigh's first meaningful shot on goal. Chorley began the game with much more vigour and purpose and although they spent a fair proportion of time in the Leigh half they failed to create any clear cut chances prior to Courtney's goal.
However, despite Chorley's early enthusiasm, Courtney's goal knocked the stuffing out of the Magpies and it was left to RMI to create the remaining goal scoring chances of the half, albeit only half chances, with returning striker Damian Whitehead and winger Ian Monk squandering Leigh's best opportunities.
Chorley deserved an equaliser for all their effort but their loyal band of supporters were to be disappointed as they failed to seriously threaten Stuart Coburn's goal in the first half.
The second half followed much the same pattern with Leigh RMI seemingly happy to sit back and defend their one goal lead instead of attacking Chorley and taking advantage of their obviously superior ability.
Chorley had several clear cut chances to equalise in the second half, heavily outnumbering RMI's clear cut chances. Chorley's chief striker fired a warning shot when he headed the ball past RMI goalkeeper Stuart Coburn only for the goal to be disallowed because the linesman had raised his flag for offside. The same striker then missed a golden opportunity when he fired the ball wildly over the crossbar from six yards out with the gaping goal at his mercy when it seemed easier to score than miss. Chorley continued to pressure and would've equalised, if not nicked a shock victory, if it wasn't for several stunning saves from Coburn who twice denied Chorley right on the goal line when the ball seemed to be destined to head for the back of the net.
Despite their chances, Chorley couldn't grab the equaliser that they ultimately richly deserved and RMI could've sealed it with three minutes remaining when striker Damian Whitehead's shot bounced off the inside of the post and back in to play.
As always seems to be the case with Marsden Trophy gmes at Hilton Park, it wasn't exactly the most thrilling of games although RMI showed the efficiency to grab the victory despite the enthusiasm shown by Chorley.
Leigh manager Mark Patterson will look forward to the game next Wednesday between Unibond Premier Division leaders Accrington Stanley and North West Counties League side Kendal, with the victors facing RMI in the final of the Marsden Building Society Lancashire Cup.
More Leigh Genesis Official Supporters headlines