Leigh RMI 0 Barrow 3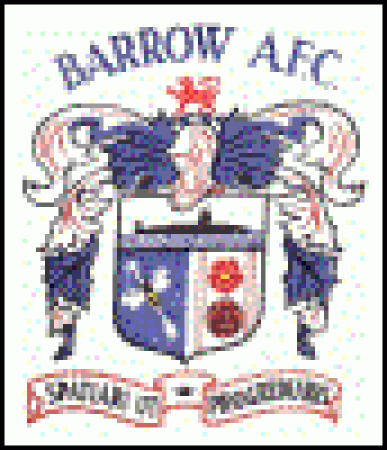 By Matt Lawton
March 10 2007
In a depressingly stark contrast to the pride and determination illustrated in recent games, RMI meekly surrendered to a 3-0 home defeat to Barrow that plunges the Hilton Park side deep in to the relegation mire. After defeating Worcester 2-1 in their previous home game, and showing tremendous character in two consecutive away games at Hucknall and Stalybridge, the Leigh faithful were hopeful of their side repeating such recent performances and gain vital points in the battle to avoid relegation to the Unibond League.

Although it was Barrow who dominated both possession and territory for virtually the entire game, it was the home side who had the first serious glimpse of goal in a first half that took a long while to spring to life when Gavin Lee-Ellison, playing in his more familiar central defensive role after a recent stint in midfield, found himself unmarked in a terrific position in the Chadwick Street End penalty area, only to get a little over-excited and succeed in finding only Barrow goalkeeper Jamie Speare when volleying mid-turn.

Despite that chance, it came as little shock when Barrow finally made their territorial advantage count, although it took a left-sided free kick to deceive everyone and head in to the bottom corner of John Lambís net via a decisive touch from striker Nick Rogan, who proved to be the scourge of RMIís defence throughout the afternoon.

With their tails up after taking the lead, Barrow couldíve quickly grabbed a second, only for John Lamb to save an attempt from the edge of the area after RMIís defence, not for the first time in the game, parted like the Red Sea to give a clear view of goal.

On what turned out to be a thoroughly depressing afternoon for the hosts, they had their only serious period of pressure around ten minutes before half time when Chris Simm fired straight at the goalkeeper from outside of the area before a corner reached Kevin Rapley, who failed to properly connect with his strike, leaving Speare with a relatively comfortable save.

John Lamb was called upon to smartly palm a shot around his right post before Barrow predictably doubled their lead on the stroke of half-time when RMIís defence went AWOL and allowed Rogan to latch on to a direct ball and lift the ball over Lamb.

If the home support were hoping for an improved second half performance from their side, they were to be left disappointed as they continually failed to break down a stubborn Barrow defence that featured ex-RMI centre half Paul Jones, with strikers Simm and Rapley not receiving anything close to the quality of service that they have been afforded in recent encounters.

With the game becoming less and less of a contest as the second half wore on, Rogan put the icing on Barrowís cake in scoring his hat trick, taking advantage of an indecisive linesman who seemingly changed his mind in flagging Rogan offside, leaving the striker with the task of flicking the ball over Lamb in true showboat fashion before volleying the ball in to the empty net.

After such a depressing surrender, RMI will have to quickly pick themselves back up, with Blyth Spartans visiting Hilton Park on Tuesday evening in what is yet another vital game if RMI are going to have any chance of avoiding the dreaded drop.


More Leigh Genesis Official Supporters headlines