Questions & Answers - John Napier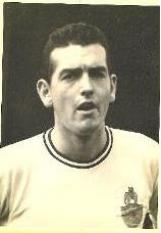 By Mark Heys
March 15 2008
Replacing the great FA Cup hero Bryan Edwards was always going to be a tough task for Bolton Wanderers but in young Northern Irish centre half John Napier they had a ready made replacement who defied his relative inexperience in the game.
Napier, a native of Lurgan in Northern Ireland, was one of a number of young players inducted into the Bolton first team as they looked to force their way back amongst the elite of English football.
He had risen up from the youth ranks alongside the likes of Brian Bromley, Dave Hatton, Francis Lee and John Hulme and manager Bill Ridding had no qualms about blooding him in the first team.
Debuting in the final two games of the 1964-1965 season, Napier helped the side keep clean sheets against Leyton Orient and Cardiff City as the Whites just missed out on promotion owing to the form of an excellent Newcastle United side.
For the next eighteen months after his debut he was a regular at the heart of the Bolton defence, missing just three games in his first full season and playing a part in the game against Charlton Athletic which saw the Addicks Keith Peacock become the first substitute used in English football when replacing goalkeeper Mike Rose in a game at Burnden Park on 21st August 1965.
The Ulsterman himself was involved in the first ever Bolton substitution when, following injury, he was replaced in the 3-2 defeat at home to Southampton by current PFA chairman Gordon Taylor.
His reward for a good debut campaign at Bolton culminated in him winning full international honours for his country but sadly his outing in the match against Germany in May 1966 proved to be his only full cap of a fifteen year playing career.
His final season at Burnden saw him suffer with injuries which forced him to miss a lot of football in the spring of 1967 and in the summer of that year a £25,000 bid from Brighton & Hove Albion was accepted by Bolton's long serving manager Bill Ridding.
Ridding faced the prospect of losing youthful, yet established, first teamers such as Bromley, Lee, Davies, Taylor et al and Napier was one such player who was also considered to be an in-demand assett.
He remained a regular player at Brighton for five years making well over 200 appearances for the Sussex club, winning their player of the year and thereafter followed a highly productive spell with Bradford City between 1972 and 1975.
Spells in America with the Baltimore Cornets and their reformed club San Diego Jaws where sandwiched in between a spell with non-league Mossley and in 1976 he had one last crack at league football, making a solitary appearance with Bradford before succeeding Bobby Kennedy in the managerial hot seat at Valley Parade.
In 1979 he left British shores to take up a coaching role in the USA and since his emigration across the pond he has helped countless young players as well as turned his hand towards the occasional TV Punditry and Broadcasting work.
After 28 years in San Diego he still continues with the same enthusiasm as was shown when he made his debut back in the 1960's.
We caught up with John earlier this month to talk about his time with Bolton and beyond.
What can you remember about your Football League debut?
I don't remember too much about my league debut, in fact I don't even remember who it was against, I do know I made a quick jump to the first team, after very limited games in the reserve team back then.
I know I was involved in the game that had the very first substitute in the English League back then. It was 11th October 1965 Bolton v Charlton at Burnden Park and the time on the big clock showed 3.12pm and Keith Peacock was the very first number 12 in the game, I still have that picture somewhere.

When did you score your first goal?
I don't remember my first goal, I did not score many in my career.

What where your career highlights/lowlights?
Highlights where my debut for Northern Ireland versus Germany in Belfast in 1966, it was the first time all my family had ever seen me play, also the Youth International Tournament in 1963 when the Northern Ireland youth team got to the final at Wembley and lost to England, I was the youngest player.
Lowlights where leaving Bolton, I probably should have stayed, the move did not help my career, although I enjoyed my years at Brighton and Bradford

Who did you room with on away trips when at Bolton?
I roomed with Wyn Davies most of the time, Wyn was a tremendous center forward, (not many better in the air).

What do you think of the current Bolton team and do you get to see them often?
Bolton is always the first result I look for, we see a lot of the Premier League in the States, mostly always live games, I hope they can stay up.
Who did you support during your youth and who where your heroes?.
All my uncles lived in North London when I was growing up and they sent me all Tottenham programs and photos, my bedroom walls were all Tottenham, I could name every player on their teams over the years, so I still follow them after all the years. I never did get to play at White Hart Lane, but did play at Highbury.
Danny Blanchflower and Jimmy McIlroy were two players I liked as a kid.
Which person influenced your career the most?

I think George Taylor and George Hunt, my first coaches at Bolton, and also Nat Lofthouse had a lot to do with my early development, I used to talk to Nat a lot about my game, even before I left Bolton I went to Nat for advice.
I really enjoyed my early experience at Bolton, I was glad I made the decision to join them at 15, I also had Everton and Sunderland wanting me then also.
We would like to thank John for sitting down and answering our questions and we wish him well with the coaching programme in the USA.
If you would like to know more about John's coaching schools then please visit the John Napier Soccer website
http://www.johnnapiersoccer.com
and also take a look at his other site
www.fcheat,com
where there is lots of information about football topics.
More Bolton Wanderers headlines
Bolton Wanderers Poll