Questions & Answers - Bob Taylor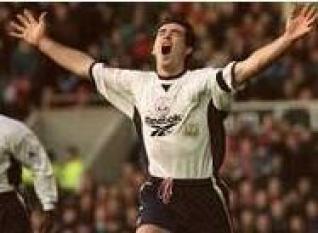 Bob nets at Old Trafford
By Mark Heys & Bob Taylor
September 14 2007
Many eyebrows where raised when Bolton Wanderers decided to turn to experienced striker Bob Taylor in an attempt to increase their Premiership survival chances but it proved to be a move which worked out very well for all concerned.
An exemplory striker at lower league level with a record second to none, Bob was sitting in the reserves at First Division West Bromwich Albion prior to receiving the call from Wanderers manager Colin Todd in January 1998 requesting that he join the Reebok Stadium ranks on loan.
Bolton already had top scorer Nathan Blake, record signing Dean Holdsworth and ex-England international Peter Beardsley amongst their attacking options but Todd felt that things needed to be freshened up a bit.
Bob's first few games in a Bolton shirt saw him struggle for sharpness and this was evident when he missed two close range chances on his debut in a goalless home draw against Southampton.
Nonetheless, the man from the North East impressed the Bolton faithful with his commited performances and in the final game of his initial loan spell with the club he went a long way to making the move a permanent one.
The Wanderers had just been defeated 5-1 by Coventry City at home and confidence was at a pretty low ebb going into the game against local rivals Manchester United at Old Trafford.
It was the fourtieth anniversairy of the Munich Air Tragedy and many expected United to give Bolton another hiding to honour those who lost their lives in Germany.
Not ones to read the script, Todd's men gave a good account of themselves in Manchester and took the lead on the hour when Bob scrambled home his first goal for the club after Gary Neville and Peter Schmeichel had misjudged a Jamie Pollock cross.
Unfortunately for the Whites, Andy Cole headed a life saver for United when converting a cross by David Beckham but all the talk was about making Taylor's loan spell a permanent one.
Manager Todd was in discussions with West Brom counterpart Denis Smith but the Midlands side needed Taylor to cover for their first choice forward line of Andy Hunt and Lee Hughes.
Bob spent a month back at the Hawthorns as part of a Baggies team sitting in an unusual mid-table position but prior to the March transfer deadline Bolton managed to bring him back to the Reebok along with fellow new recruits Gaetano Giallanza and injury prone winger John Salako.
He scored the matchwinner in a crucial Easter fixture at home to neighbours Blackburn Rovers and followed this up by scoring away at Aston Villa when nettting a delightful drive after carrying the ball from the halfway line.
Survival in the Premiership had become a real possibility and the final fixtures of the season would determine whether it was Bolton or Everton who would spend the 1998-1999 season in Division 1.
Bolton went down to two late goals at Chelsea whilst Everton scraped a draw at home to Coventry City owing to a goal from future Wanderer Gareth Farrelly and relegation was sealed.
Taylor went back to his beloved West Brom, but just a few weeks later sealed a third return to Bolton when agreeing a permanant transfer.
A number of strikers where all vying for the same position but the transfers of in-form duo Nathan Blake and Arnar Gunnlaugsson to Blackburn Rovers and Leicester City allowed Bob to strike up a partnership with Dean Holdsworth and then a much rejuvenated Eidur Gudjohnsen.
He found his goalscoring touch throughout Bolton's first season back in England's second tier and ended up the clubs top goalscorer with nineteen goals in all competitions.
Two memorable strikes came at Portman Road in a thrilling Play-Off Semi Final against Ipswich Town which helped the club to what looked like being a swift return to the top flight.
However, the Final against Watford at Wembley was an anti climax in its entirety and Bolton just did not perform on the day. Nick Wright scored an overhead kick for the Hornets and this was followed by a stoppage time goal from substitute Allan Smart.
Season 1999-2000 saw Bolton begin in trouble, doubts surrounded the futures of Per Frandsen, Mark Fish, Robbie Elliott and Dean Holdsworth and results on the field where not their usual best.
Bob's place in the team was under threat and the departure of Colin Todd as manager did little to re-assure the former Leeds United and Bristol City man..
First Team Coach Phil Brown took charge of first team affairs but a much publicised bust up with defender Andy Todd continued to pile the doom on a club which had been riding high just months previous.
Enter Notts County manager Sam Allardyce to steady the ship for what would be over seven memorable years in charge at the Reebok Stadium.
For whatever reason Sam did not see "Super Bob" as being a regular and the player was surprisingly short of goals with just four for Bolton in that season including goals against Cambridge United in the FA Cup and a diving header against Portsmouth in February 2000, his last as a Wanderer.
In March 2000, Allardyce decided to allow Bob to return to West Bromwich Albion for a knockdown £95,000 fee and during his time back at the Hawthorns he helped the side to steer clear of relegation.
Just weeks after leaving Bolton he got on the scoresheet against them with an overhead kick in a thrilling 4-4 draw just over a fortnight after the Wanderers had taken on Aston Villa in the FA Cup Semi Final.
Bob helped Albion to the Premiership in 2002 but his second spell in the top flight was blighted by injuries and he was granted a much deserved testimonial a year later which marked the closure of his West Brom career.
He moved onto Cheltenham Town and then Tamworth where he continued to score goals until his retirement a couple of seasons ago.
Earlier this year he launched his own PR company called SuperBobEvents and whilst business is still in its infancy things are progressing well.
What can you remember about your Bolton debut?
I can remember nearly scoring from three yards out, but their goalkeeper Paul Jones got his foot to it and looped it over the bar. That and the fact that Alan Hansen slaughtered me on Match of the Day for not scoring.
When did you score your first goal for the club?
I scored my first goal at Manchester United. Whilst on loan.
What where your career highlights/lowlights?
My career highlights were scoring that goal against Man. Utd. And playing in the Play Off Final at Wembley against Watford. My Lowlight was that same Wembley Play Off Final after losing to Watford
Who did you room with on away trips when at Bolton?
I roomed with the Goalkeeper Jussi Jaaskelainen
What do you think of the current Bolton team and do you get to see them often?
There have been lots of changes since Big Sam left the club, and it has been an indifferent start to the season. Unfortunately do to other commitments I only get to see then occasionally on TV, so I will reserve my views on the current team until later in the season.
Who did you support during your youth and who where your heroes?
I didn't really support any one club in my youth as I was always busy playing weekends myself. When I did get the chance I would support any of the local teams. My hero would have to be Kevin Keegan.
Which person influenced your career the most?
I have to say the person who influenced my career the most would have to be my Dad, and Billy Bremner for pushing me and beleiving in me and giving me my first contract.
I would like to thank Bob, Olivia and Sue Gascoigne from SuperBobEvents for allowing this interview with Walking Down the Manny Road to take place.
Bob is one of the games good guys and a real character to boot, should you wish you book him for any PR event then please follow the link below or call Olivia Gascoigne on 0121 556 4747
The official Bob Taylor website can be found here
Please click here for our profile of Bob Taylor