Questions & Answers - David Felgate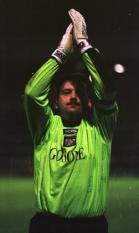 By Mark Heys & David Felgate
September 5 2007
Bolton have had some great goalkeepers throughout their 130 year history with the likes of Dick Pym, Stan Hanson, Eddie Hopkinson, Jim McDonagh, Keith Branagan and Jussi Jaaskelainen all donning the gloves for the Wanderers but unlike those mentioned David Felgate had to wait until his third spell with the club before being recognised as part of that select group of men.
Released from his apprenticeship by the club in 1980 without making a first team appearance, Dave represented Lincoln City, Grimsby Town and Cardiff City as well as winning one senior cap for Wales prior to moving back to Burnden Park late in the 1985-1986 season when new Bolton manager Phil Neal decided that he needed to give Simon Farnworth some much needed competition.
The man Wanderers fans referred to as the cat soon became a favourite due to his excellent shot stopping skills and chants of "Wales Number One" could be regularly heard echoing around Burnden.
In May 1986 the Trotters reached a Wembley Final for the first time in nearly thirty years when drawn up against Bristol City in the Freight Rover Trophy but Felgate's parent club Grimsby Town would not extend his loan spell for the game and Farnworth had to go in goal for a 3-0 defeat.
Bolton manager Neal tried desperately to sign the Welshman on a permanent basis but it wasn't until the following March that he began his third spell with the club when signing a long term contract.
Wanderers where unfortunately heading for the bottom division for the first time in their history by the time Felgate had arrived and he could only try in vein to keep the club up and even played with a broken foot in the Play Off relegation match against Aldershot which Bolton lost on aggregate.
The next two seasons saw David selected as an ever present as Bolton secured promotion at Wrexham on the final day of the campaign with Robbie Savage scoring the all important matchwinner.
Season 1988-1989 also ended on a high note for the likeable custodian when the club won the Sherpa Van Trophy final at a sun soaked Wembley Stadium after defeating Torquay United by four goals to one.
David had one or two injuries to contend with over the next few seasons thus ending his long run in the side and a selection of goalkeepers where used such as Kevin Rose, Ally Maxwell and Andy Dibble.
Bolton missed out on the play offs on two consecutive seasons with Felgate's second trip to Wembley with the club being less memorable when a dubious Chris Malkin goal helped Tranmere Rovers to promotion to the Football League's second tier.
In 1992-1993 new manager Bruce Rioch brought in the afforementioned Branagan and immediately gave the former Millwall keeper the goalkeepers jersey leaving David sat in reserve when the club defeated the likes of Liverpool and Wolves in the first of their FA Cup giantkillings.
After promotion in 1993 David was released after making nearly 400 league appearances for Wanderers and ironically he joined Wolves for a spell after a few weeks of training with Bury.
It was with Chester City though where he managed to get his career back on track and his spell at the Deva Stadium was followed by a season at Wigan Athletic where he fought for his place alongside his ex-Bolton team mate Farnworth.
In 1996 he began a rather colourful and successful tour of the non league scene starting at Leigh RMI. Whilst at RMI he played a starring role in the team which pushed Fulham all the way in a televised FA Cup game at Hilton Park.
He has since turned out well beyond his fortieth birthday for Radcliffe Borough, Chorley and Bacup Borough where with the latter he took up his first stages of professional coaching. He currently works with the young goalkeepers at Manchester City and is also the full time goalkeeping coach at Stockport County.
What can you remember about your Football League debut?
I made my league debut whilst on loan to Rochdale versus Halifax.
What where your career highlights/lowlights?
Highlights of my career was my ful debut for Wales against Romania, the highlights for Bolton was 2 appearances at Wembley. Lowlights was defeat against Tranmere in play-off final and also my release from Bolton.
Who did you room with on away trips when at Bolton?
I used to room with Robbie Savage on away trips.

What do you think of the current Bolton team and do you get to see them often?
I dont get a chance to see the current team, but I see them on TV at times. With working at Stockport County and Manchester City I dont get enough time to watch them live.
Who did you support during your youth and who where your heroes?.
I used to support Manchester United when I was a boy(sorry!), my heroes where all keepers Gordon Banks, Peter Shilton, Pat Jennings.
Which person influenced your career the most?
The person who influenced me when I was young was me, in the sense that all I wanted to do was play fotball, when I became older my wife Lynn and our children influenced me a lot.
Many thanks to Dave for agreeing to answer the questions put to him. Any goalkeepers wanting to enrol at one of Dave's coaching clinics can do so by visiting the following link. www.just4keepers.com
Please click here to view our profile of Dave Felgate