Questions & Answers - Jeff Chandler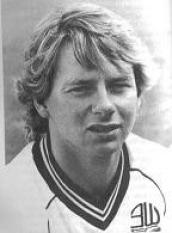 By Mark Heys & Jeff Chandler
June 29 2007
The term "Never go back" is a common phrase used in everyday society but when Jeff Chandler rejoined Bolton Wanderers from Derby County nigh on twenty years ago he harboured aims of carrying on where he had left off in his previous spell at Burnden Park, but for injury this would have been achieved.
Right winger and Republic of Ireland international Jeff first signed for the Wanderers in October 1981 after becoming unsettled across the Pennines at Yorkshire giants Leeds United and despite relegation in his first full season with the club he became a key component of an otherwise youthful Bolton team.
In the 1983-1984 season he was an ever present in the Wanderers team which finished in mid-table in the old Third Division and his fourteen goals that campaign was only bettered by striker Tony Caldwell.
The following campaign he continued his fine performances for the club by hitting twenty goals in all competitions and this lead to a move to Derby County, a team who where then gunning for promotion from the Third tier of English football.
He failed to command a regular place at the Baseball Ground and in the summer of 1987 Bolton manager Phil Neal pulled off quite a coup when persuading the London-born player to move back to Burnden Park.
Bolton had just been relegated to the basement division for the first time in their history and Neal was looking for the right quality to get them back up the leagues.
Tragedy struck in only Jeff's fourth game since returning when he suffered a serious knee injury against local rivals Wigan Athletic in a fiercly contested League Cup game at Burnden.
He was expected to be ruled out for the rest of the 1987-1988 campaign but he did manage a brief substitute appearance in the home game against Colchester United, a week prior to the infamous Wrexham game which finally secured the Whites promotion back to Division 3.
Injury problems continued to mount for Jeff in the next season but he did manage a run in the side and was part of the team which lifted the 1989 Sherpa Van Trophy at Wembley Stadium.
His scored a deflected shot at the Twin Towers and this helped Wanderers to a 4-1 win over Torquay United in the capital to give the club their first piece of silverware since the FA Cup some thirty years previous.
In November 1989 he moved to Cardiff City in search of regular football and spent a couple of seasons in Wales before finally hanging up his boots through injury.
Nowadays he is back in Lancashire with his family and works as a social worker and counsellor for youth offenders in the city of Preston.
Here we ask Jeff about his memories from the game in which he also took in spells at Blackpool and Mansfield Town.
What can you remember about your Football League debut?
It was Blackpool versus Blackburn Rovers at Bloomfield Road in September 1977.
When did you score your first goal?
In the above match, scoring the winning goal
What where your career highlights/lowlights?
Highlight was playing for the Republic of Ireland and lowlight was my career ending through injury.
Who did you room with on away trips when at Bolton?
Steve Thompson was my room mate
What do you think of the current Bolton team and do you get to see them often?
Under Big Sam (Allardyce) they have done fantastic. I go to the Reebok about twice a season.
Who did you support during your youth and who where your heroes?.
I supported Queens Park Rangers and my heroes where Rodney Marsh and Stan Bowles.
Which person influenced your career the most?
There have been many influences but without Dave Johnson (son of Blackpool's 1953 fa cup winning captain) my school teacher recommending me to Blackpool I may never have played professional football.
Many thanks to Jeff for taking time out from his schedule to answer our questions at Walking Down The Manny Road and additional thanks to his daughter Katy for the help she has provided.
Please click here to view our profile of Jeff Chandler

More Bolton Wanderers headlines
Bolton Wanderers Poll