Keane Would Sleep Outside Ireland's Door To Get Him Back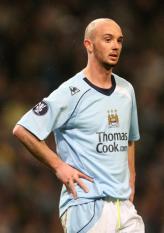 S. Ireland
By Brian
May 14 2009
Roy Keane has gotten himself involved in the Ireland vs Ireland saga lately. He was speaking about the situation regarding Ireland's continued absence from the Irish International team and commented "'When Brian Clough was manager and was trying to get Archie Gemmill to sign, he slept on the sofa. I wouldn't sleep on Stephen Ireland's sofa but I'd sleep outside his house to try and get him back"
Keane who billed Stephen Ireland as the best Irish player around at the moment continued to say that "He would obviously make a big, big, difference to the Irish team, He looks happy in himself, playing for Man City. He's been one of the most consistent players in the Premiership this season, in a team that has been inconsistent"
"'He might have a reason and we have to respect that whatever it might be. But never say never. I'd keep persevering. If I was Trapattoni, I would literally sleep outside his house"
Keane, who has recently returned to management with Championship side Ipswich, commented on another sticky point regarding the Irish National side. The absence of Andy Reid from Trapatonni's first team selections. "'Andy Reid has as much quality as any player but he doesn't deserve to be in the Ireland squad at this moment in time, as he's not doing enough. I think Reidy could be fitter."
Never one to be shy and unheard, Keane's involvement is sure to have an effect on Trapatonni. Knowing Keane's legendary status amongst the Irish fans, however infamous it may be, will surely make him listen and pay more attention to the subject at hand.
Hopefully this interjection by Keane might spur on the return of Stephen Ireland to the National fray and improve the chances of our advancement in current competitions.
Stay tuned here on the Republic Of Ireland forum for updates on this story as they happen.