Sir Bobby Tributes: Part Five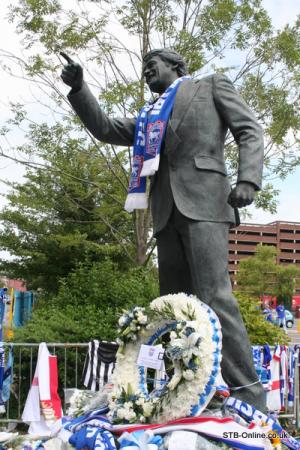 By Aston
August 7 2009
The final part of the tributes that followed following the sad passing of former Ipswich and England manager Sir Bobby Robson. Sir Bobby Tributes: Part 5
John Barnes: "Bobby's so effervescent. If he'd beaten cancer - and I understand he was never going to - but it wouldn't have surprised us because he was such a lively person, a larger than life character and a fighter. These things happen and it's just terrible.
"I owe him so much. My England career is all down to Bobby Robson and not just that, it's the way he was as a human being. More important than the way he was as a football manager was the way he was as a human being, he was just a thoroughly decent human being and he will be sorely missed.
"He will be well remembered for everything he has achieved and much from my perspective - and a lot of the players who played with him - he will be a much bigger loss from a personal point of view. He was everybody's favourite great uncle, he was such a loveable man."
Roger Osborne: "Simply he was a workaholic. He would turn up at Ipswich at 9am and leave at 1am the next morning. He did that for 12-13 years, he was always at the club.
"It was quite easy for him to tell me I was dropped because he was forever dropping me. We had a small squad at the time and it was very close knit. He got it like that and players who tended to play for him tended to do it for 10-11 years - we had testimonial after testimonial.
"He came from Fulham where he was unfortunately sacked but he was a very determined young man. Everybody at Ipswich just took to Bobby and they loved him down this part of the country. We had the 30th year anniversary of the FA Cup final last year and Bobby came down for that. We went around the town in an open-top bus and we did say at the time that the crowds had not come to see us, they came to see Bobby."
Peter Reid: "It's a very sad day for English football and obviously my sympathies go out to Bobby's family. First of all he was a very warm man. If you can be a nice person and football manager, he was that nice person. He had a tremendous knowledge of the game and his enthusiasm was second to none.
"Even when I was managing up at Sunderland not so long ago and he was the rival manager at Newcastle at a ripe old age, he was still like a young man. He was always a gentleman, in victory and defeat, and it's a really sad day for English football.
"He got a few names wrong, but he always got his message across. Tactically he was very astute and from my point of view, playing under him and managing against him, he was just a really nice human being, a nice man. I am due home next week, so hopefully I can make the funeral; it would be nice to pay my respects to Sir Bobby."
Richard Scudamore: "Anyone who spent any time in his company was enriched. The great thing about Bobby was he made you feel you knew him well. He always had time to speak to you."
Terry McDermott: "Everybody knew he was in trouble but it's still a shock. Everybody remembers him for being a nice person but what a great football person as well."
Alan Shearer: "He will be sadly missed, not just by people in the football world, but from all walks of life. It's a very sad day for his family, friends and anyone who's ever worked with him."
Paul Parker: "With his love and his drive, you just wanted to perform for him. Everybody loved playing for Bobby. He was one of the few managers everybody took to."
Bishop of Durham Tom Wright: "In a diocese which rejoices in support for at least two football teams, there is a respect and affection for Sir Bobby which crosses boundaries. His leadership within the whole community of the region has been an example to so many."
Martin O'Neill: "He was held in very high regard by the players. They forgave all his eccentricities - it was legendary that he didn't know anyone's name.
"He had a fantastic career. Early on in the managerial stakes he had fights. Fulham got rid of him and then he went to Ipswich.
Don Howe: "It is a sad day, and although we knew he was ill it still comes as a shock to the system. I have known him since the 50's when he got transferred from Fulham up to West Brom and we just gelled together. He was a standard man, whatever he talked about or did he wanted to do the best he could possibly do.
"When you got to know Bobby and the way he conducted himself, you could always sense his discipline and his standards. Everyone remembers Maradona and the 'Hand of God' and the huge outcry over that, but Sir Bobby always kept his calm. You can imagine what the dressing room was like with all the players upset that the referee had not seen the hand - Bobby just kept his cool all the way through it. He accepted that sometimes you get a decision from a referee that you have to just take. Sometimes you don't get the run of the ball - he always presented himself spot on and was first class.
"He loved the game and when he got the England job he made a great success of it - we did not win anything but we got close. He mixed well with the players but at the same time he never hesitated to show them that he was the boss. If he had to sort them out then he sorted them out. He wanted good football being played and wanted the players to have good discipline on and off the pitch."
Pat Godbold: "One of the most important jobs of a manager in any industry is man management and Mr R really had that quality in abundance. He worked so hard for the Club as well.
"Very often he would be in his office at 8.30 in the morning and not leave until gone eight at night. I was lucky enough to work for him as his personal secretary for many years after he left the Club and he was a great man to work with.
"Everyone loved Mr R."
Mick Mills: "I feel privileged, not only to have known him so well as a friend and colleague, but also to have worked in tandem with him over a long and hugely enjoyable chapter of our respective careers."
John Wark: "He was a top manager, not only of Ipswich but wherever he went after he left Portman Road in 1982, but he was much more than a manager to me.
"I lost my father when I was only 22 and Mr Robson was always there when I needed him. Even many years later I was still consulting him if I had a problem or needed some advice and he was always supportive.
"But it was his knowledge of the game, allied to his ability to bring out the best in his players, which set him apart from most of his contemporaries. He also loved to see youth team players come through the ranks. It made him extremely proud and when we met at his home this year he rhymed off the names of all the kids he turned into proper footballers.
"There are a lot of us who owe him a great deal."
Glenn Hoddle: "It's very sad for everyone and our feelings go out to Bobby's family and obviously for everyone in football, it's a very, very sad day.
"Playing under him, he was a very endearing man and you endeared yourself to him. He was quite a comical man - not knowingly sometimes - and a wonderful football man. You could see the respect the players gave him, around the world. The respect was worldwide.
"He was a very open and honest person. He was somebody that would talk to you, come up and tell you if you were playing well, indifferent, or if you were being left out of the team. He was one of those guys who you really did take to. You had respect for him and what he'd done in football but also off the pitch. He was a very charming man, but also a winner and to get that chemistry is very difficult - but Bobby had it in abundance."
Russell Osman: "One of the keys to his success, in my opinion, was that he always found a balanced way of playing.
"He would have players that compliment each other in different areas, two central defenders that worked well together, two strikers that could play comfortably together, a back four that came together as a unit.
"In 1981, we had a side that all the pieces fitted together neatly. It was like putting a jigsaw together and he managed to do that throughout his career."
Steve Staunton: "He was a great man, well regarded and revered throughout the whole world, not just England and Ireland, the whole world.
"His achievements in football . . . well, there aren't many above him, that's for sure. I'd met him before the Ireland job . . . you get to know people in football but I count myself lucky I've been one of few who had the privilege of working beside him and getting to know him personally. I'm grateful for that.
"His knowledge of football was outstanding but he was always a modest and gracious man who would go out of his way in many different ways to help people."
"He fought his illness with great courage, but that was the measure of the man. He never wanted to let anyone down and I remember him trying to get on planes that even I was trying to persuade him he shouldn't take."

View a Printer Friendly version of this Story.
Sir Bobby Tributes: Part 5
Discussion started by Singing The Blues (IP Logged), 07/08/2009 15:19
Singing The Blues
07/08/2009 15:19
What do you think? You can have your say by posting below.
If you do not already have an account
Click here to Register
.