Sir Bobby Tributes: Part Four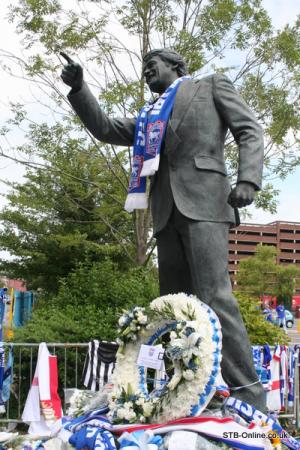 By Aston
August 3 2009
More tributes from the world of football following the passing of Sir Bobby Robson on Friday morning. Dario Gradi: "He truly was a remarkable guy. He was a giver and loved football. He was a genuine giver for the sport and even though he had battled bravery against cancer, for what I think was five times, he spent every ounce of energy had forming and supporting charities such as the Bobby Robson foundation.
"I don't think there has ever been a better English manager. Sir Alf Ramsey may have won the World Cup, but in terms of a career and where he has managed I don't think many will ever emulate what he achieved here and in various countries.
"There is no-one to match him and I think he is as good as we have ever had in this country."
Gianfranco Zola: "He is a man I respected very much. He was always positive and always smiling, he has been a great ambassador for football in general and I pay my respects to him. He is a big loss for us."
Lord Mawhinney said, "I am hugely saddened to hear the news of Sir Bobby's death. He was one of the greats of the English game and will be remembered as a fine player for club and country, an outstanding manager and an ambassador for the sport that he loved. He has shown tremendous courage throughout his battle with illness, selflessly raising hundreds of thousands of pounds for charity from which many others will benefit.
"The thoughts of The Football League, our clubs and their supporters are with Bobby's family and friends today. We will miss him."
Stuart McCall: "It is great loss to football. Bobby had a fantastic record at home and abroad. He had a great knowledge of the game.
"He was one of the few true gentlemen in football. When he spoke, you listened."
Ray Clemence: "It really is a sad day for football and football people. Our hearts got out to Elsie and Bobby's family. I was privileged enough to be out in Portugal three or four weeks ago for his charity golf tournament and sat at his table at the gala dinner and Bobby was fantastic.
"Obviously he looked very ill, but he was determined to travel out to Portugal for his charity tournament and help the Portuguese orphanage that he had raised so much money for. It was a special weekend and it was lovely to be around him; he was a special person as everyone has said.
"His honesty and enthusiasm for the game as a player and then a manager was there, right up to the very end. Whenever he spoke about football, even as ill as he was, his enthusiasm shone through; how he loved the game, cared for the game and wanted people to do well for the game."
Steve McCall: "It is very sad news and Bobby will be a big loss to the country.
"I count myself very lucky to have played under him and it was an honour to have known him.
"The first time I met him, when he signed me for Ipswich, there was a real aura about him, here was a guy you immediately knew was going to go places.
"Sure enough, he won trophies at virtually every club he managed and had great success with England, taking the team so close to the very top of the international game which we like to think is our rightful place.
"His man-management skills were second to none. He knew who needed a pat on the back and who needed a kick up the backside. He ran Ipswich Town from top to bottom and always understood what was needed.
"He is right at the top of anyone I have worked with in football, and the way he conducted himself was always so impressive.
"I spoke to him a few months ago at a get-together and although he wasn't well he was always very determined to battle on.
"People around the country took to him. He was a big favourite of the masses, not just football people.
"He was an absolutely fantastic person and deserves every accolade going."
Gary Lineker: "I was deeply saddened to hear of Bobby Robson's death. He was a great football man. He had a tremendous enthusiasm and passion for football and life and continued to retain this right to the last days of his life.
"He will be deeply missed by everyone, especially those who played for him. I have the fondest memories of playing for him at two World Cups.
"In recent years he undertook a great deal of work for his cancer charity and raised the profile considerably in addition to the monies raised."
Charlie Woods: "I was a player at Ipswich when Bobby took over. He walked through the door and was introduced to the playing staff by Mr John Cobbold and there was something that I really did feel was a bit special there straightaway. I don't know why.
"He had a little bit of charisma about him, you could tell that. Bobby knew how to treat people, on and off the pitch. He had a lot of compassion about him did Bobby but he could be tough if he wanted to be as well. One of his greatest sayings was `don't take my friendliness for a weakness'."
Terry Butcher: "Everybody came to love him within the England team because of his manner and the way he got to know people. He made you feel special, he made you feel 10ft tall and you wanted to play for him.
"I think a lot of players all over the world - international quality players - loved him for what he was. He was a genuine, honest guy who loved his football and could talk all night and all day about football. He loved it so much."
Parts 1,2 and 3 are available via the links down the left hand side of the page.
View a Printer Friendly version of this Story.
Sir Bobby Tributes: Part 4
Discussion started by Singing The Blues (IP Logged), 03/08/2009 16:34
Singing The Blues
03/08/2009 16:34
What do you think? You can have your say by posting below.
If you do not already have an account
Click here to Register
.
TG4EVA
03/08/2009 21:48
he touch so many people


---

´*•.¸*•.¸;¸.•*´)¸.•*´ ´*•.¸(*•.¸;¸.•*´)¸.•*´«´¨`•
The 1st Tractor Girl @ Ipswich Town FC «´¨`•
.¸.•*(¸.•*´;`*•.¸)`*•.¸.¸.•*(¸.•*´`*•.¸)`;«´¨
´¨