Sir Bobby Tributes: Part Two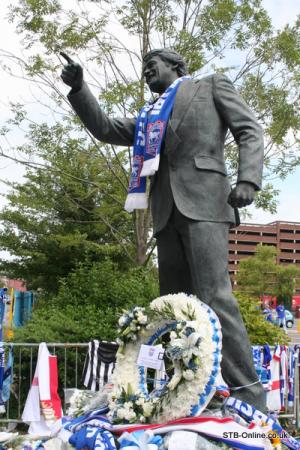 By Aston
August 3 2009
People associated with football all the over the world have paid tribute to former Ipswich and England manager Sir Bobby Robson who passed sadly away on Friday. Sir Bobby Charlton: "Bobby Robson was such a genuine person. So kind, so generous. I cant say enough about him. Even these last few years when he's been so ill, to still considered other people other than himself is just unbelievable.
"I'll think of him as someone gracious and kind whenever I've wanted to speak to him about anything. He's been magical for the game itself.
"I played with him in the early 60s and he was a marvellous player.
"He was so in love with the game in every way and he will be missed by all those who love the game.
"He was proud of where he came from. In the north east there was always an in built work ethic and in football terms he had that ethic. He knew how to get the best out of the efforts he put into it."
Bryan Robson: "He called me his Captain Marvel and it stuck for the rest of my playing career. It made me very proud but it was only typical of the respect he earned from myself and the rest of the dressing room.
"I have never come across anybody with such a passion for football. We had a tremendous personal relationship as manager and skipper.
"Any criticism he had of a player was kept very private and publicly he gave all of us his total backing.
"We stayed pretty close even towards the end and, along with many other friends, I enjoyed his company in Portugal playing in his Golf Classic. He will be missed by everybody who knew him."
Paul Gascoigne: "I'm speechless. I'm devastated. Bobby was like my second dad. I was like a son to him.
"I can't describe how much he meant to me. I've just been crying for three hours, and I've come to see my mum and my dad. It's just unbelievable.
"He gave me a chance to play in the World Cup. I can't really talk that much because I just want to cry, that's all.
"I love him. And his wife Elsie - I'll always be there for her. I'm sort of numb."
Gordon Brown: "I was extremely saddened to hear of the death of Sir Bobby Robson. I had the privilege of meeting Bobby on many occasions. He epitomised everything that is great about football in this country.
"His passion, patriotism, dedication and professionalism knew no equal during his time both as a player and a manager.
"His remarkable achievements as manager of Ipswich Town and then of England are among the most distinguished in English football history, and he was able to replicate that extraordinary success during his time at PSV Eindhoven, Porto and Barcelona.
"Over the past few years, he fought cancer with his characteristic tenacity and good humour.
"He will be sorely missed - not only in Newcastle and Ipswich, both of whom he served with such devotion, but by all sports fans in our country. My sincere condolences go to his wife Elsie and his family."
Freddy Shepherd: "It's very sad, especially on Tyneside. The whole of Tyneside will be grieving. Sir Bobby Robson was a great man and will be sorely missed.
"I worked with him for five years every day. He was certainly the best manager I ever worked with at Newcastle. He never put me under pressure and always tried to see my side.
"He wouldn't put up with fools and didn't take any nonsense. He came across as a very kind guy but underneath was very tough. He thought about football 24 hours a day and he would ring me at all hours of the day and never stopped thinking about football."
Terry Venables: "It is a really sad day. He has always been a fighter and he has really fought everything that has been thrown at him but he has just run out of luck this time.
"We came across each other many times whether on ITV for World Cups, or playing against each other - we go back that far.
"You just thought he was indestructible and he would get over everything, but of course it comes to everybody. He has been suffering for a while and he has shown great bravery and always in a dignified fashion.
"He has been a credit to everybody, he has been a credit to his country, his family and himself. I spoke to him five weeks ago on the phone and he was as you imagine to be, still talking about football and he was trying hard to battle away."
Graham Taylor: "I first met Bobby in the very early 70s when I was a young manager at Lincoln City, just finding my way.
"I met him on a coaching course at Lilleshall. From that meeting, he invited myself to spend a day with him at Ipswich to see what he was doing, what he was trying to do.
"He was so enthusiastic. For a manager to do that for a young manager now, you don't get that too often. So I owe Bobby Robson a lot."
Sven-Goran Eriksson: "First of all he was beyond football a great man, one of the kindest people I ever met.
"He helped me a great deal when I was a young coach and I visited him in Ipswich. He took me, an unknown coach from Sweden, down into the dug-out and explained the tactics.
"The year after Ipswich won the UEFA Cup, my team Gothenburg won it and he came and presented the trophy to me.
"When I became coach of England I called him many times and he was always generous with his advice and helpful.
"It seems he was as friendly to everybody as he was to me. In fact for me, he was the special one."
Peter Beardsley: "He protected the players. We didn't always play well but whatever was said in those four walls, nothing ever left the dressing room. That was a sign of the man. He was a player's man, first and foremost.
"He was prepared to make the brave decisions. He had a courage and conviction about himself.
"I've worked with some great managers but he's right up there. There have been some special words about him but not enough because he was that special."
Pep Guardiola (Barcelona Coach): "It was a pleasure to know him, not only as a coach but also as a person. It was a marvellous experience.
"It was a very difficult season, even though we won three trophies. Despite the problems of that year, he never lost his composure and always behaved like a gentleman."

View a Printer Friendly version of this Story.
Sir Bobby Tributes: Part Two
Discussion started by Singing The Blues (IP Logged), 03/08/2009 12:36
Singing The Blues
03/08/2009 12:36
What do you think? You can have your say by posting below.
If you do not already have an account
Click here to Register
.