Sir Bobby Tributes: Part One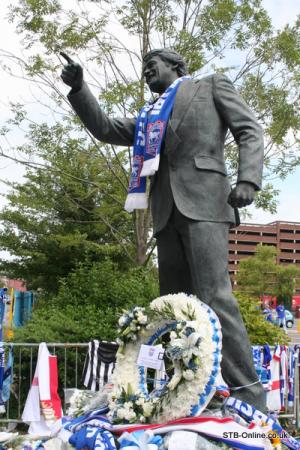 By Aston
August 3 2009
People associated with football all the over the world have paid tribute to former Ipswich and England manager Sir Bobby Robson who passed sadly away on Friday. FIFA President, Sepp Blatter: "He showed great passion and will be missed by fans across the globe. I'd like to thank him for his contribution to the beautiful game."
UEFA President, Michel Platini: "He will be remembered not only for his playing career and his outstanding managerial career at both club and international level, but also because he was a truly warm and passionate human being."
FA President, Prince William: "I am deeply saddened to hear about Sir Bobby Robson's death.
"His contribution to English football as a player, manager and superb ambassador for our national game has been immense.
"He will be sadly missed by football fans everywhere, and I am thinking about his family at this difficult time."
Former Town player and Manager, George Burley: "It was a big decision for me and my parents to make such a long journey at that age, but Sir Bobby was like a father to me, taking a personal interest in me right from the start, always checking whether I was happy. His support and enthusiasm was the perfect cure for homesickness and helped my career to get off the ground and thrive.

"I went on to play over 500 games for Ipswich in a side that drew inspiration from its manager. From 1972 we qualified for European competitions nine out of 10 years which was remarkable considering the size of our squad and our standing as a small-town club. That was all down to his man-management, tactics and judgement.
"I could not possibly get my head round how my career would have gone had it not been for Sir Bobby Robson. I owe him everything and I only hope I can be guided by the example he showed me."
England manager Fabio Capello: "Sir Bobby was a wonderful man, a real gentleman. I remember very well the times I managed my teams against him.
"The first time being when Bobby was manager of Barcelona and I was in my first season with Real Madrid. Later, when he was Newcastle manager and I was with Roma we faced each other - as opponents, but always friends.
"Of course, I recall Bobby as a manager with Ipswich, but more so with England. To manage the national team for so long was a remarkable achievement, and we all remember how close he came to leading England to the World Cup Final in Italy.
"He was a fantastic man, and loved by so many people. His spirit and courage was incredible. To fight cancer so many times really showed the strength of the man.
"All the time we spoke over a cup of coffee with his close family, his passion for football shone through.
"He loved the game and was extremely proud of his country and the North East region.
"It's extremely sad that Sir Bobby has lost his final fight against cancer, but he will never be forgotten. He really was a great man."
Manchester United manager, Sir Alex Ferguson: "I was never too big or proud to ask him for advice which he gave freely and unconditionally. And I'm sure I am speaking for a lot of people when I say that.
"In my 23 years working in England there is not a person I would put an inch above Bobby Robson. I mourn the passing of a great friend, a wonderful individual, a tremendous football man and somebody with passion and knowledge of the game that was unsurpassed.
"His character was hewn out of the coal face, developed by the Durham mining background that he came from. His parents instilled in him the discipline and standards which forged the character of a genuinely colossal human being. He added his own qualities to that which then he passed on to his sons.
"The strength and courage he showed over the past couple of years when battling against his fifth bout of cancer was indescribable. Always a smile, always a friendly word with never a mention of his own problems.
"The world, not just the football world, will miss him. Let's hope it won't be long before another like him turns up because we could never get enough of them."
Jose Mourinho (Sir Bobby's assistant at Barcelona): "Bobby Robson is one of those people who never die, not so much for what he did in his career, for one victory more or less, but for what he knew to give to those who had, like me, the good fortune to know him and walk by his side,"
Barcelona "During his period with the club, Robson won the affection of all Cules (Barca supporters). He is a true legend of world football."
PSV Eindhoven: "Robson was an icon from British football and he had enormous popularity among our fans."
Fulham FC: "Robson's love for the game never wavered and his dedication to his profession, not to mention his outstanding success as a player and manger, means he will always be remembered as a football legend across the world."
Sporting Lisbon and FC Porto are also carrying tributes to Sir Bobby Robson on their websites, which are currently being translated. Further tributes to the greatest of men will be posted later today.

View a Printer Friendly version of this Story.
Sir Bobby Tributes: Part One
Discussion started by Singing The Blues (IP Logged), 03/08/2009 12:23
Singing The Blues
03/08/2009 12:23
What do you think? You can have your say by posting below.
If you do not already have an account
Click here to Register
.