Chelsea's Wingers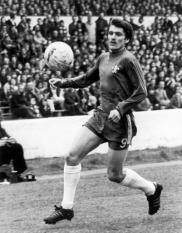 Charlie Cooke
By Gary Watton
December 22 2015
With Damien Duff retiring the other day from professional football, I must take this opportunity to look back at some of our wide boys past and present and suggest that our slide in recent times coincides with some shambolic signings of wingers.
Chelsea, like most clubs, can boast of some great wide players from yesteryear. I think both Frankie Blunstone and Eric Parsons were wingers who enjoyed huge success in the mid-1950s and beyond, even if the rest of the team were of lesser quality. A decade later and the great Charlie Cooke burst onto the scene. He was the wizard of the dribble and he could deliver a mean cross too. Charlie probably didn't score as many goals as he should have. The same could also possibly be said of the next great Scottish winger at Stamford Bridge, Pat Nevin, who inherited Cooke's talents and tormented full backs in the latter half of the 'eighties. We mustn't forget Clive Walker who could dazzle on a regular basis too. He was a more prolific scorer and maybe not an out and out wide man.
Dennis Wise was initially recruited as a wide player where he delivered great crosses, but through time Wisey matured into a fine midfield general. Paul Canoville, Kevin McAllister, Graeme Le Saux, and Graeme Stuart all had spells on the wing and all had their moments, but like the rest of the team, they were afflicted with inconsistency. Eventually, with the assistance of Matthew Harding, we purchased the likes of Gianfranco Zola. Now Franco was not a specialist winger, probably more of a number ten playmaker and sometimes a striker, but blimey when he operated on the confined space of the touchline, he had a knack of getting out of tight spots and leaving defenders looking like window shop dummies. Later Boudewijn Zenden arrived with a big reputation but unfortunately he flattered to deceive. Then along came Jesper Gronkjaer. I was a fan of the Danish international. He shone for a while and scored two massive goals for us, at home to Liverpool in May 2003 in a fixture that was effectively a Champions League play-off and then he knocked in that bizarre cross-cum-shot at home to Monaco the following April which nearly launched us into the final.
Then the Abramovich era initially ushered in some outstanding wingers, but regrettably we have replaced them with some duds and turkeys. Joe Cole was an absolute delight when he came to CFC. He didn't always command a place in the team, but he weighed in with goals and his ability to entertain was huge. Damien Duff never let the club down. He had a great partnership with Robben for a golden spell. I thought that Damien could have stuck around for another year but for one reason or another he left or was released after the Premiership success of 2006. We signed Shaun Wright-Phillips but he rarely delivered on the promise that his reputation suggested. He scored occasionally and played well occasionally but he was way too inconsistent. In my opinion, the prince of our wingers was none other than Arjen Robben. The flying Dutchman has been at the top of his profession for the last dozen years. Why we allowed him to leave is beyond all understanding. His departure was the greatest single mistake that Chelsea have made in the Abramovich era, in my opinion.
Robben was replaced by Florent Malouda, partially on the recommendation of Drogba, I think. Malouda chipped in with quite a lot of goals, but he wasn't a patch on Robben and couldn't go past full backs like the Dutch ace could. I'm forgetting Geremi. He was capable of the occasional spectacular goal but he rarely beat full backs. Since Malouda, whose Chelsea career ended sourly, the club have recruited badly and taken bad advice. Marko Marin was an awful blunder. There was a geezer on social media, an expert on German football, who warned about this transfer. How right he was. The German Messi turned out to be very messy indeed. However, we went from bad to worse. Andre Schurrle was similar to Malouda in that he rarely went past the full backs, but he did have tremendous pace and a good nose for goals, including an important one at home to our dear friends of PSG. It was disappointing that Schurrle felt obliged to leave in order to be certain of first-team football in Deutschland, and to show how much he is missed, Chelsea contrived to replace him with Juan Cuadrado. Poor Cuadrado was an almighty flop. Jose was very patient with the Colombian, but his patience was not repaid. Pedro recently arrived, presumably as a replacement for Cuadrado, and I'm afraid that Pedro has not hit the heights that we all expected, but he scores occasionally and he may yet rediscover his best form. Let's not forget Mo Salah. He shone very briefly when he first arrived, but Jose soon lost faith in him. Salah is quick, but his speed means that he lacks composure when he shoots or passes or crosses the ball. Unfortunately he is one of many players who we signed because he played well against us. I have always maintained that this is the laziest form of scouting. The same applied to Ricardo Quaresma who had a brief and unexciting cameo at Chelsea when Hiddink was in temporary command.
Finally, there is our current incumbents. I happen to think that Willian is more of a natural midfielder and would-be midfield general. His distribution is excellent and he likes to come inside and link with team mates, but I don't think he gets to the bye line anywhere near enough which is surprising, given his speed. Last of all is Eden Hazard. He is definitely not flavour of the month at Stamford Bridge, but I consider him to be on a par with Arjen Robben and Franco Zola. Many might find that statement to be blasphemy, but Hazard has run rings around defenders. He has been responsible for many goals, and until recently, he scored plenty too. Regrettably he cannot buy a goal now, and has even missed two penalties. Nevertheless, he is our one genuine flair player. Have I left anyone out?!
View a Printer Friendly version of this Story.
Chelsea's Wingers
Chelsea FC (IP Logged)
22/12/2015 11:18
What do you think? You can have your say by posting below.
If you do not already have an account
Click here to Register
.
Sorry, only registered users may post in this forum.