Mckenna : PFA Championship Player of the Year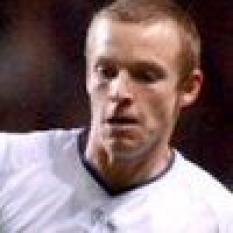 Another award
By pnefans.co.uk
April 28 2005
Preston midfielder Paul Mckenna has been voted PFA Chapionship Player of the Year, it is recognision for the superb season Mckenna has had, His superb performances have help Preston all but clinch a play-off place.
Mckenna was lost for words when the announcement was made earlier today.
"Once again I didn't really know anything about it but it's nice to get an award like this."
"As I said when I picked up the player of the month award, when the team is doing well it attracts more awards, so it's testament to all of the players going on such a good run. It's not about individuals all of the team have been pulling together in the right direction so it's nice that the awards have come for a few of the lads."
"Putting the ball in the back of the net is usually what gets people recognised and rightly so, because the fans come to see goals and they win games and that's why strikers are usually the prestigious players in the team but it is nice to get the award and hopefully I can get a few more goals before the end of the season.
"A couple of goals for me would be nice any time but especially in a crunch game like this but to be honest I wouldn't be bothered who scored it's all about getting the three points which would cement our place in the play offs and that's what we're all hoping for."