Greenacre on Target Again as Rovers Win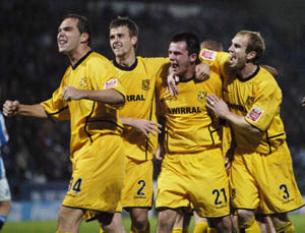 By Deadly Submarine
August 30 2005
After Saturday's 2-0 win away at Chesterfield, Rovers were looking to take a maximum six points out of six as Swindon came to Prenton Park on Monday afternoon. The game will hardly go down on record as an entertainment bonanza but it's the three points that count and that's what the home side got.
Tranmere Rovers 1 – 0 Swindon Town
Greenacre 58
Attendance: 7,557
For some Tranmere fans who even now blame Swindon for the floodlight failure incident of the mid-nineties that indirectly cost Rovers promotion, there can be nothing sweeter than beating our rivals from Wiltshire and keeping a clean sheet at the same time. However it's fair to say that while Rovers were the better side for most of the game the word that could not be used to describe the game is entertaining.
As the game wore on, particularly in the first half, the entertainment on a cross-channel Ferry into Portsmouth only 24 hours earlier had seemed a much more enjoyable way to spend an hour or so. It looked like Rovers wouldn't make the breakthrough but eventually, with a slight element of fortune, Chris Greenacre scored his fourth goal of the season to hand Rovers the all important three points.
The continued absence through a broken foot of Calvin Zola saw Iain Hume and Chris Greenacre again begin up front for Rovers as Manager Brian Little named the same line-up that had beaten Chesterfield on Saturday. This meant that Danny Harrison and Steven Jennings were charged with commanding the midfield once again in the absence of captain Jason McAteer and Mark Rankine with Rankine settling for a place on the bench. New loan signing Alex Bruce played his first match for Rovers at Prenton Park in the right-back position.
The game began slowly in terms of pace but in spite of this, either side could have broken the deadlock in the opening fifteen minutes. Indeed it was the visitors who crafted the first opportunity but Pook's shot was held easily by Achterberg. Shortly after, some good work by Bruce and Aiston almost crafted a chance for the home debutant but he could not reach Aiston's final pass.
Iain Hume had two chances for Rovers in the opening half an hour when he first shot narrowly wide of goal and then soon after, latched onto to a short Swindon backpass and saw his shot saved by Heaton in the Swindon goal when it seemed almost certain that a pass to the unmarked Greenacre would have produced a goal.
In terms of chances, Rovers were now comfortably in the ascendancy and after Roberts had fired over on the half hour mark, Heaton twice had to be in top form in the Swindon goal to deny an own goal off the knee of his defender and then a header from Chris Greenacre. Despite their dominance in the game, Rovers could not find a breakthrough and goalless it remained until the break. In fairness there had not been a great deal to get excited about.
As the teams re-grouped after the interval it became clear that Rovers' Welsh International defender Gareth Roberts was not going to play any further part as he was replaced by Theo Whitmore. It took just three minutes for the Jamaican to have a shot at goal that was saved by Heaton.
There were a few shaky moments for Rovers at the start of the second half as Swindon looked a little more settled but Andy King's side could not find the breakthrough and Rovers eventually made them pay when they themselves found a breakthrough just before the hour mark though the goal appeared to involve a slight element of fortune.
Sam Aiston got clear on the right hand side of the Swindon penalty area and hooked in a cross that seemed to deflect off either a Swindon defender or Danny Harrison but either way the ball fell for Chris Greenacre who in a flash had lashed the ball into the top corner of the net.
Just a couple of minutes later the game could have been over as Danny Harrison had a great chance to double Rovers lead when his second attempt at a shot from a loose ball cannoned off the crossbar with the goalkeeper beaten and the rebound was cleared to safety by the Swindon defence.
Young striker Steve Davies replaced the fairly ineffective Iain Hume shortly after the goal and almost scored with a cheeky lob that beat the goalkeeper but trickled wide of goal.
Rovers last substitution of the afternoon saw Chris Dagnall replace Rovers' goal hero Chris Greenacre for the last ten minutes with Dagnall's partnership upfront with Steve Davies possibly making Rovers youngest attacking line-up for quite some time.
Despite a bit of late Swindon activity around the Rovers penalty area which saw substitute Cureton fire over the bar, the defence once again stood firm to record a second successive clean sheet and more importantly another three valuable points that sees Rovers move into seventh place in League One,just three points behing leaders Huddersfield Town.
Rovers will now look to continue their recent good form and also record back-to-back away victories when they travel to Bournemouth this Friday evening.
Man of the Match Award
Ian Goodison – Having missed his apparently good performance against Oldham in our last home game, I was delighted to see him repeat the feat today with another solid performance.
The Team Line-Ups
Tranmere Rovers: Achterberg, Bruce, Jackson, Sharps, Goodison, Aiston, Jennings, Harrison, Roberts (Whitmore 45), Greenacre (Dagnall 81), Hume (Davies 64).
Subs Not Used: Wilson, Rankine.
Swindon Town: Heaton, Gurney, Ifill, Collins, Smith, Shakes (Cureton 72), Miglioranzi, Pook, Whalley (Wells 81), Heath (Roberts 71) Fallon.
Subs Not Used: Bulman, Comyn-Platt.
Booked: Bruce (Tranmere), Smith (Swindon)
Referee: Mr Eddie Ilderton (Tyne and Wear)
Brian Little's Viewpoint
Talking to the Official Website, Brian Little said of today's game:
"In your second game in three days anything can happen. There were some tired legs out there today but I don't think 1-0 flattered us in anyway. We had chances to score four or five goals and we deserved the win. Two wins in three days is a massive step for us.
"It was quite warm out there, our two strikers worked their socks off on Saturday and were tired today. We defended very well, I can't remember Swindon having a clear chance."
"There were periods in the second half when I wanted to put Mark Rankine on but the two strikers were tired and I thought we needed to work their back lads. Danny and Steve are great athletes and good footballers. I'm delighted with them as a pairing and they're challenging to be regulars in the side."
Explaining the half-time substitution of Gareth Roberts, Little said:
"Gareth had to come off at half time as he didn't feel well. We have a bit of a bug going around. He wanted to carry on in the second half but it isn't worth having someone who isn't feeling well on the pitch."