Johnny King Quotes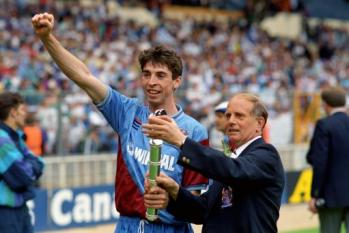 By Total Tranmere
April 13 2012
25 years on from the anniversary of Kingy's appointment, Total Tranmere looks back at some of his magical quotes
Tranmere's most successful manager of all time certainly had a way with words, using metaphors and similies that even the most talented wordsmith may struggle to think up.
These quotes only further endeared King to the Tranmere Rovers faithful, and here are just a few of his famous lines from down the years...
"I can't promise anyone success, but I can promise them a trip to the moon"

"Tranmere will never be able to compete with Liverpool and Everton. They're like big liners like the Queen Mary, but I see Tranmere as a Deadly Submarine"

"Aldridge is like a pair of shoes in a shop. You look at them over and over again and then you find you have enough money to buy them"

"I told them beforehand I wanted to see them firing bullets and not blanks. I wanted us playing with live ammunition and they went out and did that"
""I made a vow with Peter Johnson that I would take Tranmere into the Premier. We all shook hands on it, only he jumped off"
"It was a tears job today. I liken it to almost being almost like a death. When someone has died it's difficult to say the right thing and this was exactly the same with the boys in tears in there. It just goes to show how highly emotional this game can be"
If you know of any more Johnny King quotes, please send them in so we can add them to this article. Thanks.
More Tranmere Rovers headlines
Tranmere Rovers Poll