John King: Legend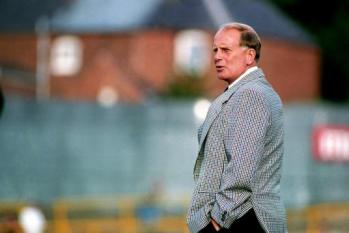 By Matthew Jones
April 13 2012
Total Tranmere looks back at a club legend, 25 years on since his reappointment as Rovers manager
On April 13 1987, 25 years ago today, Peter Johnson made one of the most important and most successful decisions during his reign as chairman of Tranmere Rovers.
The Wirral businessman, owner of Park Hampers, replaced caretaker manager Ronnie Moore with John King as the new Tranmere boss, and what a decision that was to be, as the popular King took Tranmere on "A trip to the moon".
King had previously been in charge of Tranmere, who were by now languishing near the bottom of Divison 4 and were struggling against a very real threat of relegation out of the Football League for the first time.
In 1975, seven years after leaving the club as a player, having captained the side and made 264 appearances, he was appointed manager to replace Ron Yeats and guided Tranmere to Division Three in his first season in charge. Relegtion followed two seasons later however and King was ultimately sacked in September 1980.
Peter Johnson though brought King back to the club and his decision was to be rewarded as King guided Rovers to heights which they had previously never seen and played a quality of football that was the envy of many other Football League clubs.
Under the management of King, Rovers first fought off relegation with 1-0 win over Exeter City in front of a packed Prenton Park securing Rovers' Football League status, before the boss began to propell the club towards Wembley and success.
Using the money that Johnson provided, King was able to bring in some fantastically talented players, such as Eric Nixon, Jim Harvey and Neil McNabb, as well as using a pool of talented youngsters such as Steve Vickers, Shaun Garnett, Tony Thomas and Ged Brannan and players who'd been brought to the club by Frank Worthington who would also become club legends under King - Ian Muir, Tranmere's leading all time goalscorer, and Johnny Morrissey.
These players, under Kingy's management, played an attractive, attacking brand of football, with wing-back surging forward and wingers putting crosses in for Ian Muir to finish off.
In 1988, Tranmere made their first ever trip to Wembley to play in the Football League Centenary Tournament and were a huge success, beating Division One side Wimbledon (who would beat Liverpool in the FA Cup final that year) and Newcastle United on their way to the semi-final, where they eventually lost on penalties to Nottingham Forest after a 2-2 draw.
The success continued for Tranmere as they then finished runners up in Division 4, therefore securing promotion back to division 3, before Tranmere went on to make four more Wembley appearances as they reached the Leyland DAF trophy final and the Division 3 play-off final twice in successive seasons.
In 1989/90, Tranmere were to win their first Wembley final as they beat Bristol Rovers in the Leyland DAF before losing to Notts County a week later in the play-off final.
However, undeterred, Rovers matched that effort the following season, and although John King saw his side beaten by Birmingham City in the Leyland DAF, they were to finally achieve promotion to Divison Two as Chris Malkin's goal in extra time secured Rovers a 1-0 win over rivals Bolton Wanderers.
Now in Division Two, Tranmere continued to be a success. King brought in talented players like Pat Nevin and John Aldridge who also would go on to be club legends.
In three successive seasons under King, Tranmere reached the Division Two (shortly to be renamed Division One) play-offs, though were ultimately unlucky to lose in every semi-final, whilst in 1994 he also guided them to the semi-finals of the League Cup, where Rovers were controversially defeated by Aston Villa.
King left his post as manager in April 1996, replaced by John Aldridge. His second spell in charge of the club was a huge success as he guided Tranmere to two promotions and two cup finals, with the Wirral club winning 211 of his 488 games in charge.
He is the finest manager Tranmere have ever had and a true club legend. It is doubtful that any Rovers boss will enjoy the success that he brought to the club ever again.
He got Tranmere playing an attractive style of football which brought thousands of fans to Prenton Park. Defensively, Tranmere were strong, but attacking wise Rovers were even better. Nevin and Morrissey were superb on the wings whilst Aldridge and Muir upfront were incredibly talented strikers, loyal to the club and unbelievably good goalscorers.
25 years on from his appointment and Rovers are still a division higher than they were when he took over, and it great to see him still celebrated at Prenton Park, with the club recently bringing out a line of legends t-shirts that includes Johnny King, whilst in 2002 the Borough Road stand was renamed the Johnny King Stand.
Was appointing John King one of the greatest decisions Peter Johnson made as Tranmere Rovers chairman? Absolutely. Without John King, you could question whether Rovers would ever have enjoyed such success that they did, certainly to such a high level.
Total Tranmere are looking at putting together an article of your memories of John King. If you could email them to info@total-tranmere.co.uk or tweet them to @totaltranmere with your name and location we will add them to an article that we hope to go live next week.