Classic Rovers No. 2 – Rovers 3-0 Bolton Wanderers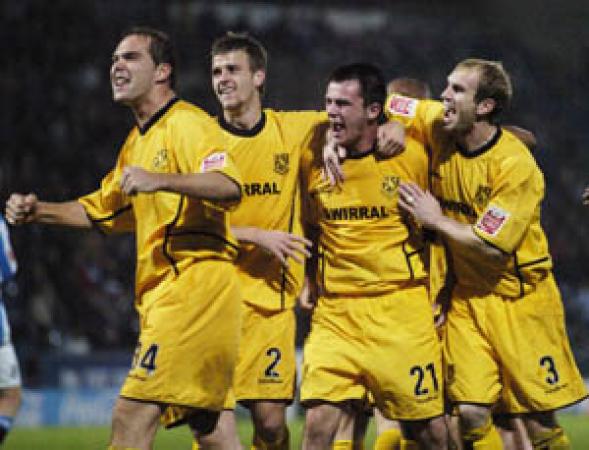 By Deadly Submarine
January 26 2007
In No.2 of the Classic Rovers Series, Deadly Submarine takes a look at how Rovers got to the Worthington Cup Final by beating rivals Bolton Wanderers in the second leg of the tie at Prenton Park and reminisces on his and others thoughts on what turned out to be a glorious night to remember!
Tranmere Rovers 3 – 0 Bolton Wanderers
Henry 5
Mahon pen 20
Kelly 70
Attendance: 15834
The Stage is Set
January 26th 2000 will be a day that will think I will never forget for as long as I live. Tranmere Rovers faced rivals Bolton Wanderers at Prenton Park knowing that they stood potentially just ninety minutes away from their first ever major cup final. What is more is that they had made it just that little bit more possible by completing a hard earned 1-0 win in the first leg at the Reebok Stadium just two weeks earlier thanks to a 22nd minute Clint Hill goal.
This meant that with their own fans behind the them, simply preventing Bolton from scoring or even drawing 1-1 on the night in the second leg, would see the Super White Army descend on Wembley in a months time for the final of the Worthington Cup.
It was billed as being potentially one of the biggest nights in Tranmere's history and yet I was still secretly unsure that despite the 1-0 advantage already held going into the game, that we would have what it took to gain what we as Rovers fans so wanted.
The ground began to fill up early both with fans and with the anticipation and excitement of what the night might have in store for Tranmere's band of followers. It was felt by most fans that an early Rovers goal to double the advantage was absolutely crucial to the shape of the rest of the game.
The Dream Start
As the teams emerged and the game began, Rovers had an early chance when captain David Kelly ran clear but he was excellently tackled at the last moment inside the Bolton penalty area. The home side had also had pumped three dangerous Challinor throws into the Bolton area in the first five minutes and it was from the fourth of these early throws in the fifth minute that led to the early goal that was so craved by the home fans but that most had not even dared to dream of!
Gudni Bergsson could only head Challinor's throw clear to the edge of the area where Nick Henry was lurking to strike one of the sweetest volleys seen at Prenton Park to this very day! Looking at it later on TV it was struck so sweetly and sent Prenton Park into one of the biggest frenzies seen in many years!
Along with about 13,000 others around me I was in an ecstatic dreamland like never before. Was the trip to Wembley really going to become more than just a dream? Just five minutes gone and the lead doubled on aggregate already. Could this really be the year that Tranmere achieve national fame in a major final? Just 85 minutes left to find out.
5 MINS: ROVERS 1-0 BOLTON WANDERERS (2-0 ON AGGREGATE)
The Chorus of "we're going to Wembley" rang out around Prenton Parkas Bolton's Claus Jensen had a free-kick 25 yards from goal that was well defended by Rovers. Shortly after that, Parkinson got free on the left, nutmegged Dean Holden and whipped in a near-post cross that was well held by Banks.
Soon after, David Kelly headed down a Dave Challinor ball forward into the path of Alan Mahon and with Bolton keeper Steve Banks seemingly beaten, Mahon's cross struck the crossbar as Rovers looked the most likely to score the next goal. Surely another goal would be enough to achieve the dream?
Bolton had a few half-chances as Dean Holdsworth had a penalty appeal turned down after Nick Henry looked to have impeded him and Achterberg had to run from his penalty area to clear as Claus Jensen ran free.
Wem-ber-lee, Wem-ber-lee!
The initiative was still with Tranmere though and just 15 minutes after Rovers had taken the lead on the night, Scott Taylor ran onto a Challinor through pass and got the better of Mike Whitlow who bundled Taylor over in the area right in front of my Main Stand seat. The penalty cries echoed around the ground and almost simultaneously referee Graham Poll pointed to the penalty spot.
2-0 up on aggregate with just twenty minutes of the second leg gone and now a penalty and the chance to set both feet firmly in the Wembley doorway. My nerves surely can't take anymore and there's still an hour to go. The penalty responsibility fell to Alan Mahon who sent Banks the wrong way and prompted wild celebrations around three sides of Prenton Park.
20 MINS: ROVERS 2-0 BOLTON WANDERERS (3-0 ON AGGREGATE)
The game lulled slightly as a contest as Bolton seemed to fold mentally as the first half drew to a close. Robbie Elliott had a header well saved by Achterberg and Tranmere nerves were slightly on edge as a Bolton free-kick was whipped in to the area but was headed clear by the excellent Alan Mahon. That was the last real action of the first half as it ended 2-0 to Rovers.
HALF-TIME: ROVERS 2-0 BOLTON WANDERERS (3-0 ON AGGREGATE)
As the game ticked away, the Rovers fans really began to enjoy themselves as the time seemed to be running out for Bolton. David Kelly had an early chance in the second half to make himself the outright top scorer in the competition that season but his shot trickled wide.
Claus Jensen continued to make a nuisance of himself around the Tranmere area but there were still few clear cut chances for the visitors as they looked for a way back into the tie. Achterberg did well to catch a dangerous Jensen cross under pressure and Jensen then saw a free-kick sail high over the bar and into the Kop as it didn't look to be Bolton's night. Scott Taylor had a couple of good chances to finish off his former club once and for all as Rovers continued to press.
This was already turning into a game that I'd never forget but in my view, the greatest moment of all was yet to come. Scott Taylor won a free-kick for Rovers some thirty yards from the Bolton goal and took the decision to take it quickly. Playing a wonderful through ball to David Kelly, the captain found himself in the clear and running at the Bolton goal. He slid the ball past Banks and in off the post for 3-0 and it was game over!!
The man whose goals in the competition had inspired Rovers to get this far in the first place had scored a goal that confirmed almost for certain that my beloved Rovers would be in a major final at Wembley. A fitting moment indeed and one that will live long in the memory of not just myself but other Rovers fans.
No-one will really care what happened in the last twenty minutes of the game as the fans sat back and waited and waited for the final whistle to blow. Finally after what seemed like an eternity, Graham Poll obliged and cued the jubilant scenes that we had all hoped for just ninety minutes earlier. Rovers were going to Wembley to face either Leicester or Aston Villa in their first ever major final.
FINAL SCORE: TRANMERE 3 – 0 BOLTON WANDERERS (4–0 ON AGGREGATE)
A night I will never forget and worthy of a place in Total Tranmere's Classic Rovers series. Hopefully further matches will follow soon in this series.
Match Stats:
Tranmere Rovers:
Achterberg, Hazell, Challinor, Babb, Thompson (Allen 88), Parkinson, Jones, Henry, Mahon (Koumas 86), Taylor, Kelly (Black 84).
Subs Not Used: Nixon, Santos
Bolton Wanderers:
Banks, Holden, Bergsson, Whitlow (Johansen 68), Phillips, Jensen, Passi (Warhurst 53), Elliott, Gardener, Gudjohnsen, Holdsworth (Taylor 77).
Subs Not Used: Jaaskelainen, Ritchie.
Bookings: Thompson (Tranmere), Holden, Whitlow, Elliott (Bolton)
Sent off: None
Referee: Graham Poll
The Managers Post-Match Views:
John Aldridge: "I wanted us to win the game and win it well and that's exactly what happened"
Sam Allardyce: "Tranmere were magnificent on the night, and quite simply we couldn't cope"
The Fans Views -:
Deadly Submarine – "It remains to this day my favourite Tranmere game and it was a night and an occasion I'll never ever forget!!"
SuperWhiteSoldier – "This was naturally the greatest day of my life and I will always look back on it fondly. It was arguably Tranmere's finest moment and I will never forget Nick Henry with one of his specials."
Gray TRFC – "Probably of the best games ever for sheer relaxation! 1-0 up from the first leg then Nick Henry belts one in from the edge of the area early on. Registers as one of the best weeks of my life. It don't get no better than that!"
On behalf of Total Tranmere I would like to thank the readers of the site who helped to contribute their views on the game. So thanks to Gray and SuperWhiteSoldier.
Look out for Classic Rovers No. 3 which is coming soon to TotalTranmere.co.uk