Classic Rovers No. 1 – Wembley 2000 – Part 2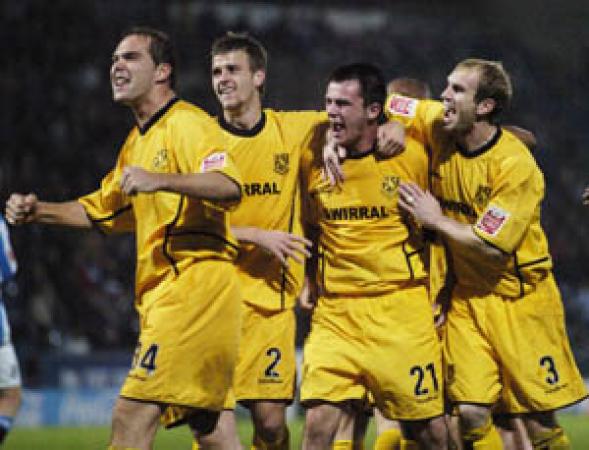 By Deadly Submarine
March 1 2005
The excitement was building, the waiting was almost unbearable but finally at around ten to three on that Sunday Afternoon, the two teams emerged from the tunnel at what was for the 29,500 Tranmere fans, the far end of the ground to where they were sitting.
CLASSIC ROVERS SERIES NO. 1 - Wembley 2000 (Pt 2)
Tranmere R 1 - 2 Leicester C
Attendance: 74,313
Match Referee: Alan Wilkie
Lead out by Manager John Aldridge, himself a past cup finalist, the Rovers players took their places to meet the dignitaries from the Football League and Bass Brewery followed by the singing of the National Anthem as is traditional in all major cup finals.
The only thing you really felt was missing was the singing of the traditional hymn 'Abide With Me' - a tradition sadly reserved only for the FA Cup Final. Prior to the match, the players and staff of both teams gathered together and Wembley Stadium and its 74,000 fans fell silent to pay tribute to Sir Stanley Matthews who had passed away at the age of 85 only three days prior to the final.
Finally after weeks of build up and waiting the game got under way and Tranmere were looking by no means out of their depth against their Premiership opponents. Indeed a lively opening quarter of an hour saw David Kelly force Tim Flowers into a save whilst at the other end, Dave Challinor's sliding challenge denied Heskey a chance to put in a cross.
Inside 10 minutes, Rovers defender Clint Hill, not long back after a four-match suspension, was lucky to only receive a yellow card for a reckless challenge on Scott Oakes.
Tranmere had the ball in the Leicester net in the 13th minute as Alan Mahon played a delightful through ball to Scott Taylor who squared for David to Kelly to score into an open goal but the joyous celebrations were short-lived as Taylor had been judged to have been fractionally offside when Mahon played the through ball to him.
Four minutes later, an identical move to the one just offside saw Scott Taylor again run onto another Alan Mahon through ball but shot over the crossbar. Looking back at the footage to this day I always think 'if only he'd bloody squared the ball' because if he had, David Kelly would almost certainly have scored and this time they had been onside After holding their own for half an hour, Rovers were undone from a set piece.
Robbie Savage delivered a corner and defender and captain Matt Elliott beat Dave Challinor to head goalwards. The ball came off the underside of the crossbar and off the back of Tranmere goalkeeper Joe Murphy before nestling in the net to give the Foxes a lead that some might say they had barely deserved.
Half-Time: Tranmere Rovers 0 - 1 Leicester City
As the second half progressed the game was still fairly even with Leicester fairly happy it seemed to sit on the lead they had and patiently try to get a second goal. The game turned though just after the hour mark when firstly referee Alan Wilkie in his last season before retirement, had to be replaced by one of his assistants when he got injured.
The first action that Phil Richards, his replacement was called into was to somewhat harshly send off Clint Hill for a second yellow card. Heskey appeared on replays to be offside when he was brought down by Hill but fairness Hill's first half challenge was lucky to have only been seen as a caution and a second foul saw the end of the contest for Clint Hill and Tranmere were down to ten men with almost half an hour still to play.
Not to be fazed by being a man down, Tranmere brought defensive cover in the form of Steve Yates who replaced Andy Parkinson. With 77 minutes gone and the game still appearing to be slipping away from the First Division underdogs, that wonderful, glorious moment of ecstasy occurred that will live with any Rovers fan who was there that day for the rest of their lives.
A long free kick forward from the Rovers half by Gareth Roberts was headed down perfectly by Gary Jones who seemed to be impersonating an Olympic High Jumper as he rose highest to meet it. His header down put David Kelly through on goal and before Matt Elliott could put in a tackle, Kelly had fired the ball between Tim Flowers and his right hand post to cue wild celebrations amongst the sea of white!!
I can remember jumping and cheering like never before for a Tranmere goal and I think I'm correct in recalling that David Kelly had a talking to from the referee for his wild celebrations behind the goal. No one cared at that point! Nobody gave a damn!! We had come from a goal and a man down against a team from the Premiership and we were now within thirteen minutes or so from taking the game into extra time.
Perhaps that was on the minds of the Tranmere players as well as the fans just four minutes later as Rovers succumbed to an almost identical set piece to that which had undone them in the first half. Again it was Matt Elliott who beat Challinor to the ball, this time from a Steve Guppy corner and again the ball sailed from the Scotsman's head into the net to hand Leicester the advantage once more.
Despite Taylor heading against the crossbar in injury time, Tranmere could not find a second reply and the cup belonged to Leicester. We trudged back through the still fairly empty Wembley streets (the Leicester fans still in the ground celebrating of course) to catch our train back to the hotel where the car was parked.
We saw many a Tranmere scarf or flag still proudly displayed from cars as we headed up the M1 motorway and despite the outcome, the players and the fans had done each other proud that day. It's certainly a day I will never, ever forget and I'm sure most Rovers fans who were there ever will either.
So as you settle down to watch Chelsea v Liverpool in the League Cup Final this Sunday (27th February), take a moment to sit back and remember what you were doing and feeling exactly five years ago to the day! Glorious memories indeed!!!
Final Score: Tranmere Rovers 1 - 2 Leicester City
Team Line-Ups
Leicester City: Flowers, Sinclair, Elliott, Taggart, Savage, Guppy, Izzet, Lennon, Oakes (Impey 77), Heskey, Cottee (Marshall 89).
Subs Not Used: Arphexad, Zagorakis, Gilchrist.
Tranmere Rovers: Murphy, Hazell, Challinor, Hill, Roberts, Parkinson (Yates 66), Jones, Henry, Mahon, Kelly, Taylor.
Subs Not Used: Achterberg, Thompson, Morgan, Black.
Bookings: Hill, Henry, Challinor (Tranmere).
Sent Off: Hill (Tranmere).
Referee: Alan Wilkie (Replaced by Phil Richards - 60mins)
David Kelly
Captain for the big day and scored a goal that I and I'm sure many others will never, ever forget.
www.total-tranmere.co.uk