Classic Rovers No. 1 – Wembley 2000 – Part 1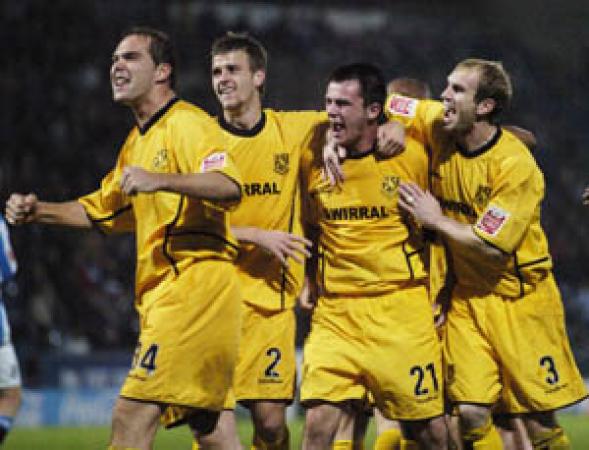 By Deadly Submarine
February 18 2005
Against all the odds the small club from Birkenhead and its swollen army of fans descended on North London for their first and so far only major Cup Final. In Part 1, Reporter Deadly Submarine who was one of almost 30,000 Rovers fans there gives his personal views of the build up to the big match.
CLASSIC ROVERS SERIES NO. 1 - Wembley 2000 (Pt 1)
Setting the Scene
Sunday February 27th 2000 will go down as one of the most memorable occasions in the history of Tranmere Rovers Football Club.
When Rovers kicked off their two-legged League Cup first round match against Blackpool at Bloomfield Road on August 10th 1999, its doubtful that anyone would have thought then that in just over six months time, the Superwhite Army would be descending in droves on the small area of North London known as Wembley for the Worthington Cup Final against Premiership opponents Leicester City.
Sure enough though a two-legged victory over Blackpool was followed by a similar win over Premiership Coventry City then single game wins against Oxford, Barnsley and Middlesbrough before a fantastic two legged semi-final against Division 1 rivals Bolton Wanderers that saw Tranmere through to Wembley. An interesting point is that it was also rumoured later that Manager John Aldridge had thought about resigning at half-time in the second leg against Coventry.
Millennium Weekend in London
Coventry was ironically where my Wembley weekend began on the Saturday as I left my University digs and headed south by car with my whole family in attendance.
My feelings at the time were that despite Leicester being much the favoured team, we had a chance having beaten Premiership opposition twice in the competition that season and also had more top flight scalps in the FA Cup run that had ended in the Sixth Round against Newcastle only the week before.
After arrival at our weekend accommodation, we decided to make a day of the Saturday by visiting the London Eye (which we got on despite it being two weeks before its official opening) and then a Thames Cruise down to the Millennium Dome where we spent the rest of the day before travelling back by tube to our accommodation to prepare for the big day. Sunday quickly arrived and the buzz of excitement surrounding the day began to kick in.
A quick breakfast in Safeway's Café included a chat to a number of Tranmere fans who informed us that they had already been down to the stadium at 8am to have a look but not surprisingly it was quiet at the time.
We once again hopped on the tube into London were Rovers fans were proudly parading their flags, hats and wigs in Trafalgar Square making for some great photo opportunities. The one that thing that hit me as we proudly displayed our colours around Central London that day was the number of locals who were 'rooting' for Tranmere.
Wembley Way
As we got off the Tube and headed down Wembley Way the excitement became almost unbearable. It was still almost two and a half hours till kick off but the number of fans around the stadium created a wonderful early atmosphere as they ate lunch, read the £5.00 match programme and chatted football.
Before we knew it the time had arrived to enter the famous old stadium for what was to be the penultimate major cup final there for what we now know has been five years. The crowd began to fill the stands and the sea of white began to get bigger and bigger in front of me as my position near the very back gave me a view of the stadium that many football fans can only dream of.
This was my first visit to Wembley with Rovers - me being too young to really remember the other visits of the early 90's so I was taking it all in. Seeing the Rovers players parading around the Wembley pitch in their suits finally made it all sink in! Tranmere were in a major Cup Final and I was here to witness it.
The pre-match entertainment that followed was all a blur but before long it was time for the teams to emerge and the match to begin.................................
TO BE CONTINUED.......
PART TWO NEXT WEEK LOOKS AT THE MATCH ITSELF AND THE AFTERMATH!!
www.total-tranmere.co.uk
More Tranmere Rovers headlines