FA Cup First Round Preview - 3rd November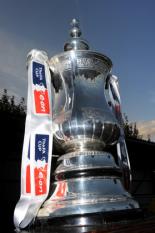 By Henry Hudson
November 1 2012
As Rovers and so many other teams prepare to do battle in the first round of the FA Cup on Saturday afternoon, Henry Hudson takes a look ahead to the first round matches and gives his predictions for the weekend ahead.....
The FA Cup.......it has the ability to inspire, the ability to make a players career, the ability to put a pub team on the national football map and Saturday of course sees the first round proper take place. The first round gets many a non league fan excited if their team is in the draw and some fans of Football League teams will be a bit nervous as they fear they may be on the wrong end of a giantkilling. There are forty ties to be played over the weekend and therefore forty second round places to be allocated.
The first round weekend will kick off on Friday night as Cambridge City (not to be confused with Conference Premier side Cambridge United), host the team that most fans love to hate, Milton Keynes Dons in a match that will be screened live on ESPN. Cambridge City are having an average season in the Evo-Stick Premier Division but the team and fans could be buoyed by the fact they have already progressed further than their rivals Cambridge United. Their best performance came when they reached round two eight seasons ago when ironically, they were knocked out that at home to MK Dons by a single goal. The formbook would suggest that MK Dons will win by far more than a single goal this time around but we have seen how bad MK can and have been defensively so perhaps Cambridge have a chance.
Yeovil Town make the trip to Preston, a rather poor draw for the Glovers as it is a long trip to a very difficult side. If the boys in green and white could earn a replay, most Yeovil fans would surely be happy as it means that there will be some much needed extra revenue if Preston had to visit Huish Park for a replay. On the subject of extra revenue, Hereford United will also earn some precious dollar when League One side and near neighbours Shrewsbury Town visit Edgar Street. As both sides are reasonably near each other this match qualifies as a derby which will mean that a big crowd should be gracing Edgar Street. From their final game in League two in May, to the home game v Braintree earlier in the month, the attendances have dropped by 4,000!
Hereford United's Edgar Street will see local rivals Shrewsbury Town visit this weekend
Another team that have serious problems when attendance is concerned are Coventry City. The Sky Blues are struggling in their first season in the third tier following relegation last season. Despite an abysmal start to the season Coventry will be expected to beat Saturday's opponents Arlesley Town. Arlesley have played at Wembley before – an FA Vase final victory over Oxford in 1995 which is perhaps there greatest achievement to date. Although the second round place is almost certainly Coventry's, visiting Arlesley fans may well match the amount of Coventry fans. Crowds at the Ricoh arena have dwindled and a dull home tie in the FA Cup may well see the attendance drop further. For the Bedfordshire side this is one of their biggest ever games so expect many fans to travel.
One of the other obscure non-league sides to reach the first round, Metropolitan Police, host League One high flyers Crawley Town. Although little is known about the team that represents them, the actual Met Police are often criticised but will the football team do them proud? They can consider themselves unlucky not to have received television money as Met Police v Crawley seemed like one of the ties of the round when it was drawn. On paper this would look like a straight forward away victory but Crawley do have a poor discipline and influential midfielder Hope Apkan was sent off last Saturday against Oldham for a dangerous tackle (not the first time he has done that it really must be said). Crawley do like a red card which may cause problems when they take on the Police!
On the topic of taking on the Police, former Crawley boss Steve Evans (who taught the Crawley players all they know today) will try to take Rotherham on a long FA Cup journey. The previous two seasons he took Crawley quite far before they lost out to Premier League sides on both occasions. Rotherham are not use to cup runs so perhaps Steve can increase his popularity at the Millers starting off by beating Stevenage on Saturday. Although Stevenage are 27 places above Rotherham in the Football League, 'SkyBet' has placed them both at 6/4 to win the game. It is certainly not a draw Stevenage manager Gary Smith would have wanted, a long trip to a hostile crowd where they are under pressure to win.
Gary Smith may not be under the sort of pressure which could lose him his job, but one manager that is under that exact pressure is Aldershot manager Dean Holdsworth. Aldershot currently sit in the drop zone and have the worst attack in the league. On Saturday they will look to get back to winning ways by beating lowly Hendon who themselves have the worst attack in their league. These stats point to a low scoring game but the Shots fans will still expect a hefty victory.
When Earl Barrett and Sean Dyche drew the ties for the opening round, quite a lot of the ties involved teams in the same division such as York vs AFC Wimbledon. These kinds of ties will not catch the imagination of many but for the fans that support them they mean everything as the FA Cup always seems to mean more than when playing league matches. As for the example given, quite alot of attention is given to AFC Wimbledon because of their success in 1988 against all the odds.
The current set of 'Wombles' will face a tight match at York who since promotion, have settled into the division reasonably well. Three other all League Two ties were drawn including Morecambe vs Rochdale – not the most glamorous tie granted but it will certainly be a competitive tie. Morecambe lie in lower mid-table while Rochdale are scraping at the play-off places. These two sides have already faced each other in the league and Morecambe won that encounter at Spotland 2-1.
Sixfield's Stadium in Northampton will see the visit of Bradford City
Northampton and Bradford will face off at Sixfield's in the second of the all League Two matches. Just a couple of days after the draw was made these two faced off in the league. On that occasion Bradford won 1-0 with inform striker Nakki Wells getting the goal. Wells already has ten goals so far this season. Bradford will go into the game as favourites but the Cobblers did beat high flyers Port Vale 2-0 at home last Saturday including their fifth clean sheet of the season at Sixfield's alone!
The final all League Two tie features two sides that are yet to face each other in the league thus far – Barnet and Oxford. Barnet had become a laughing stock, the figurative clowns of the Football League, the team that you could always say 'at least we are not them' when your team were not doing well. However, since the arrival of Dutch legend Edgar Davids, Barnet have looked like a different team. He has played two whole sets of ninety minutes for the Bees (quite remarkable considering he turns 40 in a couple of months) and in that time they have not conceded a goal and earned maximum points.
These two wins will give the North London club a lot of confidence as they host Oxford who have had a pleasing start to the season. If Barnet can continue their good form I would expect a victory but if the Edgar Davids honeymoon is over I would expect Oxford to get through.
Two all League One ties will take place this weekend one of which (Preston v Yeovil) has already been discussed. The other one features 2008 winners Portsmouth as they host 1894 winners Notts County. If you do not include games from the nineteenth century, County's biggest FA Cup game was at home to Manchester City a couple of seasons ago. They almost beat the wealthy Mancs but an Edin Dzeko goal forced a replay which City won comfortably.
Portsmouth came close to winning the cup again in 2010. When the score against Chelsea was goalless they earned a penalty which was wasted by Kevin Prince Boateng. Soon after that Didier Drogba scored what proved to be the winner. Despite that monumental failure, Boateng now plays for European heavyweights AC Milan. Before I get sidetracked into ranting about how the Italians cannot resist a Premier League failure though I should continue the preview.
Due to all the financial benefits, Pompey will be very keen to get through to the next round as it is extra money for the coffers. Also a cup run may be good for finding honesty buyers for the Hampshire side. Despite their extra motivation County will be slight favourites as they have been having a good season so far and they beat Portsmouth with ease earlier in the season.