Tranmere Legends: Part Eight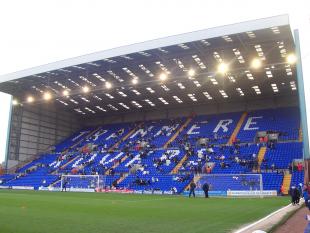 By Matthew Jones
July 14 2010
Total Tranmere brings you article eight of our ten part series on past Tranmere legends, with a feature on a man who can never go forgotten in Tranmere's history

When Dave Russell took over as Tranmere Rovers manager in 1961, the club were most certainly not on the footballing map and languished in the depths of the English Football League, where indeed they have spent most of their 124 year history.

Born in Dundee, Scotland, on April 7th 1914, Russell played for his hometown club before joining East Fife, for whom another Tranmere Rovers favourite George Yardley would later play.

Winning the Scottish Cup in 1938, Russell played 92 games for The Fifers before joining Sheffield Wednesday for the next season, where he was an ever-present as the club finished third in Division Two.

As it did with so many players, World War II hampered Russell's career and after a stint in the RAF, Russell became a coach for the Danish FA before returning to England in 1950 to take up a coaching role at Bury.

In 1953, Russell become manager of Bury and would stay in the hot-seat with the Shakers for an impressive eight years. The club played 379 games under his leadership between 1953 and 1961, winning 154, losing 139 and drawing 86 match.

However, whilst at Bury, finances were a severe problem for Russell, and in 1957 they suffered relegation from Division Two for the first time in 63 years.

Fortunes soon turned around though for the Scotsman, and after guiding Bury back to Division Two in the 1960-61 season, he took over as manager of Tranmere Rovers, replacing Walter Galbraith who had been in charge for less than a year.

Ironically at the time, Tranmere were two divisions lower than Bury, but this didn't matter to Russell, who went on to become a great manager for the club in his eight year stay.

It is perhaps not incorrect to say that Russell has been one of the most influential figures in the history of Tranmere Rovers to date.

Before the Scotsman took over at Prenton Park, Rovers played in a blue kit, but in attempt to distinguish them from local rivals Everton, playing on the other side of the River Mersey, Russell made Tranmere play in an all white kit which they still wear today.

The club crest was also changed (it has been revamped since too, much to the dissapointment of many Rovers fans), as Russell considered the old (old) one to be too bland, ensuring that the new crest was not only more colourful but was more relevant to the club and it's area.

With floodlights installed at Prenton Park in 1958, Russell was also keen to exploit this and play a large number of home games on Friday nights, ensuring that fans of Liverpool or Everton could watch Tranmere on a Friday night and then their club on a Saturday.

This was an idea so successful and so pioneering that it has stayed put ever since, with Tranmere, up to the last two or so years, regularly playing five or more Friday night home matches per season, with Prenton Park often much more atmosphereic under the floodlights.

Add on top of this that Russell developed Tranmere's highly successful youth system, which would produce the likes of Roy McFarland and Steve Coppell, and you can see just how important this man has been in this history of Tranmere Rovers Football Club.

Of course, Russell was not only a huge influence off the pitch but on it also, with Tranmere enjoying previously unknown success under his reign.

After a mediocre first season in charge of the club, Russell began to make Tranmere an ever improving side and after they missed out on promotion in 1965 and 1966, the Holy Grail was finally achieved in the 1966-67 season as Rovers finished fourth in the division and won promotion.

It must be remembered that this was only the second promotion in the clubs history, having formed in 1884. Indeed, in 1975 Tranmere slipped back down to the Fourth Division again, with Russell having departed some six years previous.

The season after Tranmere's promotion, Rovers went on an impressive F.A. Cup run which culminated in a Fifth Round defeat to Everton, with Rovers being the lowest placed team left in the competition by the time they were knocked out.

However, in 1969, Russell left his post as Tranmere manager, guiding them to 167 wins and 130 defeats over a 379 game and eight year stint as manager.

He took up a post as Club General Manager, with Jackie Wilson appointed as the new manager, and in 1978 Russell left the club for the final time. Since, one of the hospitality suites at Prenton Park has been named after the influential figure.

As well as this, the "Dave Russell Memorial Award" is now an annually awarded trophy, by Tranmere Rovers Football Club, to people who have served the club so well in their lifetimes. The two winners of the award so far have been John Aldridge and Warrick Rimmer.

On 12th June 2000, Russell sadly passed away, aged 86, in Birkenhead. His name however will live long in the memory of Tranmere fans as he revolutionalised the club, dragging them in to the present times as they were then and indeed left great marks on the team, including the colour strips they play in today.

Behind John King, Russell will perhaps go down as the most successful manager Tranmere have ever had.
More Tranmere Rovers headlines
Tranmere Rovers Poll