Meite Back In Bolton Fold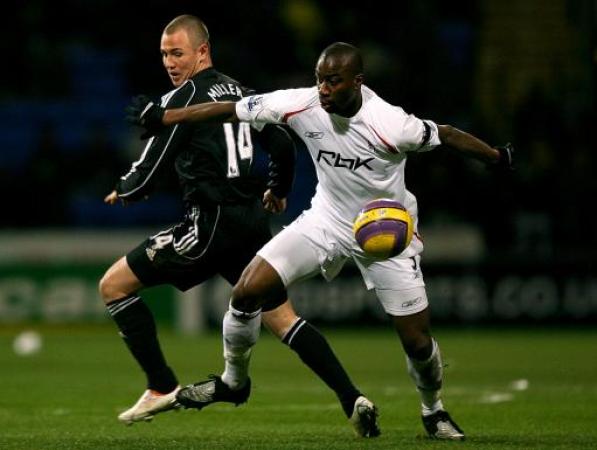 Abdoulaye Meite (right)
By Mark Heys
April 18 2008
Abdoulaye Meite could have a part to play in Bolton Wanderers remaining four games after manager Gary Megson and captain Kevin Nolan confirmed that the player had made his peace with the club following a much publicised incident in the defeat at Manchester United last month.
Meite did not come out for the second half of the 2-0 loss at Old Trafford because he claimed that he was injured, but this was a statement which was refuted by Megson who later revealed that medical checks on the African proved satisfactory.
The 27-year old signed from Olympique Marseille in the summer of 2006 was banished to the reserves and told that he would not be training with the first team.
Loan moves to Ipswich Town and Hull City where rejected by the Ivorian who maintained his innocence in the United matter and expressed a desire to play for the club again.
Manager and player have since resolved their differences and although Megson has welcomed the player back into the first team fold he says that the form of Andy O'Brien and Gary Cahill will mean that Meite will have to work hard to get into the side.
"Obviously he wants to be involved but it doesn't follow that he goes back in the team. The reason he wasn't in the team in the first place was that Andy O'Brien has been excellent and our most consistent player all season and I've been delighted with Gary Cahill." said Megson
Skipper Nolan beleives that it is fantastic that Meite has declared himself ready to fight for the Wanderers cause and is looking forward to working with him again.
"Hats off to him, he's come in and apologised and said he wants to be part of the fight and that's great," Nolan said. "The lads were distraught when it happened but he's had a good time to think about it and he's been fantastic.
"He's probably been advised wrongly, but he's a lovely lad with a heart of gold and he wants to be part of it."
It is not yet clear whether Meite will be on the bench for tommorow's important game away to Middlesbrough but in light of the injuries to Nicky Hunt and Ricardo Gardner, the news that Meite is back will help to boost the clubs defensive options.