Bolton Wanderers Res 3. Bury Res 2.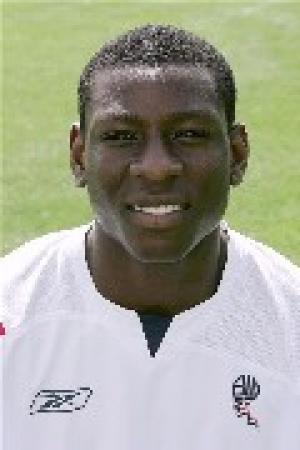 Netted A Brace
By Mark Heys
April 15 2008
England youth international striker Temitope Obadeyi scored twice to give Bolton Wanderers the edge in their 3-2 Manchester Senior Cup victory at home to local rivals Bury yesterday evening.
The teenager struck twice in the second half to boost the Trotters hopes of progession in the competition and should they beat Stockport County in the next round of fixtures then they will find themselves in the final for the first time since the competition was revamped in 2005.
Bolton started brightly in the opening stages with their captain Robert Sissons twice going close to breaking the deadlock, whilst Bury keeper Aaron Grundy did well against his hometown club to foil the dangerous Obadeyi and stop him from finding the net sooner.
It was another Bolton-born player in the shape of Dale Stephens who turned the tie on it's head on 40 minutes when he planted a low drive past Wanderers keeper Adam Bogdan to open the scoring.
Bury had earlier threatened through striker Domaine Rouse but Hungarian Bogdan was quick to avert the danger, making a good save to deny the front man.
The Wanderers came out with purpose in the second half and after Grundy had come out on top in a one on one situation with Michael Burns an own goal by left back Carlos Edmonson-Rouse brought Bolton back into the game.
Midfielder Nathan Woolfe, who celebrated his Bolton senior debut in the UEFA Cup last month, delivered in a good cross which Edmonson-Rouse inadvertantly headed past Grundy.
Soonafter though, the Shakers restored their advantage when Rouse slotted past Bogdan despite having been seen to impede Wanderers defender Chris Stokes in the build up.
Obadeyi brought the hosts level for a second time, his pace caused a whole host of problems for the Bury defence and finished the move which he had started with a confident effort past Grundy.
He doubled his advantage for the night with the winner from the edge of the area and could have had a hat trick had team mate Aaron Mooy not gotten in the way of his goalbound effort.
At the other end defiant Bury plugged away right until the death, and Bogdan had to be at his best to save a last gasp free kick from midfielder Ryan Hall.
BOLTON WANDERERS RESERVES: Adam Bogdan, James Sinclair (Aaron Mooy), Matthew Carlisle, Sam Sheridan, David Gbermie (Chris Stokes), Jaroslaw Fojut, Leslie Thompson, Robert Sissons, Temitope Obadeyi, Michael Burns, Nathan Woolfe (Zoltan Harsanyi)
BURY RESERVES: Aaron Grundy, Alex Mallion, Carlos Edmonson-Rouse, Andy Parkinson, David Thompson, Dale Stephens, Andrew Mangan (Kevin Fields), Ryan Hall, Domaine Rouse, Luke Holmes, Jack Dorney