Protest Organised Ahead Of Weekend Fixture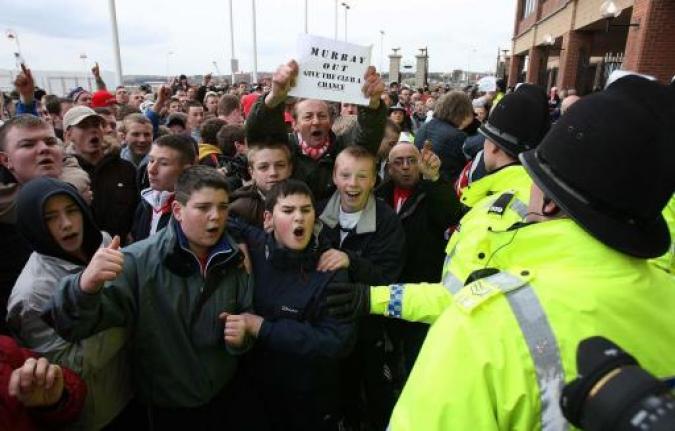 By Mark Heys
April 9 2008
A number of Bolton Wanderers supporters have organised protests and petitions against chairman Phil Gartside and manager Gary Megson ahead of this weekend's important Premier League clash against West Ham United.
Fans have understandably been unhappy with the decline of the club over the last eighteen months and last weeks heavy defeat away to Aston Villa seems to be the straw which has broken the camel's back.
Demonstrations are expected before the clash against the Hammers at the Reebok Stadium, but if history is anything to go by then the discontent will prove to have mixed results.
In 1988 lively protests outside Burnden Park calling for the resignation of chairman Barry Chaytow proved to be successful after the tie and scarf businessman tried to oust Phil Neal from the Wanderers hot seat.
In 1995 many fans gathered after a 3-0 home defeat by West Ham at Burnden calling for the immediate resignation of manager Roy McFarland, but it wasn't until New Year 1996 that the board decided to dispense with the services of the former England defender.
In 1999 the departure of Colin Todd as manager due to the sale of midfielder Per Frandsen to Blackburn Rovers generated a bit of interest outside the Reebok Stadium before a game against Nottingham Forest and a few weeks after Todd's departure chairman Gordon Hargreaves made way for current chairman Phil Gartside.
Last year the appointment of Gary Megson saw a small number of fans voice their opinion during a UEFA Cup game against Sporting Braga but within a month things where soon forgotten as the former West Brom boss lead the club to a draw against Bayern Munich and their first home win over Manchester United in nigh on 30 years.
Now, Megson and Gartside's position has come under scrutiny by the fans once again and a number of them want answers to the clubs predicament, but the question has to be asked will this protest be at all worthwhile and will it do more harm than good to what is happening on the pitch?.
Rumours of a takeover by former manager Sam Allardyce and ex-Newcastle chairman Freddy Shepherd have dominated the forums in recent weeks and Wanderers officials reacted angrily to reports from the Independant which yesterday claimed that Nigeria U-23 coach Samson Siasia would replace Megson to become the clubs first ever foreign figurehead.
Either way, one suspects the managerial situation both on and off the pitch will remain the same come the end of the season and any protest won't lead to immediate action, yet things may still change come the summer.