West Ham United Yth 0. Bolton Wanderers Yth. 2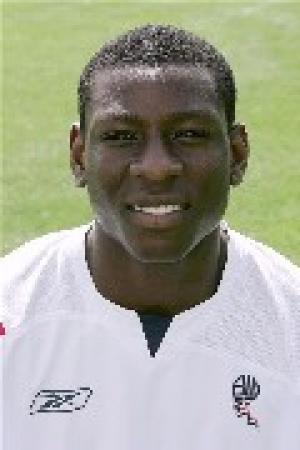 Obadeyi - on target
By Mark Heys
December 19 2007
Bolton Wanderers vastly improving youth academy will now face Port Vale in the next round of the annual FA Youth Cup after managing to overcome West Ham United at Upton Park earlier on this evening.
Goals from England youth international Temitope Obadeyi (pictured above) and Sam Sheridan helped to book the Wanderers into the next round on the same night that the first team found out they had made the latter stages of the UEFA Cup.
Bolton took the lead early on in the first half when Obadeyi converted a free kick by Kevin Wolze in the 12th minute and the ex-Coventry City schoolboy could have doubled his tally soonafter.
The hosts also had their fair share of chances with Hammers duo Ben Hunt and Ashley Miller laying seige to Tom Brocklehurst's goal within the opening forty five minutes.
West Ham striker Freddie Sears was causing the Wanderers one or two problems at the start of the second half and the youngster was in an ideal position to equalise only for Brocklehurst to save well with his feet.
Sheridan wrapped things up for Bolton with just under 20 minutes to go with a finish that his uncle, Oldham manager and ex-Wanderer John, would have been proud of.
Goalkeeper Robert Lainton came off the bench as an outfield player for Bolton in the final eight minutes of the game when replacing winger Tom Brooks to mirror a senior cup tie of two years ago when Sam Ashton, now goalkeeper at FC United, replaced striker Jared Borgetti.
BOLTON WANDERERS YOUTH: Tom Brocklehurst, Stuart McDonald, Matt Carlisle, David Gbermie, Tom Eckersley, Sam Sheridan, Michael O'Halloran (Aaron Mooy), Tom Brooks (Robert Lainton), Temitope Obadeyi, Kevin Wolze, Danny Ward (Joe Riley)
SUBS NOT USED: Maison McGeechan, Marcus Michail
WEST HAM UNITED YOUTH: Marek Stech, Jordan Spence, Ashley Miller, Josh Payne, Bondz N'Gala (Robbie Blackwell), Tom Harvey, Junior Stanislas, Oliver Lee (Daniel Kearns), Ben Hunt (Matthew Fry), Freddie Sears, Anthony Edgar
SUBS NOT USED: Peter Loveday, Tony Brookes, Anthony Ashman