Haysey's FC Column V: The Second Coming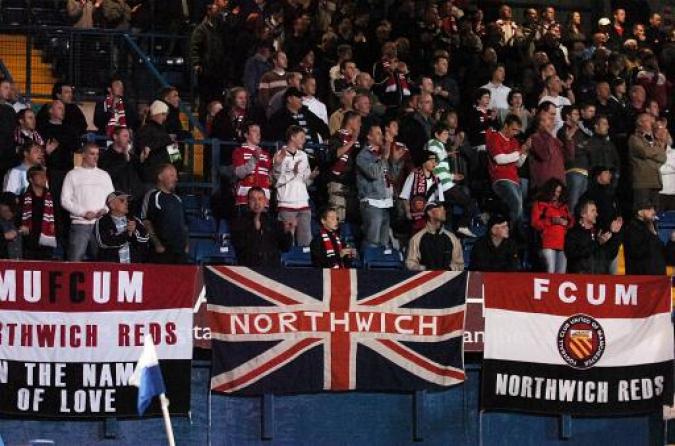 FCUM-OK!
By Haysey
October 18 2009
After a 14 month hiatus, Haysey makes a welcome return to ManUtdWeb with his latest FCUM column. Our Red Rebels writer takes us back through last season's campaign, before looking on the club's fortunes so far this year – including the recent F.A Cup third qualifying round win at Staylibridge.
Has it really been 14 months as Ed informs me? It doesn't feel that way. Anyhow, apologies for the wait and I promise to produce a more regular update this season.

So, I suppose we had better start with a review of the 2008-09 season otherwise known as the fourth season. Well you have probably guessed by now that we failed to gain promotion for the first time in our short history. Was the season a success inspite of that? You bet it was- we continued to exist and that is success enough for me and many others.

The team started the season without its strike force of the last 2 seasons. Rory Patterson went to Bradford Park Avenue on a mega contract that nobody in his position would have rejected. Stuart Rudd was released and ended up at Bradford Park Avenue also (you may have guessed by this point that B.P.A. have a rich chairman who likes to flash the cash, in a pretty classless way some would say, but so far with very limited results) Losing Rory was a big blow. The Rudd situation was simply a case of a change being good for both parties. He was never the same player for FC after his knee injury. To equate it to a United situation, it was a similar to when Ruud returned in early 2005 from his Achilles operation and was never the same player for United again.

Obviously the loss of your key strike duo is going to be a big blow for any team. The fact that for the early to mid part of the season this dynamic duo were replaced by just one striker was a cause for concern. But what a player this one player turned out to be. We signed a young forward called Kyle Wilson who had been an England Under 19 player but had lost his way. The fact that he had only made the bench for Skelmersdale when they played us in the 2007-08 Play Off Final did not instill us with confidence. How wrong we were!! Until a knee cartilage injury finished his season in early February, he was the top scorer in the top 7 levels of the English football pyramid. The fact that he achieved this whilst playing large parts of the season on his own up front makes it even more incredible. The fact that he was still the league's top scorer some 2 months after his season was ended makes it all the more laudable. Think a Non-League equivalent of RVN in the 2002-03 run in and you would not be far wrong as to how imperious he was.

The season itself had uncanny parrallels with the previous season ie. A slow start and mid table mediocrity beckoning followed by a massive improvement in the New Year and thoughts of promotion again. Key signings were made during the season and improved the team-signings that are still paying dividends now. Danny Warrender (Ex-City Reserve but we won't hold that against him) and Simon Garner were brought in for the full back positions. Adam Tong (a player that yours truly had long yearned for us to sign) was brought in from Bamber Bridge. Additionally, Phil Marsh (fresh from tearing us a new one when he played for Leigh) was signed and thus became the first player to play for the first teams of the 2 Uniteds.

We gave it a good go and were 8 minutes away from the play offs when BPA equalised. Would we have won the play offs? Probably. Did we deserve to go up? Probably not given our slow start- although if Kyle had not got injured then who knows? At the end of the season, spirits were very high. We now had a team who from the turn of the year had attained vastly improved results and had done so playing some swashbuckling football- Red Army veterans were heard to mutter about comparison with Docherty's team of small yet cavalier footballers in a league of 6 foot plus giants. Furthermore, the team had now developed into a squad of players with impressive strength in depth. When you factor in that bullish noises were being made about the ongoing dialogue with Manchester City Council about a location for our ground then it had been a pretty good season. The match highlights for me were the away wins at Boston, Ilkeston and Kendal. For a neutral, the 5-5 draw with Cammel Laird must have been a blast.

During the summer of 2009, the board did something that reminds you that we have special club here. Mindful of the need to keep football affordable for all, and of the recession affecting us all, the club decided upon a season ticket scheme where fans would pay what they could afford for their ticket. The deal was clear- try to pay a minimum of £90 (fans who could not afford that were told to contact the office and they could pay less) but pay what you can afford above that. At most clubs, that would be financial suicide but not at FC. It's our club after all (by that, I mean anybody who becomes a member not some pre defined group of people) and we would be cheating our club if we paid less than we could afford. The end result was an increase on the ST revenue of the previous season. This thing of ours eh?

Playing wise, we lost Kyle Wilson who was snapped up by (Division 2?? Division 4 surely????? - how times change) Macclesfield on a full time professional contract. Most of the squad of last season was kept and hopes were for the new season. League wise, our results have been patchy and in my opinion we have underperformed so far until the last few weeks. The FA Cup on the other hand is a different matter. Sheffield FC were swept aside 3-0. North Ferriby United were beaten 1-0. There then followed two titanic matches with Conference North side Stalybridge Celtic. A 3-3 draw at Gigg Lane ( http://www.vimeo.com/7024574 or http://vimeo.com/7021483 NB. You may need to turn off HD on the player) was followed by a richly deserved 1-0 win in the replay (http://vimeo.com/7094965 NB. You may need to turn off HD on the player)

The Stalybridge victory has put an extra spring in the step of everybody associated with the club. We now play Northwich Victoria away in the last Qualifying Round next Saturday (24th October) The winners of that match will go into the first round proper of the FA Cup. That is quite an exciting prospect I am sure you will agree?

Since then, we have claimed a 3-1 F.A Trophy win away at Ashton United and travel to North Ferriby United in the league next. I will keep you posted and sorry for the wait!

Upcoming fixtures for FC are:

FA Cup 24-10-2009 15:00 Northwich Victoria (away)
UniBond Premier 27-10-2009 19:45 North Ferriby Utd (away)
UniBond Premier 07-11-2009 15:00 Buxton (home)
UniBond Premier 14-11-2009 15:00 Hucknall Town (away)

Connectivity at away grounds permitting, full commentary on all FC games is provided on the following link: http://www.fcumradio.co.uk The commentary is more Danny Baker in style than John Motson but then I quite like that......
View a Printer Friendly version of this Story.
Haysey's FC Column V: The Second Coming
Discussion started by manutdweb.com , 18/10/2009 18:17
manutdweb.com
18/10/2009 18:17
What do you think? You can have your say by posting below.
If you do not already have an account
Click here to Register
.