Humphreys sweeps board at Pools awards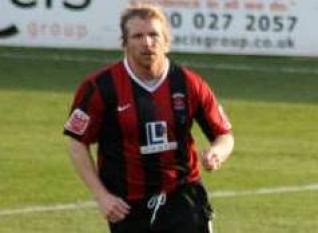 Richie Humphreys
By Clarence Rode
May 7 2008
Richie Humphreys picked up four honours at Hartlepool United's annual awards ceremony to underline his status as one of the club's best-ever players. He was even voted Player of the Century in front of a packed audience at the Borough Hall on a night that left him lost for words. Richie told the Northern Echo: "Getting one honour was a great feeling, but to walk away with four - including the overall award at the end of the night . . . words can't describe how I feel.
"There's so many great players to have played for this club - and I've been privileged to have appeared alongside some of them.''
As well as Player of the Century, where he beat Wattie Moore and Brian Honour into second and third places, he also won the Player of the Year, Away Player of the Year and Best Player of the 2000s.
Not bad for somebody who was farmed out on loan to Port Vale for a month last season. He has now played 357 games for Pools, including a record run of 234 consecutive appearances.
WINNERS
Monkey Business achievement - Micky Barron
Playing for Success, schools award - Jamie McCunnie
HUDSA contribution to the community award - Antony Sweeney
Junior Poolies award - James Brown
Harold Hornsey Award youth team players' player of the year - Matty Tymon
HUFCSA youth team player - Jonny Rowell
Michael Maidens goal of the season - Joel Porter (v Gillingham)
Young player of the year - James Brown

Player of the year - Ritchie Humphreys

Players' player of the year - James Brown

Players of the decade:

1950s: 3: Frank Stamper, 2: Watty Moore, 1: Kenny Johnson

1960s: 3: Ernie Phythian; 2: John McGovern; 1: Bryan Drysdale

1970s: 3: Alan Goad; 2: Bill Green; 1: Billy Ayre

1980s: 3: Andy Linighan; 2: Rob McKinnon; 1: Bob Newton

1990s: 3: Tommy Miller; 2: Joe Allon; 1: Brian Honour

2000s: 3: Adam Boyd; 2: Micky Barron; 1: Ritchie Humphreys

Player of the Century: 3: Brian Honour; 2: Watty Moore: 1: Ritchie Humphreys
More Hartlepool Utd headlines
Hartlepool Utd Poll