Daly to Dundee?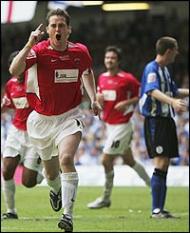 By Eggy_Poolie
January 4 2007
Jon Daly is rumoured to be completeing a transfer to Dundee United within the next couple of days
Rumour has it that Jon Daly is just days away from signing for SPL side Dundee United. The move will come as a suprise to Pools fans as he is currently the clubs top scorer and there have been no previous rumours of a possible transfer.
Jon Daly confirmed his place in Pools history when he scored the goal that Pools infront at Cardiff. This season he seemed to have found the form to become a first class striker when he managed to get 7 goals in 3 games but since then his form has dropped and he has become a fringe player.
Duffy has returned to Hull and Porter is still out injured so it seems our two first choice strikers will be either Barker and Williams or Barker and Brown
Daly signed for Hartlepool from Stockport for £30k in 2005
More Hartlepool Utd headlines
Hartlepool Utd Poll