A Tribute To Ross Caven - A Living Legend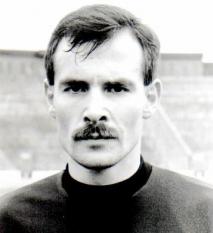 no mean hombre
By The Spider
February 24 2002
On Saturday 2nd March, Ross Caven received a testimonial dinner from the Queen's Park Supporters' Association after 20 years of great playing service. This is this site's tribute to the living legend. The dinner itself will also soon be the subject of a separate similar pictorial feature.
Although Ross Caven was officially registered as a Queen's player on 12th August, 1982, just over a week after celebrating his 17th birthday, he had actually signed for the Club a few weeks earlier. Competition for the then 16 year old midfielder's signature was fierce but Eddie Hunter was able to tempt Ross with the promise of first team football at an earlier age than the bigger clubs were able to commit themselves to.
Indeed, he featured in all four of the pre-season friendlies and was especially impressive in his very first game against Dundee Utd. at Lesser Hampden on 31st July where his aerial ability was particularly noticeable. Indeed, in the third of these games against Motherwell the day after turning 17, he almost opened his account for the Club with a header from a Stevie Chalmers cross only to be denied by the crossbar.
As things transpired, Ross would make his league debut on 25th September, 1982 at Kilbowie when a combination of injuries and suspensions forced the Queen's coach to blood him earlier than he had perhaps intended. Although Queen's were defeated 2-0 by Clydebank in a First Division league match, Ross certainly didn't let the side down, even unaccustomed as he was to playing in a right back role.
After being given time to mature in the U-18's, and then the Strollers XI, by the beginning of 1984-85 season, Ross was ready to stake his claim for a place in the 1st X1. In view of his ability to hold the ball up, Eddie Hunter saw his immediate future as an orthodox centre forward and he certainly did his prospects no harm at all in his home debut on 18th August when he scored twice at Hampden in a 4-1 demolition of East Stirlingshire. He went on to score 11 times that season and followed that up with another 9 the season after that. The best of those strikes came on 25th January, 1986 when he scored the goal that defeated Dumbarton in a 3rd round Scottish Cup tie at Hampden to earn The Spiders a crack against Celtic at Parkhead where they lost narrowly 2-1 due to two late Brian McClair headers.
In 1986-87 Ross hit the target 13 times establishing himself as the team's top scorer and everyone waited for him to accept one of the multitude of offers that were now coming his way. However, fortunately for Queen's, he was also heavily involved in his studies and elected to forego other opportunities in pursuit of his qualifications.
By 1990-91 he appeared to have fully committed his future to the club and was outstanding as an ever-present during a league campaign where Queen's finished a credible 5th/14. In the seasons that followed, he was perhaps just slightly too committed to the cause and whilst he remained remarkably injury free, he failed to achieve any further "ever-present" plaudits due to a series of run-ins with referees where his tongue failed to prove mightier than the red and yellow cards which accrued for his dissent. It wasn't only officials who felt his wrath during this period, for although he could take a bad tackle with the best of them, any opponent who was foolish enough to grab hold of his jersey either on or off the ball did so at their peril. Naturally though, his retribution usually failed to go unpunished thereby adding to his suspension woes.
Even when he moved back to his original midfield role, the goals were still forthcoming and he again achieved top scorer status in 1992-93 with 11, as well as earning the Supporters' Association overall Player Of The Year award. This was followed up in 1995-96 when he won the Player Of The Year and Away Player trophies thereby becoming only the 4th player in the Associations' 26 year history of presenting the awards to win both in the same season.
It would not be unfair to say that Ross was never the most pacy of players and although he maintained his natural fitness well, by 1998-99 he was struggling to keep up with younger opponents in the latter stages of games. It was then that he took a step back to a defensive role and adapted to it so well that he was again crowned Away Player Of The Year the following season as the team won their first championship during the period of his involvement.
This was also a period when he wrote his way into the Club's history books as he broke just about every record open to him. For over 60 years the name of J. B. McAlpine had always been the one which most readily sprung to mind whenever the question was asked about who was the greatest ever Queen's Parker. "Mutt" as he was known had played 473 league games and 547 competitive matches in all during the 20's and early 30's. Therefore, when on 26/1/99 Ross played his 500th game in a 4-1 win over Stenhousemuir, people began to sit up and take notice.
With the scent of glory now firmly in his nostrils, Ross equalled JB's league record later that same year on 23/10/99 in a 1-1 draw with East Stirlingshire before beating it a week later in a 3-2 win over Dumbarton.
By now there was no stopping him and on 11/4/00 he equalled McAlpine's overall appearance record in a 1-0 win over East Fife before eclipsing it just four days later in a 2-0 victory at Montrose. That day he also netted his 5th penalty of the season, an interesting development given that it had taken him 17 years to pluck up the confidence to nominate himself for the role!
That strike, his 6th of the season, took him to 98 competitive goals for Queen's and raised the possibility of his attaining his century. On the horizon was the prospect that he might also play his 500th league game too. The fates dictated that his greatest day would occur on 2/12/00 when Queen's were at Ochilview Stadium, Larbert for an away game v Stenhousemuir. No-one could have written the script better as, apart from being applauded onto the field by both sets of players in recognition of his achievements, Ross also netted a late equaliser to earn Queen's a draw and score his 100th goal in the process! Now on 103, his 97 league goals have taken him to 7th place in the all time top league scorers table, tantalisingly just 5 goals short of 5th position.
When Ross started his Queen's career it is probably fair to say that he never dreamt for one moment that he would still be at the Club now, let alone becoming a member of Committee which he did upon his first go at retirement last summer. However circumstances dictated that his experience on the field was still very much required and he was persuaded to don his boots again in August.
Although, at the time of writing, he is still recovering from a bout of illness, further chapters may yet require to be written about his playing career before he assumes his Committee role on a permanent basis.
Enjoy now some statistics about the great man together with a few photos spanning his playing career. The legend continues.......
| | |
| --- | --- |
| Date of Birth: | 4/8/65 |
| Place of Birth: | Glasgow |
| Height: | 6' 0" |
| Weight: | 12st 11 lbs. |
| Present Playing Position: | Defender |
| Previous Club: | Possil YMCA |
| League Debut: | 25/9/82 |
XXXXXXXPLAYINGXCAREERXRECORDSXatx23/02/02

YEARXXXXXXXXXXXXXXXXXLEAGUEXXXXXXXXXCUPXXXXXXXXXXTOTAL
A
S
G
A
S
G
A
S
G
1982-1983
1
0
0
0
2
0
1
2
0
1983-1984
0
0
0
0
0
0
0
0
0
1984-1985
31
5
9
4
0
2
35
5
11
1985-1986
23
0
8
4
0
1
27
0
9
1986-1987
36
0
13
3
0
0
39
0
13
1987-1988
36
0
7
3
0
0
39
0
7
1988-1989
27
0
5
4
0
0
31
0
5
1989-1990
31
1
4
3
0
0
34
1
4
1990-1991
39
0
6
3
0
0
42
0
6
1991-1992
35
0
6
2
0
0
37
0
6
1992-1993
34
0
11
3
0
0
37
0
11
1993-1994
33
0
6
2
0
0
35
0
6
1994-1995
22
3
2
2
0
1
24
3
3
1995-1996
31
0
4
4
0
1
35
0
5
1996-1997
27
2
2
5
0
1
32
2
3
1997-1998
16
2
2
3
0
0
19
2
2
1998-1999
27
0
1
5
0
0
32
0
1
1999-2000
29
1
6
6
0
0
35
1
6
2000-2001
21
3
3
1
0
0
22
3
3
2001-2002
14
0
2
3
0
0
17
0
2
TOTALS
513
17
97
60
2
6
573
19
103
(Photos courtesy of Dave McNeil, Jack Scrimgeour and Hector Cook)
18/8/84 v East Stirl. # 13/9/86 v Alb. Rov. # 23/9/89 v Cowd. # 2/3/91 v QOTS
1986 # 5/3/94 v Stenhousemuir # 4/2/95 v Cowdenbeath
9/11/96 v Cowden. # 1998 # 10/11/01 v Brechin (Away)
1990 # 1994 # 1996
1997 # 1999 # 6/5/2000 with Donna and Jack