Mind The Gap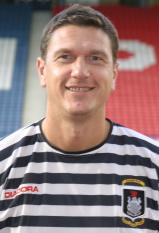 Graham (qpfc.com)
By The Spider
April 18 2005
Saturday, 16th April, 2005 Queen's Park 2 East Fife 1 (Bells Scottish League – Third Division) (Picture from qpfc.com) The gap between 3rd and 8th is now nine points, and this was a huge win for Queen's as it keeps 3rd place aspirations alive.
Up until recently, there has only been three points of a difference between the encouraging position of 3rd place, and the demoralising one of 8th, hardly an achievement with only Albion Rovers and East Stirlingshire below. True, finishing third gets you no prizes, but it does earn you some bragging rights, let alone the impetus to go on and do better the following season.
With East Fife having lost both their previous two fixtures, there was every encouragement that Queen's could hand them an undesirable treble, thereby maintaining the belief that at the very least the Spiders deserve a top half finish for some excellent free-flowing play this season.
With Ally Graham restored to the starting line up in place of the absent Frankie Carroll, who was attending a wedding in Cuba believe it or not, it meant that Queen's would once more attempt to direct all their play via the big target man, a ploy which had worked well in some games, but which also looked decidedly one dimensional in others.
The home side could not have got off to a better start and, after having knocked the ball around nicely, they were awarded a direct free kick at the edge of the visitors' penalty area after Tony Quinn had been tripped by Mathie. Initially it looked as if Ally Graham would have a go himself, but after a quick confab with Paul Harvey, the big striker made a dummy run over the ball to allow Ross Clark to delicately curl a gentle shot around the wall and into the unguarded right hand corner of the goal, despite a late despairing dive from Dodds as he tried to recover his position.
The strike was greeted with as loud a cheer as has been heard at a Queen's game all season, not because the crowd was any larger than normal, but instead due to the combined vocal ejaculation of the Faithful and our visitors from Germany and Belgium, whose volume defied their numbers.
It took a further five minutes for the visitors to retaliate, but even then the opportunity was squandered as McDonald's very quick free kick was easily saved by the alert David Crawford.
DC was again called into action in the 16th minute when he clutched a header from Mitchell, whilst Ally Graham should have done better than head straight at Dodds when presented with a far easier opportunity.
Some fine play from Stevie Reilly, Ally Graham and Paul Harvey created some space for Mark Ferry, but Dodds was equal to the midfielder's curled effort.
Mitchell should have equalised in the 21st minute, but the striker got right underneath the ball, and headed over when right in front of goal. Stevie Reilly then received his second booking in consecutive games for a tackle from behind on the nippy Nicholas, who once again was stretching the home defence with ease.
Indeed, it was Nicholas who created the equaliser as he completely outpaced the home defence before centering the ball for Jonathan Mitchell who, despite looking a couple of yards offside, did what all good strikers do and slotted the ball home without concerning himself as to any post-mortem.
It only took Queen's five minutes to regain thelead, and although there was a little bit of luck about it, the lead up play deserved the eventual outcome. Tony Quinn started the move off by exchanging passes twice with Mark Ferry who in turn found Paul Harvey some 25 yards out. Harv tried an audacious first timer with his left foot (no way it was meant as a pass!) which found it's way to Ally Graham who neatly teed the ball up for young Richard Bowers who fired a crisp low first time shot into the bottom left hand corner of the net for his second goal in only his 3rd game.
Ross Clark could have added to the scoreline in the 37th minute when he bravely challenged Dodds for a deep left wing cross from Mark Ferry, and the midfielder can consider himself that his fine effort dipped onto the roof of the net rather than just under it.
As half time approached, East Fife exerted some serious pressure on Queen's who were struggling to close down their opponents at this stage. McDonald's header from a left wing corner was cleared off the line at the back post by Danny Ferry, and then a low shot from Fairbairn skidded inches past David Crawford's right hand post.
Neutrals wouldn't have begrudged the visitors an equal scoreline at the interval, but it was a different story in the second period, where it was the home side's turn to create the better chances.
Immediately upon the resumption, Tony Quinn and Ally Graham combined to set up Richard Bowers, only for the youngster to fire past the top corner. A flighted chip from Mark Ferry was easily held by Dodds before the keeper made an excellent save from a diving header from Tony Quinn following an Ally Graham headflick.
David Crawford produced an even better save in the 50th minute to tip a curling shot from Kelly over his crossbar, but Queen's were quickly back on the offensive again with another Tony Quinn header which went narrowly over. A measured long ball from Paul Harvey sent the speedy Richard Bowers through on goal, but Dodds made another good diving save to deny the striker.
A similar move at the other end caught Richard Sinclair off guard, and Nicholas should have done better than fire past the far post with only David Crawford to beat.
It was then time for Richard Bowers to turn provider, but Mark Ferry's close range shot was blocked.
Some magnificent midfield play from Paul Harvey, first with an instinctive nutmeg, quickly followed by a precision slide rule pass, created a clear opening but Richard Bowers sidefooted the ball past when instead he could have put the game beyond doubt.
With 15minutes remaining, the visitors should have been reduced to 10 men when Fairbairn callously and deliberately bodychecked Stevie Reilly on the nearside touchline, but the equally cowardly Alan Muir quickly brandished a yellow card before waving the miscreant away. Reilly, clearly in some distress, made a brave attempt to continue, but he required to be carried off a few minutes later, leaving Queen's as the side a player down. There's natural justice for you!
Stephen Canning could have helped ease the growing worries, but his glancing header from a pinpoint Paul Harvey cross slipped harmlessly wide.
Danny Ferry headed an 82nd minute corner away from the near post, only for the ball to reach the aforementioned Fairbairn whose powerful shot was deflected narrowly wide of the far post. Now there is natural justice for you!
Andy McGinty was deservedly booked for hauling down the irrepressible Nicholas as he bore his way through the Queen's defence, but Fairbairn wasted the direct free kick by miscuing the ball high and wide. Natural justice anyone?
Alan Trouten reminded everyone that he was still on the park with a run into a good position with two minutes remaining, but his low shot was cleared off the line.
As the match moved into injury time, Fairbairn blazed wildly over from a good position to compound his (deserved) miserable end to the game, before substitute Palicka nearly grabbed a completely undeserved equaliser when his powerful low drive skidded inches wide of the far post.
But somehow Queen's managed to hold on to haul themselves into the top half of the table again, and if the Spiders can repeat their previous emphatic victory at Coatbridge when away to Albion Rovers next Saturday, it could be a very interesting league table that evening as the clubs around Queen's appear to have more difficult fixtures to negotiate.
ENTERTAINMENT VALUE : 4/5
STAR SPIDER(S) : Ross Clark (his best game for quite some time)
QUEEN'S PARK : David Crawford, Danny Ferry, Alan Trouten, Stevie Reilly, Richard Sinclair (Andy McGinty - 61), Paul Harvey, Ross Clark, Tony Quinn, Mark Ferry, Ally Graham (Stuart Kettlewell - 61), Richard Bowers (Stephen Canning - 74)
Subs (not used) : Alex Cowie (G/K), Tony Livingston
Scorer(s) : Clark (2), Bowers (31)
Booked : Reilly (24 - tackle from behind), McGinty (86 - late challenge)
EAST FIFE : John Dodds, Michael Renwick, Kris Brash, Craig Lumsden, Graeme Mathie, Gary Kelly, Brian Fairbairn, Greig McDonald, Stevie Nicholas, Jonathan Mitchell, Gavin Beith (Sean Palicka - 76)
Subs (not used) : John McCafferty (G/K), Kevin Bain, Les Byle, John Boyle
Scorer(s) : Mitchell (26)
Booked : Fairbairn (75 - deliberate obstruction)
REFEREE : Alan Muir * (* = inept, ** = poor, *** = mediocre, **** = good, ***** = excellent)