"Growing Up With Wolves" a review by Ivybridge Wolf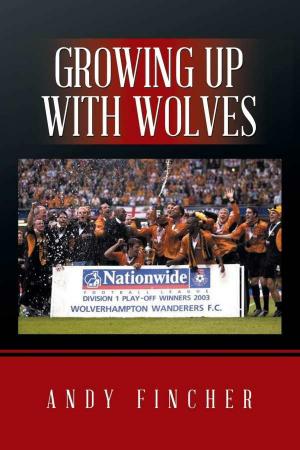 Book front page
By Ivybridge Wolf
July 30 2019
Growing up with Wolves – a review by Ivybridge Wolf, written by Andy Fincher. Holiday, sun, poolside lounging, and a book is the goal of many during these summer months. Same for me, except the book bit, I don't generally read, however there was an exception this year during my holiday in the searing heat in Italy. That's because I took a copy of our very own Andy Fincher's (a regular contributor to the Molineux Way) "Growing Up With Wolves" … and I loved it!
For a Wolves of a certain age (i.e. me), "Growing Up With Wolves" was a lovely read, albeit written by a Wolves 'nut' a few years older than me and covers the period 1969 to 2003.
Regardless of the readers age however, this book has wider age group appeal, documenting the general trials and tribulations of being a football fan, the ups and downs, more downs, a few ups ... just the feel of following your team, in our case Wolves. Such emotions of supporting your team surely transcend the generations! In addition, Andy keeps things going by interlocking commentaries of his life, work, growing up, realtionships and such like (reference Maria Baker!), trips, scrapes and injuries as they coincide with all things Wolves. The annecdotes keep the book moving a pace to supplement a varied and detailed account of so many Wolves matches and related material. How on earth did you manage to retain all that detail, Andy? Excellent stuff.
I loved the way Andy gave his views on players from the greats of the era, the well-knowns to the well forgotten and some of the unsung heroes in a way I could easily relate to and appreciate. Opinions on non-match matters are in abundance too, Wolves emblems, football journalism (watch out Garth Crooks), timings of FA cup draws to name but a few, fill the pages.
On a personal note, I also liked the fact that many of the matches I have attended over the years were referenced, so allowed me to apply my own thoughts and memories, to include the likes of Liverpool winning the title in 1976 and visiting Twerton Park in the early 90s ... and numerous others.
Overall then, a great book about our beloved Wolves from a chap with a real passion, written in a personable, humourous and self-depricating style, always offering opinion or judgement ... no boring bits and regularly made me laugh out loud by that poolside! Certainly not a book that any dyslexic chimpanzee on his toilet break could have ever mustered (read the book, you'll see what I mean)!
Thanks Andy, really enjoyed your book and thoroughly recommend it to all those reading this review! By the way, just a thought, have you considered "Growing Up With Wolves Volume 2, 2003 ..... 20xx"?!
Up The Wolves
View a Printer Friendly version of this Story.
"Growing Up With Wolves" a review by Ivybridge Wolf
Discussion started by Wolves , 30/07/2019 18:09
What do you think? You can have your say by posting below.
If you do not already have an account
Click here to Register
.
Andy Fincher
31/07/2019 16:52
Thanks chaps and thank you Ivy (your cheque is in the post). One thing I would like to add is that every penny made from the book is going to the Alzheimer's Society.
Cheshire wolf
01/08/2019 16:36
A great review Ivybridge of what sounds to be a very interesting read.

Andy I remember you advertising the book on this site, but for those who perhaps failed to buy it then but would like to now it might be a good idea to remind us how we can get our hands on a copy.
Andy Fincher
01/08/2019 18:14
Cheers Chesh, good idea. Available in the Wolves megastore, although I'll have to find out how many they have left. Also on Amazon, Waterstones website (not in the store) or pm me with your details and I can send one.
Sorry, only registered users may post in this forum.