The Doog - 12 years today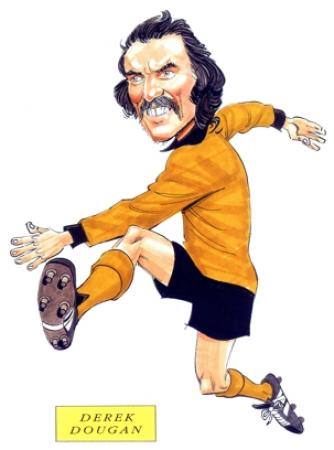 The Doog
By Ivybridge Wolf
June 24 2019
24th June 2007, twelve years ago today, the Doog sadly died. A Wolves great, he joined us from Leicester City in 1967 as a supposed footballing journeyman, however with Wolves he truly found his home. Between 1967 and 1975, when Doog's retired, he made 323 appearances (258 league) for us scoring 123 goals (95 league) and was instrumental in our 1967 promotion campaign, our 4th position finish in the league in 1971, our UEFA cup final appearance in 1972 and our league cup win against Manchester City in 1974. He partnered several centre forwards with Wolves, though his association 'up front' with John Richards, albeit relatively brief, was simply superb! Dougan was outspoken, controversial (for example being front man for the Bhatti's), PFA chairman, an early and 'new wave' TV pundit in the 1970s and made 43 appearances for Northern Ireland, often alongside George Best. He was one of football's, and life's, real characters … how many other players are simply known, and by so many people including so many non-Wolves supporters, by a nickname alone! A huge Wolves man, sadly and greatly missed.
So much has been written and spoken about 'The Doog' over the years, what a player and a legacy. He was loved as a player for what he gave our side and I was absolutely no different. Everybody seemed to have a view of the man, including myself and that was before I had even seen him in the flesh. That I did in 1971/72, and in my first Molineux experience Doog donned the number 10 Wolves jersey. As mentioned, he was controversial, including his association with the Bhatti brothers, but however painful that was, The Doog banked so many positives to more than retain his rightful place as a Molineux great.
I have a simple story, which for me demonstrated his character and kindness which elevated Doog, for me, into another orbit ... were that possible? It was spring 1976, and I was recovering from a pretty big operation (at The Royal) on both of my legs. I had plaster of Paris up to both knees and getting about was .... tricky. I was with Dad in the car, I think after an outpatients appointment or Dad had been to the bookies (or both?!) when we drove alongside the old Archibald Leitch designed Waterloo Road Stand. Dad parked next to the main entrance and disappeared up the old brick steps into the then main Molineux offices. He returned a couple of minutes later and guided me in. Wow, I was walking into the Molineux offices! Life, however, was about to get so much better because who should be there, standing in the corridor in front of me .. but Derek Dougan. Doog smiled, greeted me and then picked me up into his arms and proceeded to carry me around on a guided tour of Molineux, impromtu, with Dad somewhere in tow! He carried me through the offices, into the changing rooms, I saw the baths, then down the tunnel and onto the Molineux turf and around. Simply unforgettable and incredibly exciting. Just 8 years old and there I was, in the arms of my hero ... could this be happening? I certainly wanted to last forever! Unbelievable memories of a young boy of this special player and Wolves man which will last me a lifetime.
The Doog, a gentleman and quite simply, never will be forgotten.
UTW!
View a Printer Friendly version of this Story.
The Doog - 12 years today
Discussion started by Wolves , 24/06/2019 17:54
What do you think? You can have your say by posting below.
If you do not already have an account
Click here to Register
.
Edited 1 time(s). Last edit at 2019:08:04:19:27:43 by Ivybridge Wolf.
Andy Fincher
24/06/2019 18:25
Nice story Ivy. As you say, a fantastic partnership with John Richards and a great servant to the club. A pity about his association with the Bhattis but he wont be forgotten in a hurry.
Lupinehowler
25/06/2019 08:42
Saw him play a few times and he was one of those players who could get you out of your seat, always gave his best and physically tormented opposition defenders.
Risca TM
29/06/2019 09:35
Nice article Ivy. The bit about being carried around Molineux as a nipper by the Doog reminded me of the scenes after he scored in the legendary 5-1 win over Arsenal in 1971. Here at about 18 mins in.
The clip also has a neat little interview with the Doog at the end.
[
www.youtube.com
]
Cheshire wolf
06/07/2019 12:40
What a great memory for us all Risca, form the days of huge sideburns muddy pitches, defenders being allowed to pass back to their goallie, only one substitute per team, teams getting used to the newly introduced offside rules, and the efficient and and superbly extrovert referee Roger Kirkpatrick. A great performance by one of our best ever teams in my view.
Risca TM
16/07/2019 09:41
Very much my era as a young fan, Chesh. Pretty much my favourite team, with all the names matching my subbuteo squad :-)

It still boggles the mind a bit how the fans were so close and integrated, especially the kids.

Great stuff about the pitches, sideburns and Roger Kirkpatrick!
Sorry, only registered users may post in this forum.