Questions & Answers - David Hoggan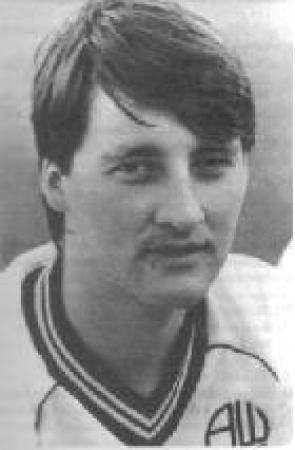 By Mark Heys
January 21 2008
Not many players made a successful transition from the English top flight to the North American Soccer League in the late seventies and early eighties but former Bolton Wanderers midfielder David Hoggan proved to be the exception to the rule and continues to pass on his help to a new generation across the pond to this day.
Hoggan or "Hoggy" as he prefers to be known by friends and associates, has coached at numerous levels in American Soccer for the past few years and currently holds a USSF level B coaching badge.
It seems a far cry from when he was one of a number of youngsters thrust into the first team line up to aid Bolton's desperate fight against relegation in the 1979-1980 season and it is fair to say he has clocked up a fair few air miles since.
Making his debut in an away game against Bristol City in April 1980 as a replacement for the injured Len Cantello, he made two more appearances that season but by which time the drop to the Second Division had already been confirmed.
The following season he was given a regular place in Stan Anderson's team and long term lay offs for Cantello and fellow midfielder Peter Reid meant that he had to mature quickly against sides of the ilk of Newcastle United, Sheffield Wednesday and Chelsea.
He saved all his goals for the 1980-1981 campaign for around the winter months with strikes against Cambridge United in a 6-1 demolition at Burnden Park and further efforts against Watford, Grimsby Town and local rivals Blackburn Rovers.
However, it was his two FA Cup goals against First Division side Nottingham Forest in January 1981 which thrust him into the limelight but unfortunately the Wanderers lost the replay at the City Ground after Extra Time.
Efforts to move out of the second tier of the Football League proved to be difficult and the club finished in a disappointing position of 18th place, with only the poor form of the two Bristol clubs, Preston and Cardiff City being in a worse state.
George Mulhall had come back to Burnden in early 1981 as a coach and in the summer of that year he was appointed as Anderson's successor in the Bolton hot seat.
Hoggy started the 1981-1982 season as a regular in the side, making eight starts from the first ten games, but unfortunately the club won just two and lost six of those.
Results picked up around Christmas time when he was back in the side and he struck his only goal of the season in a vital home win against Queens Park Rangers in December 1981 prior to the Big Freeze causing a number of postponements due to heavy snow.
Season 1982-1983 was a better one for David as he regained his goalscoring touch and put all his injuries from the previous campaign behind him. He was the club's second top goalscorer with eight goals that year behind Tony Henry who had left mid-season in a cut price move to Oldham Athletic.
Sadly, the club lost their Second Division status owing to a 4-1 defeat against Charlton Athletic on the final day of the season and this proved to be his last game for the club.
A summer move to his native Scotland with Dundee United failed to materialise so the Scottish U-23 international took the somewhat unusual route of trying his luck stateside with the Cleveland Crunch and Pittsburgh Spirit.
He also had spells with Witchita Wings, Tacoma Stars and Buffalo Blizzard as the eighties came to a close, but it was with the reformed Seattle Sounders team where he was the most impressive, winning two A league championships in 1995 and 1996 and achieving a somewhat cult status there as a result.
In 2001, he turned to coaching with Seattle and was the assistant coach at the Memorial Stadium for a short time, later turning to Youth Coaching where he remains to this day at the Tynecastle International Football Club, a club very similar in principal to the original Tynecastle Boys Club where he first learned his trade.
WHAT CAN YOU REMEMBER ABOUT YOUR FOOTBALL LEAGUE DEBUT?
Being scared, as the gaffer told me I was playing just as we got off the bus at Bristol City. Also looking at all the newspapers the next day to see how the writers thought I did.
WHEN DID YOU SCORE YOUR FIRST GOAL?
Cannot remember, only goal or goals that I do remember where in the FA Cup against Notts Forest, the reason being Peter Shilton was in goal.
WHAT WHERE YOUR CAREER HIGHLIGHTS/LOWLIGHTS?
Highlights where defeating Manchester United in the Lancashire Youth Cup home and away 6-0, winning two A-league championships with the Seattle Sounders, playing professional soccer for 20 years and now coaching youth soccer.
Lowlights was leaving Bolton in 1983
WHO DID YOU ROOM WITH ON AWAY TRIPS AT BOLTON?
I roomed with whoever the gaffer told me to
WHAT DO YOU THINK OF THE CURRENT BOLTON TEAM AND DO YOU GET TO SEE THEM OFTEN?
Always watch them on TV, always want them to win, great that they are in the Premier League. Hopefully Gary Megson can finish off what Big Sam started which is to win something. It will be hard as the "so-called" bigger clubs can drop £30 million on a player but if you don't beleive then why play, It's up to Megson to buy right and the team have to beleive in each other.
WHO DID YOU SUPPORT DURING YOUR YOUTH AND WHO WHERE YOUR HEROES?
It was supposed to be Rangers but one of my best friends was Catholic so I did not support anybody. Also I was too busy playing.
My hero was my Dad, David Hoggan, for letting me make my own mistakes.
WHICH PERSON INFLUENCED YOUR CAREER THE MOST?
Walter Joyce at Bolton, for being tough,Telling you straight,showing me the attitude it takes to win.You could not give less than a 100%, or you would hear about it.
WALKING DOWN THE MANNY ROAD WOULD LIKE TO THANK DAVID FOR THE INSIGHT HE HAS GIVEN US INTO HIS CAREER BOTH IN THE UK AND IN THE USA. HE HAS GIVEN A LOT OF HIS TIME TO YOUTH COACHING IN RECENT YEARS AND HOPEFULLY ONE OR TWO OF THE KIDS WILL BE ABLE TO PLY THEIR TRADE IN THE ENGLISH PREMIER LEAGUE IN THE YEARS TO COME.
Please click here to view our profile of David Hoggan