Big Dunc Catches Ferry As Taylor Opts For Everton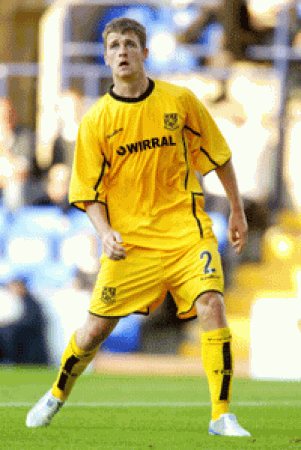 Once Again
By Quayle
June 6 2005
Ryan Taylor is certainly attracting attention, it seems everywhere he sets his foot, but what can Tranmere fans expect next year? Hopefully a striker, so who can this striker be? It seems Everton manager David Moyes is set to help us out there!
In, out, in, out, Tranmere has become alot like a real life version of the okey kokey in recent weeks, with the amount of rumours pouring into the brains of a Tranmere fan.
About half of these have concerned the extremely talented, Ryan Taylor. Only last week did it look certain for the right back to leave Prenton Park for a deal around a million pounds and travel, not so far, to Everton.
In an amazing turn around, it seemed nothing was ever planned to happen, until today. In new transfer light, Everton might be tempted to rasie the offer by pushing in an out-of-contract player. And thankfully its a striker. And thankfully its a poacher. And thankfully its a tall, takes no prisoners, style of striker. This striker is non other than Duncan Ferguson.
The player currently finds himself out of contract and unable to find a club. Although it seems strange for him to want to play in League One, he most have Championship on his mind. It seems the deal will be alot like Jason McAteer moving here, to get a local club higher and promoted where they belong, and then remembered by fans for life.
It worked with Hull. Nick Barmby made a surprise move to his hometown club of Hull. The same season the club got promoted and Barmby recieved a heroes welcome and alot of awards for his hard workd ethic which saw the club reach the dizzy heights of Championship football.
Duncan Ferguson will with no doubt fit the bill of what Tranmere are looking for. He's strong and excellent on the ball, and give him a ball in the air by the goal, 99% of the time it will land in the back of the net.
But what kind of whole will Ryan Taylor leave for Tranmere. Without a doubt his freekicking skills are second to non and he has a great attacking presence. So will Tranmere have to do without Taylor and hope youth fills the gap or will they have to dwell into the merky depths of the free transfers.
Only time will tell, but for now Ryan Taylor is at Tranmere, and Big Dunc is still, for now, at Everton. But for now we want to hear from you, do you like the prospect of Duncan Ferguson or are you angry that Ryan Taylor, again, looks set to leave.
Talk about this on the Total Tranmere Message Board.