Ian Muir Interview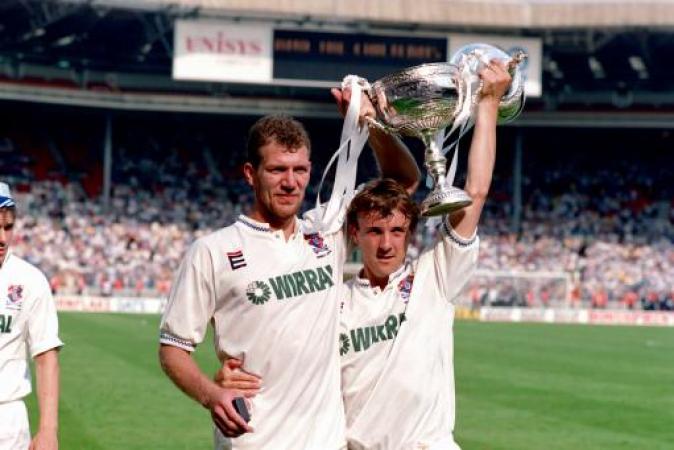 By Matthew Jones
April 13 2012
Ahead of Rovers' dismal display against MK Dons last week, Total Tranmere's Matthew Jones spoke to club legend Ian Muir about his time at the club and manager John King
As part of our 25-year anniversary celebrations since John King was reappointed Tranmere boss, and the subsequent "trip to the moon" which followed, Total Tranmere caught up with Rovers legend and leading goalscorer Ian Muir last week to talk about King and Muir's time at the club.
Matthew Jones: Firstly Ian, thanks for doing this today. How long's it been since you last came to a Tranmere game?

Ian Muir: It was Prenton Park, the Oldham game, won 1-0, i think. That was the last time I was up. I always watch out for the result, plus i know a couple of the lads up here now, so it's nice to be back seeing the football and stuff.
Matthew Jones: Friday marks 25 years to the day since John King was reappointed Tranmere manager. How much of an influence did he have on your career?

Ian Muir: Well obviously Frank (Worthington) brought me to the club, so it was his decision to bring me there and when Johnny King took over he obviously had the money so he started bringing in new players and what have, and everybody knows what happened then. The club just went on to a massive high.
Matthew Jones: What was he like as a manager and as a person to play under?

Ian Muir: Well no different to many other managers i wouldn't say, but I've played under Terry Vennables and Tommy Doherty and they all call from more or less the same really. He had his own ways obviously, talking about sheep and stuff like that! Which were quite laughable! But that's just his way!

MJ: You played with some great players at Tranmere; who were the best players you played with during your time?

IM: Well Aldo was class, Jimmy Harvey was a good player. We were all good players because we all fitted in together. But I loved playing with Johnny Morrissey, I just seemed to read him an know what he was going to do. He was my best mate at the club anyway and like I say all the other players just fitted in - they were all quality.
MJ: Is that why you think the club was so successful at the time? There were so many players who fitted in really well together?

IM: Well yeah, even the players the manager brought in, they all seemed to slot into the team straight away. Neil McNabb was a great example of that. Probably coming to the end of his career and then he comes to us and he was a breath of fresh air.

MJ: Did King just have that knack of signing that player who'd just slot straight in?

IM: I think we had a good enough side but he just strenghted it. Where we were weak in parts, he just brought in players that would fill those gaps.
MJ: You scored numerous goals for Tranmere, which one was your favourite or most important?

IM: I don't know, when I broke the record that was a good goal and I enjoyed scoring that. But whether it be 30 yards or two years, it's still the same feeling, watching all the supporters jumping around, that was the best feeling ever.
MJ: And you've got that fantastic record, do you think that'll ever be beaten in this day and age?

IM: Well it'd be nice to see somebody beat it if it can take the club higher, but it's nice to keep your records yourself isn't it! So hopefully it'll stay for a long time!
MJ: And during the time you were at the club, we went from the bottom of the fourth division to near the top of the second; what was it like to play in the team around that time?

IM: Oh, well it was just great. With me going to Tranmere it was like my last club really, from being released by Brighton and Hove Albion. I think there was about 36 people there when I first played, made my debut, and just things went on and on and turned out great, didn't they?

MJ: What was it like playing at Wembley?

IM: That's every player's dream isn't it, to get there. Fortunately enough for us we were there four or five times, so it was great. I didn't play against Bolton but I was there and it was a great day, I've never seen Chris Malkin smile so much! He obviously got the goal and I was injured but we had the players to come in and fill in the places when players were injured.
MJ: Do you still keep in touch with a lot of the players from back in your playing days?

IM: Not really. I see Eric (Nixon) and I keep in touch with Johnny Morrissey, I phone him every now and again, but everybody moves on and they've got their lives to lead, so you don't see much of each other.

MJ: And is being involved in football something you're still interested in?

IM: Well I would be, yes. I've applied for the job (Tranmere manager's job) a couple of times myself, John Barnes took it the first time and then they took Les on. It's nice to see Ronnie back, I mean I was quite surprised he went in the first place! They;d just missed out on promotion with the last kick of the game, sorry the play-offs, so it looks like he's turning them back around again, which is nice.
MJ: Do you think it's important to have somebody who knows the club inside out as a manager as well or do you think you can have success with someone as well who maybe doesn't know them as well as this level?

IM: Things have changed since I left, it's completely different, but Ronnie knows the club inside about, but Les did as well, so Ronnie seems to have got the lads playing again and hopefully they can carry on to better things.
MJ: And back when you were playing, when Kohn King brought in John Aldridge, did you see that as a threat to you as a striker or did you see that as someone you could play with as well?

IM: Well I thought I would have played with him, but the manager didn't think we could play together, which I have a look back at now and think, well I disagreed with that. When we did play together, either he scored or I scored. I don't think there was a game that we played together when one of us didn't score.
MJ: And playing with free flowing wingers like Pat Nevin and Johnny Morrissey, how did that help you as a striker?

IM: Well like I said, with John I just knew when he was going to deliver a ball and then you could get on the end of it. Pat was a different kettle of fish, because he'd beat somebody, come back and beat them again and it used to drive you made as a striker, because you're trying to get on the end of things as a striker and you're just making runs all the time. So John was ideal for me, but Pat was a good player, obviously, playing for Chelsea and everything, and he's gone on and he's doing well on the TV now.
MJ: And finally, playing for Tranmere, how much did that mean for you in your career and how much do they mean to you now?

IM: Well it was part of my life, isn't it. It was a great ten years of my career, the best for me, but all good things come to an end. But I'm here now and we'll just see how we go on from there.
Total Tranmere would like to thank Ian Muir for taking the time to do this interview and wish him all the best for the future.
View a Printer Friendly version of this Story.
Total Tranmere interviews Ian Muir
Discussion started by Total Tranmere (IP Logged), 13/04/2012 10:29
Total Tranmere
13/04/2012 10:29
What do you think? You can have your say by posting below.
If you do not already have an account
Click here to Register
.
Edited 1 time(s). Last edit at 2012:04:20:19:23:23 by Deadly Submarine.
Sorry, only registered users may post in this forum.