1959/60 Series - Game Ten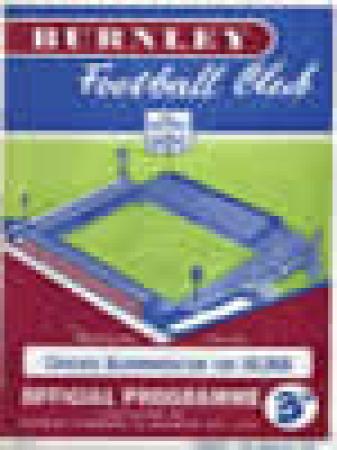 Brum at the Turf
By TheLongside.co.uk
June 6 2006
The Longside takes you back to the 59/60 Championship season with the tenth installment of the 1959/60 Series. This week sees the Clarets take on bottom of the table Birmingham City at the Turf.
1959/60 Series, Game 10 - v Birmingham City (H)
Burnley v Birmingham City - Saturday 26th September 1959
This week, back at Turf Moor after their 3-1 win over Newcastle United, The Clarets were facing bottom of the league club Birmingham City. A win for our heroes was certainly expected and they didn't let us down.
Referee: Mr J.Cook (Pontefract)
Linesmen: Mr C.L.Ross and Mr.J.A.Russell
Attendance: 23,848
Burnley:
Blacklaw, Angus, Elder, Adamson, Cummings, Miller, Connelly, McIlroy, Pointer, Robson, Pilkington.
Birmingham City:
Merrick, Farmer, Sissons, Watts, Smith, Neal, Hellawell, Gordon, Larkin, Orritt, Hooper.
Straight from the kick-off Burnley were showing their strengths with a fabulous neat passing game, and it was no surprise when inside 10 minutes Ray Pointer had headed home to give the Clarets an early lead.
City had not been at the races and Merrick was playing a blinder in goal to keep the marauding Clarets at bay. This Birmingham side were looking absolute second best, but completely against the run of play it was Orritt who brought the game level at 1-1.
This goal seemed to give City the spur they needed and Orritt again went close with a shot that rebounded off the post. This unexpected improvement in City's play didn't last long though and the Clarets completely dominated for the rest of the first half. Birmingham's only answer to the foraging Clarets was to resort to foul play, and the referee had to give many a warning.
The second half started with Burnley again showing their superiority, with McIlroy and Connelly giving the City defence a torrid time. It was McIlroy himself scoring that put the Clarets back into a 2-1 lead with a neatly headed goal.
The Brummies were now totally at sixes and sevens, and it was Burnley doing all of the attacking, but it wasn't until the last minute that Connelly finally put the game beyond doubt scoring to make it 3-1 to the Clarets.
This was one of those games that Burnley totally dominated and the scoreline should easily have been 6 or 7, the gulf between the two teams was definitely huge.
Programme Review:
Teams were as printed in the programme.
Harry Potts Calling:
In his weekly column Harry commented on the well earned victory up at St James Park last Saturday, this victory keeping the Clarets in joint 2nd place in the table. He offered a word of caution to the fans at today's match not to expect an easy win, even though Birmingham had experienced a poor start to the campaign it was going to be a difficult game to win as Burnley had previous experience of against the Blues. He also praised Jimmy Adamson's 300th League appearance for the Clarets against Newcastle, he stated:
"Our Jim" is one of those players whose name will go down in our club's history among those whose loyalty, affection and endeavour for this club has never been found wanting, and I know you will be heartily in with me in offering him our most sincere congratulations on his splendid record which we envisage him extending with many more distinctions.
(…and how right he was.)
Harry also went on to mention, Ray Pointer and John Connelly who had both been selected for representative games, Ray for the under 23's eleven at Goodison Park against the Hungarian under 23's team, and John for his selection to play for the Football League eleven against the Irish League.
Congratulations also went out to Jimmy McIlroy for being selected to play for Ireland against Scotland in Belfast, this would be Jimmy's 25th consecutive cap for Ireland.
Looking at the current league Division 4 table it is interesting to note which team is currently occupying 9th place, none other than Watford, who we all know have recently been promoted to the Premiership.
Next games:
Friendly - Folkestone v Burnley, Wed 30th Sept 1959.
League Division 1 - Tottenham v Burnley, Sat 3rd October 1959.