Burnley 0-0 Crystal Palace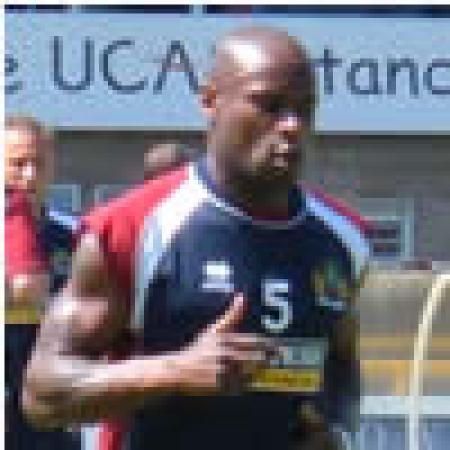 Clean sheet again
By TheLongside.co.uk
April 21 2006
The Longside brings you the match report as the Clarets draw 0-0 with Crystal Palace in a frustrating afternoon at Turf Moor. Burnley had a string of chances but failed to put any of them away against the high flying Eagles.
 Burnley 0-0 Crystal Palace
 A frustrating afternoon at the Turf
The Clarets were held to a 0-0 draw 
by Crystal Palace in a frustrating afternoon at Turf Moor. Burnley had a string of chances but failed to put any of them away against the high flying Eagles. The woodwork was struck twice and on more than one occasion we squandered one-on-one chances.
Cotterill brought John McGreal and Micah Hyde back into the starting line-up, with Phil Bardsley missing out through injury, and Kyle Lafferty dropping to the bench with Graham Branch being shifted into a more attacking role.
We were by far the better side and set our stall out early on, having all the possession and creating a whole host of chances. The best chance of the first half fell to Chris McCann. The ball was played in from the right, and the Hungarian keeper Gabor Kiraly, again sporting his Matalan jogging pants, contrived to make a mess of it, palming the ball into the path of McCann. McCann did everything right but saw his shot rebound of the post.
Shortly before half time McCann was replaced by Lafferty, presumably due to injury, and Branch dropped into the left-wing slot allowing Lafferty to partner the again impressive Andy Gray up front. The first half came to a close and we could count ourselves unlucky not to be going in at half-time with a lead.
The second half started much the same way with the Clarets having all the possession and creating the better chances. It is probably fair to say that Palace didn't even want to be there. Their minds are firmly on the play-offs and they seemed happy to just play this one out and very rarely threatened.
Our midfield continued to dominate the play, with Hyde, James O'Connor and Mahon all having good games, the latter though could be accused of being overly greedy on more than one occasion. Andy Gray fluffed a great chance when one-on-one but somehow his tame shot managed to creep through and hit the post. Gray would go on to scuff another good chance when free at the back post, but again he impressed, his hold up play bringing the midfield into play time and time again.
Our best chance of the second half fell late on to Kyle Lafferty. He was in a similar position to his great chance at Hull, if a little further out, but again Lafferty failed to make the most of a one-on-one situation. Two one-on-ones missed in two games for Kyle, but he can be forgiven, we saw Ian Moore fail to convert these kind of chances for years. At least he didn't fall over the ball.
Alan Mahon then broke free on the right and with players screaming for the simple tap-in in the middle, Mahon opted to go alone and skied another glorious chance. It wasn't the first time Mahon had decided to go alone when the simple ball would have surely led to the winning goal.
Andy Johnson came on in the second half for Palace, but it mattered not, all the play was in the Palace half of the field. All in all a decent performance from the Clarets against a very disinterested Palace side.
Special mentions go to the defence who dealt with everything, and James O'Connor who really has hit a good spell of form at the back end of the season. Andy Gray was good again, making good use of the ball although he was playing with his back to goal for most of the game.
A final mention must also go to referee Mike Dean who had a really good game and got the vast, vast majority of decisions right. On today's showing the FA looks to have got it right with appointing Dean in charge for the FA Cup final.
So, a frustrating afternoon, and one we can consider ourselves unlucky not to have won. Our unbeaten run now stands at six games but we really should have won three of these. Sheffield Wednesday away, Hull away, and Palace at home are all games we deserved to win. We really are missing a little bit of luck at the moment but have given a play-off side, albeit one that didn't want to be there a run for their money this afternoon.