1959/60 Series - Part Three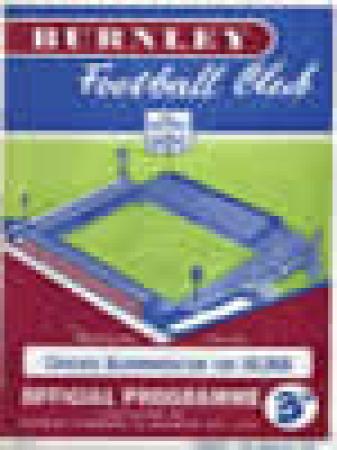 Burnley v West Ham
By TheLongside.co.uk
March 22 2006
The Longside takes you back to the 59/60 Championship season in the third installment of the 1959/60 Series. This week sees the Clarets take on the Hammers at Turf Moor.
1959/60 Series, Game 3 - Burnley v West Ham United
Saturday 29th August 1959.
Burnley came into this game with high expectations, especially with having won their first two games of the season. West Ham meanwhile had won their first and drawn their second game. But it just wasn't to be in this game and the Clarets faithful were once again worrying about the inconsistency that the Clarets could show.
Referee: Mr M.McCoy (Doncaster)
Linesmen: Mr H.H.Sharland and Mr R.J.Willis
Attendance: 26,783
Teams:
Burnley:
Blacklaw, Angus, Cummings, Seith, Miller, Adamson, Connelly, McIlroy, Pointer, Robson, Pilkington.
West Ham:
Dwyer, Bond, Cantwell, Malcolm, Brown, Smith, Grice, Woosnam, Keeble, Smyllie, Musgrove.
The heatwave continued as Burnley lined up against a West Ham team that included a certain John Bond who as we all now know, was to go down in Burnley history for reasons other than his footballing skills.
With only 3 minutes gone on the clock it was Connelly who put the Clarets 1-0 up. However, only 4 minutes later and Woosnam had brought the Hammers back level. After their equaliser West Ham began to show their supremacy and Grice was giving Cummings a torrid time. The Clarets were now being made to look second rate with their attack looking virtually non-existent. By pure luck alone they went in at half-time with the scores level at 1-1.
West Ham continued in the second half where they had left off in the first, and it was Smyllie who scored to give them a 2-1 lead. The Clarets were lacking in confidence and Jimmy McIlroy was having a game to forget. Grice put in a speculative high ball towards the Burnley goal and Blacklaw who had completely misjudged the flight was left scrambling trying to keep it out, but to no avail; 3-1 to West Ham. The game ended without further reply for the Clarets.
A thoroughly disappointing performance, from a lacklustre Burnley team.
Programme Review:
'Harry Potts Calling' - Harry was thanking the support given to his Burnley team for their performance against Everton, and commented on how well the team had played in their first two games with everyone having given 100%.
Special mention was given to the reserves after their 1-0 win against Leeds United having played with only 10 men for most of the game as an unlucky Trevor Meredith had broken his leg early in the match.
The team sheet against West Ham was as printed apart from the one change, Smyllie playing instead of John Dick (see below).
A list of the full Burnley professional squad was also printed:
Anyone fancy a pair of these? You wouldn't get foot injuries with a pair of these on:
Next Game: Everton v Burnley, Wednesday 2nd September 1959.