Match Report Team bring you Brighton 0-0 Burnley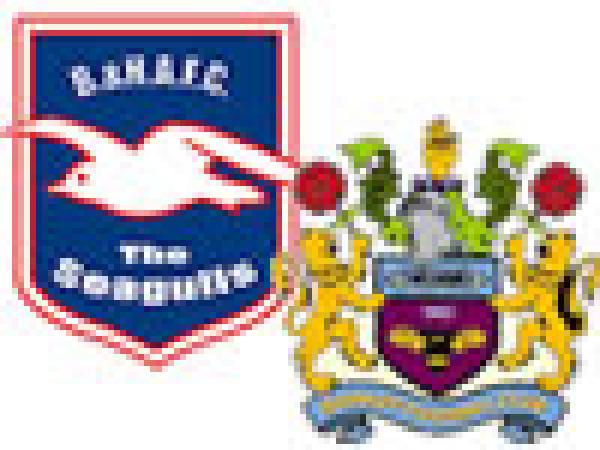 6200 fans!!!
By The Longside Match Report Team
February 1 2006
We played football tonight! Something we have all forgotten we did after the last few days! A clean sheet away from home and confirmation Steve Cotterill is staying..........
---
---

0-0
0-0

---
---

---

J Harley (51)

F Sinclair (68)

M Ricketts (84)
---

---

28 Wayne Henderson

20 Adam El-Abd

24 Paul McShane

14 Guy Butters

34 Joel Lynch

2 Paul Reid

12 Richard Carpenter

11 Dean Hammond

19 Alexandre Frutos

9 Gary Hart

17 Sebastien Carole (53)

SUBSTITUTES
3 Kerry Mayo
23 Doug Loft
22 Colin Kezm-Richards (53)
1 Michael Kuipers
21 Jake Robinson

12 Brian Jensen

6 Michael Duff

4 John McGreal

5 Frank Sinclair

21 Jon Harley

11 Wade Elliott (80)

8 Micah Hyde

7 James O'Connor

14 Garreth O'Connor (90)

9 Graham Branch

10 Michael Ricketts

SUBSTITUTES
19 John Spicer (90)
15 Gifton Noel Williams
16 Chris McCann (80)
3 Danny Karbassiyoon
22 Duane Courtney
---

---

Referee: Kevin Wright
Asst. Referee: Michael Bull
Asst. Referee: Michael T McCoy
Fourth Official: Andrew Sainsbury

Star Rating: ***
Star Rating: ****
Star Rating: ****
Star Rating: ****
---

---

Attendance: 6,267

Shots on Target
Shots off Target
Crosses
Fouls
Offside's
Corners
Possession

4 / 0
3 / 3
16 / 8
12 / 16
0 / 4
3 / 3
56% / 44%
---
Let's get something straight here! One point away from home, a clean sheet for the first time in weeks and comments from Barry that certainly suggest SC is staying! Not bad after the last 24 hours!

The first half was basically missing everything. The Withdean and 6000 fans doesn't inspire the best atmosphere on a freezing cold night, but this was obviously going to be as quiet as incoming transfers! Brighton started livelier and had some fair possession but we had the best chance of the half when Harley beat his man and put a low cross in, Branch flicked at it but unfortunately it lifted over and wide of the target. Ricketts was trying is hardest, not easy your very first game with a new team playing as a lone man. It is also something he certainly hasn't been used to. But he made some nice touches and most fans comments about his fitness seemed completely off the mark with him looking quick and nimble. Apart from branch getting a nasty knock to his left ear early on, that was all the excitement we were going to get. Brighton did test Beast from a free kick, but it was straight at him.

The Second Half didn't get much better, with Brighton again shading the possession and often hitting us on the break. It took over 30 minutes to get anything of note. Chris McCann had come on with ten minutes left to play and linked up well with Hyde to set up James O'Connor. After running at Brighton he slipped the ball right to Garreth O'C but his cross was sent over the bar. With Ricketts at the far post waiting it was a frustrating end to a good move. That was basically it with John Spicer being given 3 minutes run out.

Well a clean sheet! I cannot emphasise that enough! We've needed to stop the rot and get back to basics and we did that tonight. It isn't exciting, it isn't attractive, but it's a point away from home and sets us up for a home game next against Plymouth.

Now all we need is SC to do the press conference and put us all out of our misery. Oh and we still have over an hour of the transfer window left!!!

UP THE CLARETS
---

"We know it will go to the last day and we are prepared for that. We still have a great chance of staying up and it was a battling point."

"We are in a relegation battle and we are being realistic about it. I couldn't ask for any more oy my players."

"It was a hard game on a tough pitch, but we're pleased with the clean sheet and that was important tonight. We want to take that into Saturday's game now"

"I was flattered by Leicester's interest, but I'm happy working for BFC and my relationship with the chairman is good and we've spoke today and will tomorrow."