FA Cup 3rd Round Derby 2-1 Burnley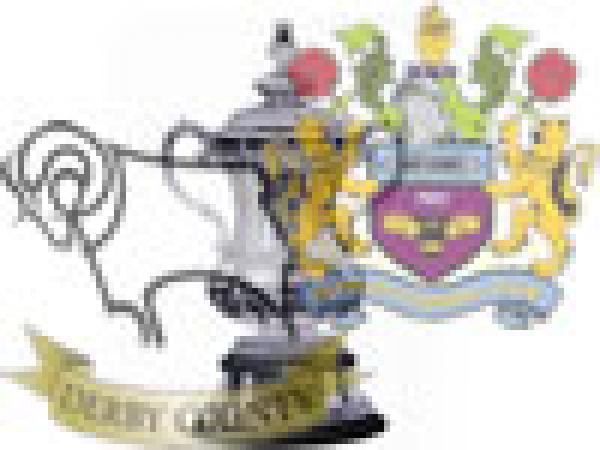 3rd Round Day
By The Match Report Team
January 7 2006
A defeat to knock us out of the FA Cup at the 3rd round stage. Not something that has happened to Burnley for a while! The Report Team give you their opinion....
---
---

2-1
1-1

---
| | | |
| --- | --- | --- |
| Peschisolido (18/67) | | G O'Connor (29) |
---

Johnson (12)

Idiakez (90)

---

Akinbiyi (19 Dissent)
---

---

24 Kevin Poole

16 Marc Edworthy

30 Lewin Nyatanga

6 Michael Johnson

2 Jeff Kenna

12 Paul Thirlwell

18 Seth Johnson

20 Lee Holmes

27 Inigo Idiakez

7 Tommy Smith

11 Paul Peshisolido (93)

SUBSTITUTES
28 Giles Barnes
19 Nathan Doyle
15 Adam Bolder (93)
8 Morten Bisgaard
1 Lee Camp

12 Brian Jensen

6 Michael Duff (87)

5 Frank Sinclair

4 John McGreal

21 Jon Harley

7 James O'Connor

8 Micah Hyde

16 Chris McCann

11 Wade Elliott (87)

14 Garreth O'Connor

10 Ade Akinbiyi

SUBSTITUTES
3 Danny Karbassiyoon
9 Graham Branch (87)
2 Wayne Thomas (87)
22 Duanne Courtney
19 John Spicer
---

---

Referee: Michael Jones
Asst. Referee: Steve Chittenden
Asst. Referee: Steve Tincknell
Fourth Official: Anthony Taylor

Star Rating: **
Star Rating: **
Star Rating: **
Star Rating: ***
---

---

Attendance: 12,713

Shots on Target
Shots off Target
Shots off Bar/Post
Fouls
Offside's
Corners


5 / 8
2 / 6
0 / 0
12 / 18
1 / 4
3 / 6

---
Let's get something straight! It is easy after losing 2-1 in the cup to say never mind the league is more important! BUT we could have been knocked out by Colchester or be a team struggling in mid table no-mans-land and have a cup run to distract us. Basically I'm not that fussed!

Although the first few minutes were Derby, we soon settled down and it was pretty much Burnley the dominant side. After we should have gone 1 up with Ade then McCann we got caught on the break! Clean sheets remember them? Peschisolido has always been the bain of Burnleys life and today he did it again! A good quick throw out from Derby's keeper found him and with his shot taking a deflection it went over Jensen. We didn't deserve it at all, but at least we kept on battling. On 29 minutes we got the goal we had been threatening, Garreth O'Connor took advantage of a static Derby defence following some lovely passing play from Hyde, James O'Connor and Elliott. It was an important reply and at least made things square for the interval.

The Second Half was always going to be about us and our performance. The last few games have seen us play 45 minutes at most, we would have to come out and continue where we left off. In general we did, at times it was all us with Derby encamped in their half for large chunks fo the game. With some chances going missing it happened! Another quick counter account, through ball to Peschi and a great shot over Jensen. Why can we not keep clean sheets anymore!? We kept going and had more chances but it wasn't to be. Burnley are out of the FA Cup at the first hurdle.

I want to finish this report with a question. Why oh why can we no longer keep clean sheets? It is not as if we have had many changes with our back four for a few games know? Was Lowe that important to us? Is it the defence or the lack of cover from the middle? Something has to be done or we are definately going to have one of those mid table seasons.

UP THE CLARETS
---

"It was a good performance from many individuals and we worked very hard against a decent team from our own division."

"We did enough to get something out of the game. They had 2 chances and scored twice, we had 6 and scored once."

"You get no 2nd chances in the FA Cup"