Match Review: Southampton 1-1 Burnley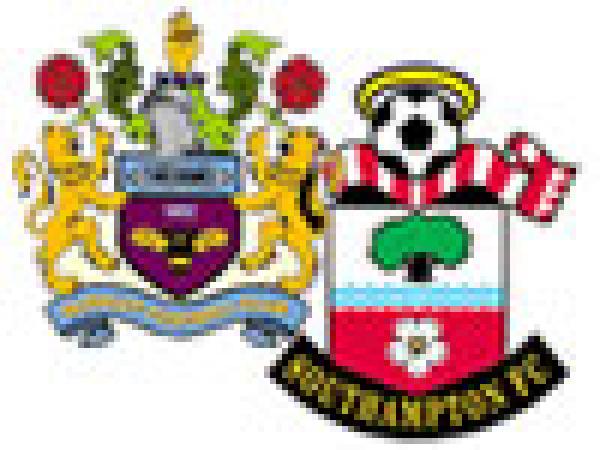 By The Longside Match Reviewer
December 7 2005
Ade Akinbiyi scores an equaliser to ensure Burnley leave St. Mary's with a point following a goal in the first half via a penalty from managerless Southampton.
Southampton

1 - 1
(1 - 0)

Burnley


D Higinbotham 34 (pen)




A Akinbiyi 66

Bookings:
T Walcott 59




Bookings:
G O'Connor 44
J Harley 71
Starting Line-Ups
Southampton

Burnley

A Niemi
R Delap
D Kenton
D Powell
D Higginbotham
D Belmadi
D Prutton
M Oakley
K Kosowski
T Walcott
B Ormerod

Subs:
P Smith
M Cranie
N McCann
R Fuller
K Jones

B Jensen
K Lowe
F Sinclair
J Harley
W Elliott
M Hyde
G O'Connor
J O'Connor
J Spicer
A Akinbiyi
G Branch

Subs:
D Karbassiyoon
C McCann
G Noel-Williams
D Courtney
L Grant
Referee: B Curson (Leicestershire)
Asst. Referees: G Evetts (Hertfordshire) Danny McDermid (Hampshire)
Fourth Official: S Tomlinson (Hampshire)
Attendance:  21592
Match Round-Up:
Managerless Southampton went into the second half with a one-nil lead following a penalty conceded by a Micah Hyde challenge. Burnley managed to put on some pressure and Ade Akinbiyi continued his goal-scoring form by equalising on 66 minutes ensuring that Burnley take some points home.
Stats:
Possession:
Southampton: 55%
Burnley: 45%

Shots:
Southampton: 11
Burnley: 4

Corners:
Southampton: 8
Burnley: 3

Fouls:
Southampton: 10
Burnley: 17
Southampton
A Niemi, R Delap, D Kenton, D Powell, D Higginbotham, D Belmadi (74 N McCann) , D Prutton, M Oakley, K Kosowski, T Walcott (67 K Jones) , B Ormerod (67 R Fuller)
Subs: P Smith, M Cranie, N McCann, R Fuller, K Jones

Burnley
B Jensen, K Lowe, F Sinclair, J Harley, W Elliott, M Hyde, G O'Connor, J O'Connor, J Spicer (60 G Noel-Williams) , A Akinbiyi, G Branch
Subs: D Karbassiyoon, C McCann, G Noel-Williams, D Courtney, L Grant
Steve Cotterill's Post Match Comments:
-
Other Full Time Scores:
Coventry
Crewe
Crystal Palace
Derby
Hull
Ipswich
Leeds
Reading
Sheff. Utd.
Stoke
Watford

3
0
1
2
2
1
2
3
1
1
1

-
-
-
-
-
-
-
-
-
-
-

1
2
1
0
0
1
1
0
0
2
1

Plymouth
Preston
Millwall
Norwich
Cardiff
Wolverhampton
Leicester
Luton
Sheff. Wed
QPR
Brighton