Leic. 0-1 Burnley - Official Longside Match Report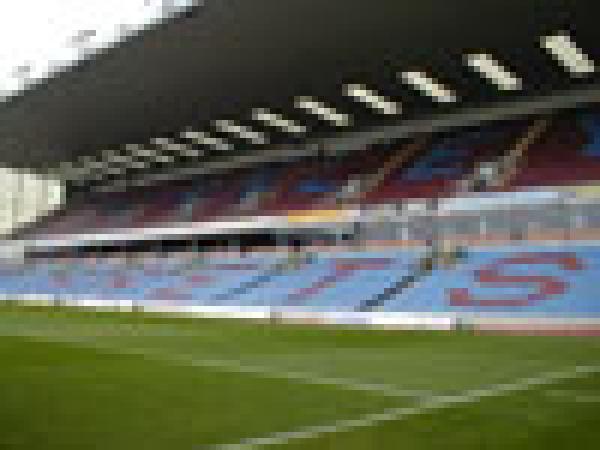 By TheLongside.co.uk
October 18 2005
Burnley took home 3 points from the Walkers Stadium this evening after beating Leicester 1-0 following a 64 minute goal from Ade Akinbiyi
Leicester


0 - 1
(0 - 0)

Burnley





A Akinbiyi 64

Bookings:
S Hughes 57




Bookings:
M Hyde 36
F Sinclair 42
Starting Line-Ups
Leicester

Burnley

R Douglas
R Stearman
D Dublin
P McCarthy
N Johansson
M Sylla
S Hughes
P Kisnorbo
J Hamill
E Hammond
M de Vries

Subs:
P Henderson
I Hume
J Gudjonsson
D Tiatto
P Gerrbrand

B Jensen
M Duff
J McGreal
F Sinclair
J Harley
W Elliott
J O'Connor
M Hyde
J Spicer
G O'Connor
A Akinbiyi

Subs:
G Noel-Williams
C McCann
K Bermingham
K Lowe
D Courtney



Referee: Lee Probert (Gloucestershire)
Assistant Referees: Neil Hancox (W Midlands) and Patrick Keane (W Midlands)
Fourth Official: Amy Rayner (Leicestershire)
Attendance: 23,326
Match Round-Up:
It looked like both teams would leave the Crisp Bowl with two points, but Ade Akinbiyi on the 64th minute took the lead for the Clarets enabling us to take three points back to Turf Moor.
Stats:
Possession:
Leicester: 51%
Burnley: 49%

Shots:
Leicester: 14
Burnley: 7

Corners:
Leicester: 7
Burnley: 2

Fouls:
Leicester: 12
Burnley: 13
Leicester
R Douglas, R Stearman, D Dublin, P McCarthy, N Johansson (69 D Tiatto) , M Sylla, S Hughes, P Kisnorbo, J Hamill (78 J Gudjonsson), E Hammond (60 I Hume), M de Vries
Subs: P Henderson, I Hume, J Gudjonsson, D Tiatto, P Gerrbrand

Burnley
B Jensen, M Duff, J McGreal, F Sinclair, J Harley, W Elliott (81 K Lowe), J O'Connor, M Hyde, J Spicer (89 D Courtney), G O'Connor (90 G Noel-Williams), A Akinbiyi
Subs: G Noel-Williams, C McCann, K Bermingham, K Lowe, D Courtney

Steve Cotterill's Post Match Comments:
"It's a great win for us, a great place to come to and it was great for me on a personal note because I had a great time here as well as for Frank and Ade.
"I thought the first half was a poor game, of which we contributed to but in the second half I thought we were the better team and a 1-0 scoreline reflected that.
"It's terrific for the lads because they didn't deserve to lose to Leeds, so getting the three points was great for us.
"We passed it better in the second half and created the better chances too.
"Half time was a bit noisy for five minutes - I wasn't happy with the lads and they weren't happy with themselves. The first half was a bit like pulling teeth.
"I thought we were the better team in the second half and deserved our narrow win."
"I wanted Ade to score tonight. I was a little surprised at the Leicester fans, because the one thing he does do is give his all.
"He might not have scored many goals at Leicester, but I'm pretty sure he would have given his all here.
"I think the Leicester fans are great and I enjoyed my time here but I think they probably don't know Ade personally because they wouldn't have given him a reception like that.
"It was a bit unlike the Leicester fans, but I suppose you could say it was written that Ade would score.
"It's great for him, he's as honest as the day is long and I think he gets whatever he deserves in this life and he's a terrific lad who trains as hard as he plays."
Other Full Time Scores:
Cardiff
Crystal Palace
Hull
Ipswich
Leeds
Luton
Millwall
QPR
Sheffield Wednesday
Stoke
Wolverhampton Wanderers

2
0
1
2
2
4
0
1
1
2
1

-
-
-
-
-
-
-
-
-
-
-

2
1
1
2
1
2
4
1
1
0
1

Preston
Brighton
Reading
Coventry
Southampton
Norwich
Sheffield United
Plymouth
Watford
Crewe
Derby